4. Lemon balm tea. This tea copes perfectly with irritability, loss of energy, "weakness", fatigue, insomnia and depression.
A 2014 study [2] found that lemon balm does improve mood and/or cognitive performance.
But keep in mind: do not drink too much tea with lemon balm, because it helps to significantly lower blood pressure.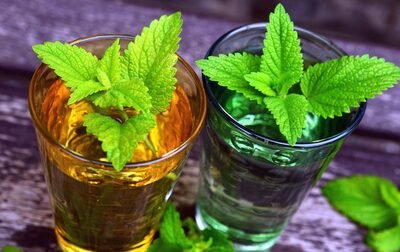 5. Peppermint tea. It will help you relax, calm your nerves, fight stress, relieve tension and even get rid of pain, both physical and mental. According to experts, the relaxing and soothing effects of mint tea are due to menthol, which is found in mint. Peppermint tea is my personal favorite to drink crawled up in bed before sleep. I also like adding some dried lavender for extra calming flavor.