Can essential oils cure hyperpigmentation? And what are the best carrier oils to use for anti-hyperpigmentation blends? Natural carrier oils and essential oils are great for curing hyperpigmentation due to their ability to heal the skin on a cellular level.
Oils for hyperpigmentation: which ones work?
Hyperpigmentation is a common condition when patches of skin become darker in color than the normal surrounding skin. Though this condition is usually harmless, you may think of the need to remove this unpleasant appearance and out your skin using essential and carrier oils for hyperpigmentation.
Hyperpigmentation can be caused by excessive exposure to the sun, but as well in situations when the balance between estrogen and progesterone is distorted. Heat, trauma (chemical treatments, lasers, or cuts) can also cause hyperpigmentation.
If you want to know how hyperpigmentation looks and if you have any of it, here are several examples of different types of hyperpigmentation: sun spots, dark spots, liver spots, freckles, melasma (or the mask of pregnancy), acne spots (a form of post.inflammatory pigmentation).
Essential and carrier oils provide hydration, moisturizing effect, oxygen, vitamins, minerals, antioxidants, lipids, essential fatty acids, and proteins to nourish the skin. However, not all oils are beneficial for clearing dark spots and some work better for hyperpigmentation than others.
Ready-made Oil Blend for Dark Spots
If you want to rely on pre-made and balanced blend of essential and carrier oils, that can be applied directly on skin and help wigh getting rid of dark spots, check out this formula blend Healthy Natural Oils:
Made with Lemon, carrot and rosa essential oils (base oil is corulys nut oil) this blend is very powerful agains stubborn dark spots on forehead, cheeks and also age spots on hands.
Customer reviews:
Helps to get rid of darks spots (age sports) on hands within weeks.
This oil blend definitely reduced the pigmentation
Helps to lighten the skin
Best carrier oils for hyperpigmentation
1. Evening primrose oil for hyperpigmentation
Evening primrose oil is also effective in reducing hyperpigmentation when it is caused by hormonal imbalance. Evening primrose oil contains a powerful anti-inflammatory ingredient called gamma-linoleic acid (GLA).
According to a 2010 scientific study [1], the application of "saponified evening primrose oil resulted in efficient whitening of hyperpigmentation of human skin".
To reduce the appearance of hyperpigmentation, take 3000mg of evening primrose oil daily. You can consume this oil twice a day in the form of capsules. This will help affected skin cells to heal. I have covered the benefits and dosage of this phenomenal oil in this ultimate guide on evening primrose oil.
To strengthen the effect, you can also apply evening primrose oil topically. Combine equal parts of primrose oil with argan oil and this mixture on the affected areas every night to treat uneven skin tone and unwanted dark spots.
2. Carrot Seed Oil (carrier oil)
Carrot seed oil contains beta carotene, bisabolene,vitamin A (retinol) and Vitamin E, pinene, limonene. This cocktail of vitamins and active ingredients is the reason why carrot seed oil is often used in anti-aging skincare products and especially in cosmetics for dry or mature aging skin.
This oil repairs sun spots tightens and rejuvenates the skin, lightens scars, dark spots, evens out skin tone, balances the moisture in the skin. It helps to remove toxic build-up in the skin and improves the skin's complexion.
This is not a miracle, but rather a powerful influence of beta-carotene. As a number of studies show, topical treatment with beta-carotene could be used as an effective treatment of melasma (hyperpigmentation). According to a 2002 scientific study [2], beta-carotene reduced the severity of hyperpigmentation. In most of the cases, pigmentation got lighter, and some patients recovered completely.
3. Sea Buckthorn Oil for skin lightening
Berries of sea buckthorn tree contain 200 – 800 times more of Vitamin C than apples, three times more of Vitamin A than carrots, and four times more of superoxide dismutase than ginseng. Probably that is why it is widely known as Vitamin Tree.
Sea buckthorn oil is full of Omega 7 which makes it great for sugar burning and skin moisturizing. Applied topically, it is perfect for tackling wrinkles, crows' feet, age spots and hyperpigmentation including those caused by sun damage.
This oil contains about 70% linoleic acid and alpha-linolenic acids. Linoleic acid is helping to lighten the skin which suffered from ultraviolet or is hyperpigmented (as stated in the research [3]).
Sea buckthorn contains vitamin C, which helps lighten hyperpigmentation, and also contains antioxidants, which are effective against excess melanin in the skin.
4. Castor oil for skin lightening
Nowadays castor oil is often recommended for just about any ailment. Surprise! Castor oil also helps to reduce hyperpigmentation.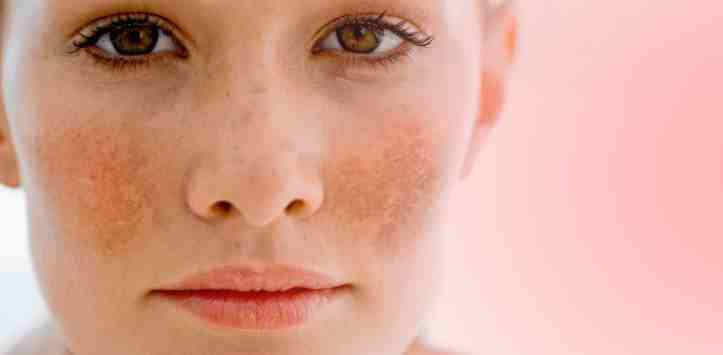 Castor oil contains linoleic, oleic, ricinoleic and polyunsaturated fatty acids. Castor oil is an irreplaceable source of vitamins E and A. Those vitamins activate synthesis of elastin fibers, collagen – these are the substances that make the skin firm, elastic, smooth, so you should definitely try castor oil for the face against wrinkles and flabby skin.
The simpliest way to use castor oil for hyperpigmentation is to apply it directly on the affected area. Use a cottonball to spread a few drops of castor oil on your skin. Because this oil is extremely thick, it is better to do it in the evening
You can also prepare a castor oil and lemon juice face mask: combine the main component – castor oil (1 tsp) with 1 tbsp. lemon or cucumber juice. Then add honey or kefir (1 tbsp). Hold the mask for 10-15 minutes and rinse.
5. Rosehip Seed Oil for hyperpigmentation
Rosehip seed oil is extracted from vibrant red fruits of rosehip plants. It contains Vitamin C, Vitamin E, Linoleic acid and more.
Rosehip oil contains an ingredient called Trans-Retinoic Acid. This ingredient can naturally improve the skin's appearance by brightening darkened areas. Lots of studies (e.g. 4, 5) found out that can Trans-Retinoic Acid can be effective in treating hyperpigmentation disorders.
Rosehip seed oil is very good for scarring and hyperpigmentation, as well as for anti-aging procedures. So, if your hyperpigmentation is caused by acne scars, then rosehip seed oil is a must-have for you! It is also one of those oils that helps regulate sebum production, which can help prevent blackheads and whiteheads from forming.
6. Tamanu Oil for pigment spots
Ever heard of tamanu oil? Traditionally used by Pacific Islanders for the ability to promote healthy skin renewal, tamanu oil is on the list of carrier oils for hyperpigmentation.
Tamanu oil includes three main types of lipids, fatty acids, terpenoids, lactones, sterols, etc. The main active ingredients that are responsible for combating hyperpigmentation are terpenoids. In the 2015 study [6] authors provide evidence that "terpenoids may benefit patients with nonmelanoma skin cancers, cutaneous candidiasis, hyperpigmentation, photoaging, and wounds".
Tamanu oil is also great for acne scars, stretch marks, and it also has skin lightening properties. Therefore, it is also helpful for reducing hyperpigmentation caused by old acne scarring.  It softens skin and prevents wrinkles while evening out skin tone. Great, isn't it?
One big disadvantage – tamanu oil is kind of an expensive one, but you would need just a tiny bit of this oil as it takes just a few drops to cover the desired skin area. I've written more about its beauty benefits and how to choose the best tamanu oil that is worth your money here: Pure tamanu oil benefits for skin: meet the miracle!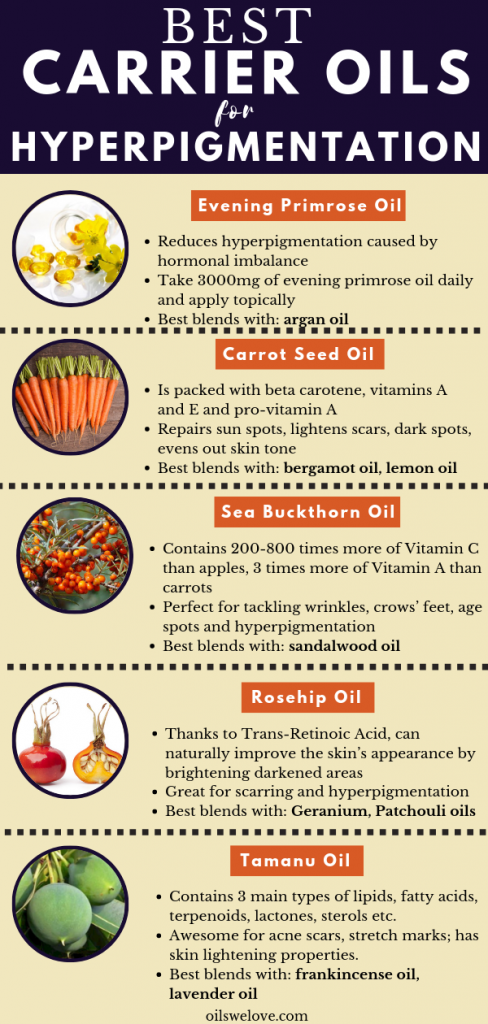 Essential oils for hyperpigmentation
You can even out your skin tone naturally by combining the abovementioned carrier oils with effective essential oils for hyperpigmentation. I can not stress this more: don´t apply essential oils directly to the skin – always dilute several drops in a substantial amount of carrier oil!
Some essential oils are especially powerful in terms of clearing hyperpigmentation because of their skin lightening properties, cicatrisant properties (this means that they have the ability to help regenerate the skin at a cellular level) and anti-inflammatory effects. Let's have a look at 6 most effective essential oils for hyperpigmentation.
7. Lemon Oil to cure pigment spots
Lemon oil possesses some bleaching properties, that is why it is great for lightening dark spots on the skin. It is also very useful for exfoliating skin, brightening and lightening skin, and normalizing skin tone and texture.
Mix 8 drops of Lemon Essential Oil, 4 drops of Sandalwood Essential Oil and 30 ml (1 fl. oz.) of rosehip oil as a carrier oil. Use this blend to get rid of hyperpigmentation, acne scars and dark spots.
An important note:  Lemon Essential Oil is photosensitive, therefore don´t apply it to skin 12 hours before going out to sunlight.
8. Frankincense Oil for Hyperpigmentation
Frankincense Oil is widely known for its great antiseptic and healing properties. If you want to brighten dull skin that suffered from sun damage, then frankincense oil is your go-to remedy.
Mostly known as being a great remedy for scar treatment, frankincense essential oil is also amazing for reducing skin hyperpigmentation.
Frankincense essential oil is extracted from the resin inside the Boswellia tree. It has a rich woody scent turning every application of this oil to your skin to an exotic aromatherapy ritual.
An important note: Frankincense oil is often used in aromatherapy and therefore some producers create cheaper versions suitable for essential oils diffusers. They are usually labeled as "fragrance oil" or "perfume oil". Don't apply them onto your skin as these can be synthetic and don't contain needed nourishing ingredients. Instead, look for labeling that says "pure essential oil" or "100% essential oil".
9. Tomato seed oil
Tomato seed oil is not a very popular ingredient in our usual beauty routines. But it is extremely potent in fighting hyperpigmentation due to such ingredients as lycopene, lutein, zeaxanthin, antioxidants and different forms of tocopherols. Also, the tomato seed oil is loaded with minerals and vitamins, such as copper, zinc, iron, manganese, and Omega 3 & 6 and 9.
It is suitable for age spots, dry, combination and mature skin. It improves elasticity, tone, encourages regeneration of skin cells.
Try adding tomato seed oil to facial creams or create your own facial oil blend. I especially like this recipe: 8 drops of Tomato seed oil, 4 drops of Grapefruit Essential Oil and 30 ml (1 fl. oz.) of evening primrose oil as a carrier oil. Use this blend to get rid of hyperpigmentation, and skin discoloration.
10. Tea Tree Oil for hyperpigmentation
Tea tree oil is an awesome nature creation, it is a versatile remedy for numerous skin issues, including acne, itchy scalp and many more.  It also helps to fade away acne scars and pigmentation spots associated with post-acne.
Just dab a few drops of the oil on a cotton pad and apply it to the affected areas. Rinse after 10 minutes.
11. Sandalwood Oil
Apart from being soothing and nourishing, sandalwood has anti-fungal, anti-inflammatory properties and one is one of the best essential oils to combat hyperpigmentation.
To prepare your own skin lightening product, just mix 2-3 drops of sandal oil seabuckthorn oil, and apply it on your skin with warm hands following the massage lines. Apply it at night only.
12. Pomegranate Seed Oil
Pomegranate seed oil naturally contains unique ingredients, such as ellagic acid, punicalagins, punicic acid, punicosides. Ellagic acid helps to fade hyperpigmentation, and it is proven by scientific researches.
For example, a 2005 study [7] of topical usage of ellagic acid for lightening effect on UV induced hyperpigmentation showed positive results: this ingredient indeed has skin whitening effect due to inhibiting melanin formation by acting on tyrosinase.
Pomegranate oil can reduce signs of premature aging such as wrinkles and fine lines caused by sun damage and exposure, as well as it prevents hyperpigmentation and minimizes age spots.
Take care and be safe
Some closing words. Be careful when using essential oils while pregnant/nursing. Always consult your doctor before using any of the above oils if you are pregnant.
Also, if you suffer from severe hyperpigmentation or in case you notice a new discolored skin patch on the skin that won't go away, consult a doctor.
Finally, always do a patch test with any oil before applying it on your skin. If the test shows no irritation and you decide to proceed with using oils for hyperpigmentation treatment, use them mainly at night time for best results because this is when the skin repairs and rejuvenates itself.
As always be safe and check with your healthcare provider before starting to use any oils or home remedies.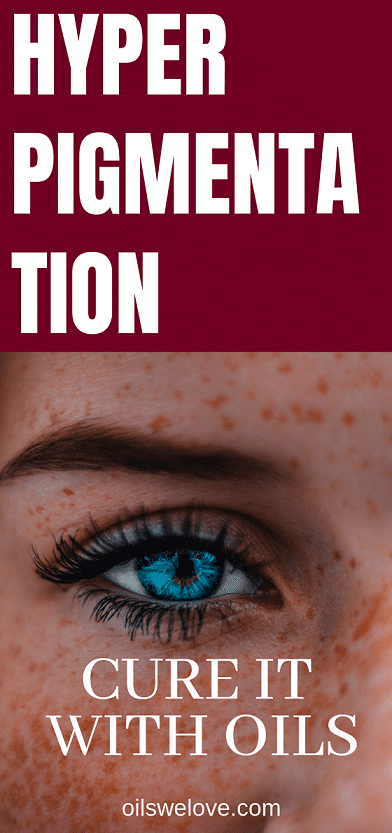 ---
Disclaimer: The contents of this website are for informational purposes only and do not constitute medical advice; the content is not intended to be a substitute for professional medical advice, diagnosis, or treatment. Always seek the advice of a physician or other qualified health provider with any questions you may have regarding a medical condition.
---
References
Saponified Evening Primrose Oil Reduces Melanogenesis in B16 Melanoma Cells and Reduces UV-Induced Skin Pigmentation in Humans. Jeung-Hyun KooIkjae, LeeSeok-Kweon, YunHan-Uk
Kar HK. "Efficacy of beta-carotene topical application in melasma: an open clinical trial." Indian J Dermatol Venereol Leprol. 2002 Nov-Dec;68(6):320-2.
Linoleic acid and alpha-linolenic acid lightens ultraviolet-induced hyperpigmentation of the skin. Ando H1, Ryu A, Hashimoto A, Oka M, Ichihashi M. – Arch Dermatol Res. 1998 Jul;290(7):375-81.
Depigmenting Mechanisms of All-Trans Retinoic Acid and Retinol on B16 Melanoma Cells. Kazuomi SATO, Masayuki MORITA, Chihiro ICHIKAWA, Hideki TAKAHASHI & Masaru TORIYAMA
Retinoic acid and pigment cells: A review of in-vitro and in-vivo studies. British Journal of Dermatology 127 Suppl 41(S41): 43-7 · October 1992
Novel use of terpenoids for treatment of dermatologic diseases: a systematic review of clinical trials. Tuong W1, Walker L, Sivamani RK. – J Altern Complement Med. 2015 May;21(5):261-8. doi: 10.1089/acm.2014.0273. Epub 2015 Apr 29.
Inhibitory effect of an ellagic acid-rich pomegranate extract on tyrosinase activity and ultraviolet-induced pigmentation. Yoshimura M1, Watanabe Y, Kasai K, Yamakoshi J, Koga T. – Biosci Biotechnol Biochem. 2005 Dec;69(12):2368-73.