Is rosehip oil good for oily skin? In short – yes!
Rosehip oil is becoming very popular in cosmetics for getting perfect skin. Women use it as a natural moisturizer, adding it to face masks, toners and in other hair and skin care products.
Rosehip oil is often called the "king of natural oils". Its benefits for skin are very diverse. It shows anti-inflammatory, antimicrobial, wound-healing, softening and vitaminizing effects.
Oily skin can benefit a lot from the usage of rosehip oil.
Thanks to vitamins (vitamin E, vitamin C, and B-carotene, a form of vitamin A) and fatty acids it has a rejuvenating and regenerating effect, increases skin elasticity, improves the secretion of sebaceous glands, eliminates irritations.
If applied regularly, rosehip oil increases epidermis protection and intracellular metabolism.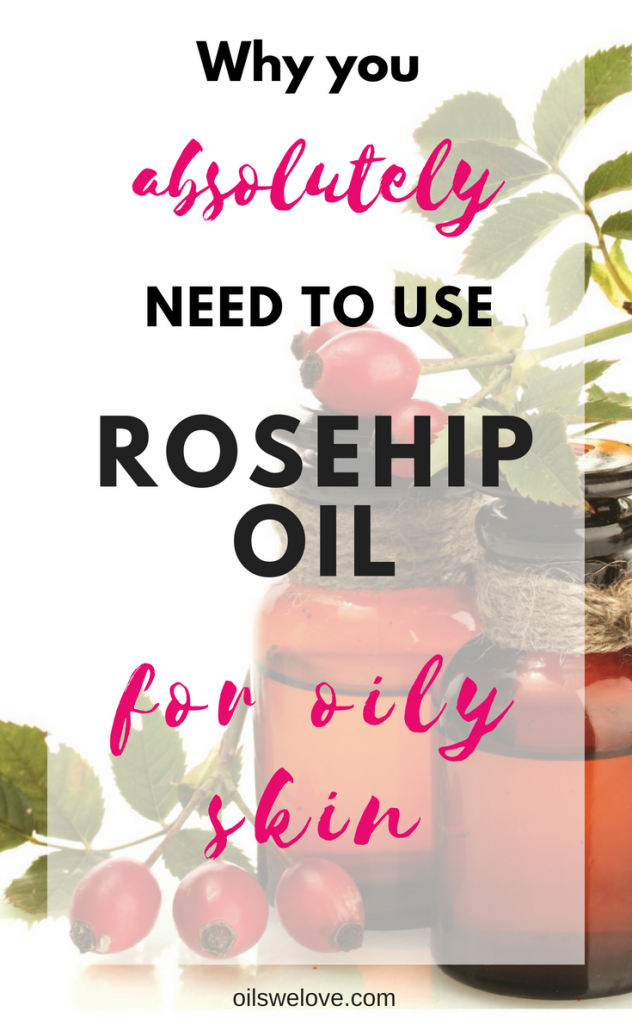 How exactly rosehip oil helps oily skin?
When we have oily skin, it means that our sebum production is excessive. While most of the tame this is a given fact and depends on our skin type, sometimes it is us who make things even worse.
Oily skin owners tend to use oil-free cosmetics, scrub their skin and rub it with alcohol-based tonics, hoping, that these harsh methods will help with eliminating excessive skin oil.
As a result, their skin turns into a dull, undernourished skin that tends to secrete even more oil, to restore its natural lipid barrier.
This can lead to acne, whiteheads and blackheads, clogged pores and an overall greasy look.
Rosehip oil prevents all these negative issues with oily skin. Even though it may seem counter-intuitive to put oil on skin that is prone to acne or is naturally oily, rosehip oil is, in fact, a great product to use.
Rosehip oil is a lightweight facial oil that is absorbed quickly by the skin.
It also helps unclog pores (rosehip oil is non-comedogenic) and prevents pimples.
Oily skin is usually lacking in linoleic acid. Linoleic acid provides anti-inflammatory, moisturizing and healing support. It also helps fight acne, softens the skin, and keeps it supple and youthful. Rosehip oil is rich in this linoleic acid and it can take care of linoleic acid deficiency.
How to use Rosehip oil for Oily skin
To moisturize oily skin apply a few drops of organic rosehip oil and massage it to your skin. Rosehip oil is considered as a dry oil, therefore it absorbs quickly into the skin, and you won't be left with the greasy look.
You can apply the required amount of oil directly to the face using gentle, massaging motions or use it in numerous skincare recipes. For example:
Rosehip Seed Oil Facial Moisturizer Recipe
With just seven ingredients, this facial moisturizer is easy to make and very nourishing to the skin.
1 tbsp Rosehip seed oil
1 tbsp Evening primrose oil
5 drops Rose essential oil
15 drops Lavender essential oil
Both rosehip oil and evening primrose oil are great for oily skin as carrier oils. Rosehip oil nourishes and moisturizes the skin, while evening primrose oil supplies linoleic acid to the skin, which is responsible for excessive sebum production.
Rose essential oil and lavender essential oil are among the top 10 essential oils that suit perfectly oily skin needs and do not clog pores.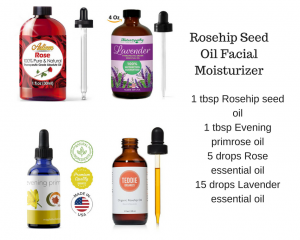 Where to get the oils for this recipe:
Argan and Rosehip Seed Oil Moisturizer Recipe
I found this great and easy recipe at Live Simply page, and ever since been loving it! It is simply to make and requires only 3 ingredients, one of which is rosehip oil. The mixture smells heavenly and is great for the flaky skin I still sometimes get after trying to get rid of pimples with alcohol-containing toners.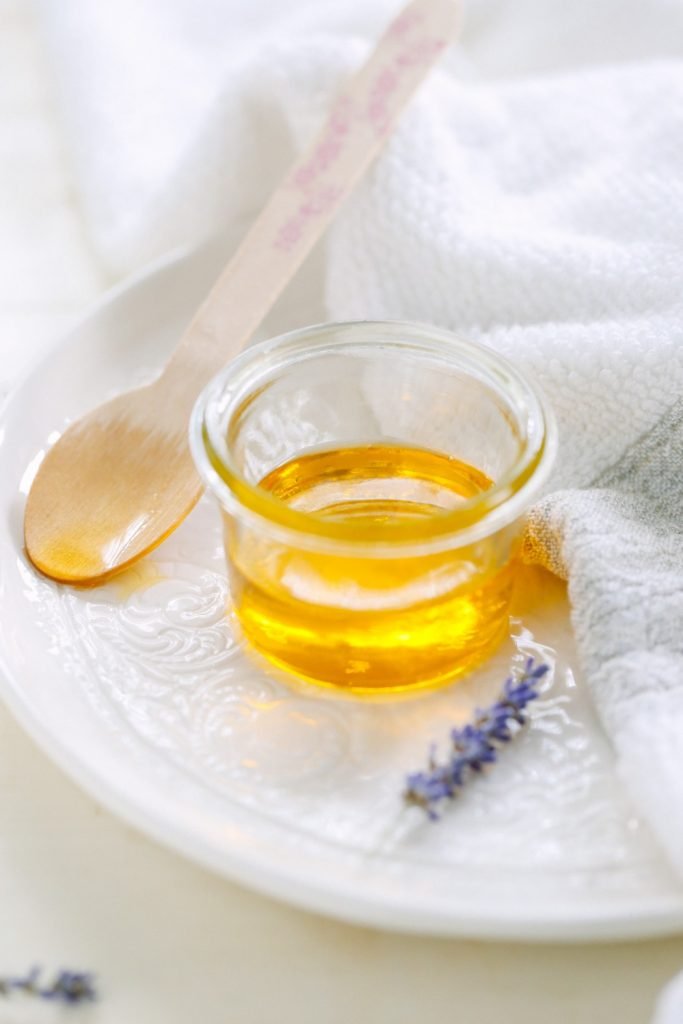 Get the recipe and instructions from Live Simply
How to choose the best rosehip oil for oily skin?
Rosehip (seed) oil is filled with antioxidants, vitamins, and fatty acids, making it an essential choice for hydrating both dry and oily skin, reducing scarring, or evening out pigmentation.
But in order to get all these benefits, you should really pay attention to the quality of the rosehip oil you buy.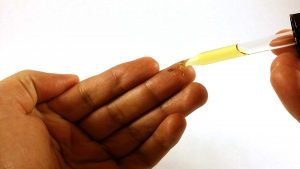 Color. When it comes to rosehip seed oil, color matters. In general, the conventionally grown rosehip seed oil is usually pale yellow and lacking in beneficial lycopene, minerals, and vitamins A and C.
Organic rosehip oil. The source from which oil is coming is extremely important. Organic rosehip seed oil tends to have a more vibrant orange-yellow color due to its higher level of beneficial carotenoids and vitamin A.
Organic Rosehip Oil usually comes from wild rosehips and is a naturally rich source of essential fatty acids, vitamins, and antioxidants. Always pay attention, if the label explicitly states, that rosehip oil is organic.
Production method. Always look for "Cold-pressed Rosehip oil". A cold-pressed method is one of the best methods to extract essential oils. It is a method of mechanical extraction where heat is reduced and minimized throughout the batching of the raw material.
On the contrary, expeller-pressed oils, which produced at higher temperatures, become a toasted, nutty flavor, and may lose vitamins and nutrients.
What are the best rosehip oils for oily skin
1. Teddie Organics Rosehip Seed Essential Oil, 4 fl. oz. /120 ml
This oil comes in a sleek dark brown glass bottle with an easy to use a pipette. On top of the undoubtful long-term effects that rosehip seed oil is proven to deliver, Teddie Organics oil has shown a reduction in redness, age spots, scars as well as improved skin tone and elasticity.
QUALITY: Just one ingredient ­- Pure, Unrefined Organic Rosehip Seed Oil. Rosehip fruit is grown in an area where pesticides and synthetic fertilizers are not used.
2. Aria Starr Rosehip Seed Oil Organic Cold Pressed, 4 fl. oz. /120 ml
100% Pure Organic Cold Pressed Rosehip Seed Oil in a dark glass bottle to limit exposure to light for best preservation. It comes with a dropper, a very reasonable price for 4 oz of organic oil. Common uses: to smooth out wrinkles, under-eye bags and stretch marks.
QUALITY: Cold-pressed organic rosehip seed oil. By using a cold-press extraction process, the oil is separated from the hips and seeds. Smells like tea, hay or plain oil.
3. Majestic Pure – 100% Pure, Organic Cold Pressed Premium Rose Hip Seed Oil, 4 oz / 120 ml
This rosehip seed oil is a pure bargain since you get 4 oz of organic oil for a reasonable price. Thanks to the big size of this product, you can use it in preparing your own body serums and apply it to larger body parts affected by stretch marks.
QUALITY: Organic Cold Pressed rosehip seed oil. Therapeutic grade. 100% Cruelty-Free.
4. Radha Beauty 100% Pure Cold Pressed Certified Organic Rosehip Oil 4 oz, 120ml
Beauty Rosehip Oil has been an all-time bestseller and is 100% natural and certified organic. It is especially effective in the treatment of post-acne scars and dark spots, dehydrated skin, adult dry acne, mature, and blemish-prone skin.
QUALITY: 100% Pure Cold Pressed Certified Organic. 100% Cruelty-Free.
CONSUMER REVIEWS: 1) Helps to fade away scarring. 2) Great skin moisturizer.  3) Perfect for preparing own creams and serums. 4) Some reviewers noticed that oil caused breakups.
5. Essential Oil Labs Organic Extra Virgin Grade Rosehip Oil, 4 oz, 120ml
Ethically Sourced in from the Chilian mountains, bottled and distributed in the United States.  Comes with a dropper. It is especially effective in the treatment of damaged, dehydrated skin, scars and blemishes.
QUALITY: Undiluted Extra Virgin Grade cold-pressed Rosa Moshata. Has no fillers, carrier oils or pesticides. Odorless.
---
Disclaimer: The contents of this website are for informational purposes only and do not constitute medical advice; the content is not intended to be a substitute for professional medical advice, diagnosis, or treatment. Always seek the advice of a physician or other qualified health provider with any questions you may have regarding a medical condition.