Using evening primrose oil for acne has become increasingly popular among those, who seek natural based acne-fighting remedies.
Evening primrose oil (EPO) traditionally has been used as a wound-healing and hormone-balancing remedy. But most importantly, EPO is known as an excellent manager of hormones: it balances hormones naturally.
This means that it can help with hormonal imbalances which cause acne (especially adult, hormonal acne).
How does evening primrose oil cure acne?
Evening Primrose is rich in GLA (Gamma-Linolenic Acid). Actually, it has one of the highest concentrations of GLA among other well known natural sources of this Essential Fatty Acid. For example, soy lecithin contains 45–60%of GLA, amaranth – 20–50%, pumpkin seed – 45–55%, borage oil – 40%. A concentration of GLA in evening primrose can be up to 75%?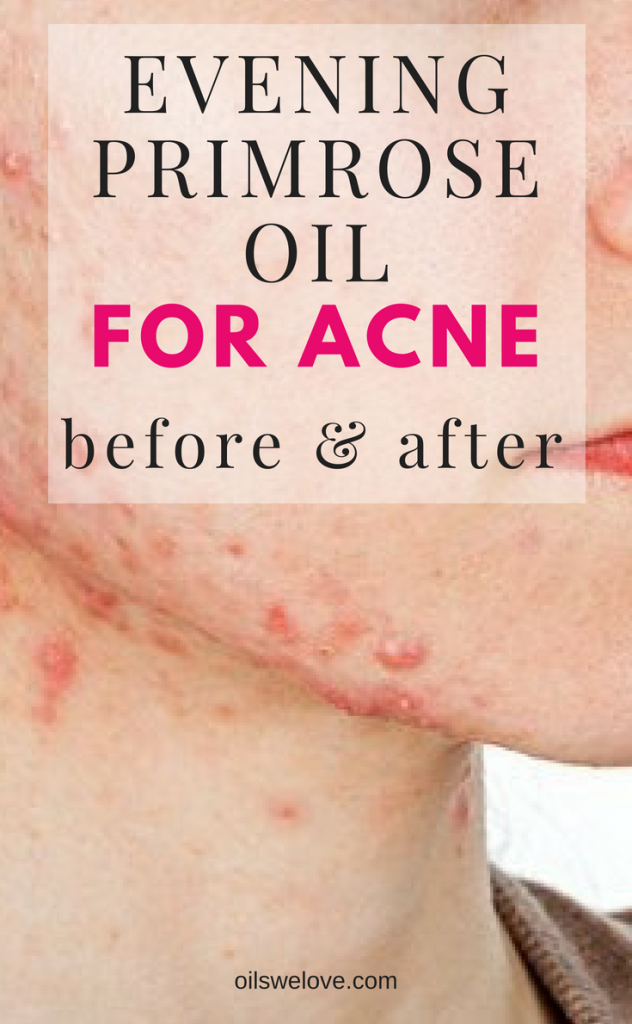 Why is GLA so important for acne treatment?
GLA in this oil helps with acne, reducing inflammation of the skin and helps it retain moisture. Several studies have shown, that supplements with gamma-linolenic acid can reduce both inflammatory and non-inflammatory acne lesions.
The same results were found in a study, published in the Journal of the American Academy of Dermatology. Scientists have found, that "acne patients have also been shown to have low levels of linoleic acid in their skin surface lipids". This leads to thicker sebum which blocks pores and breakouts.
Another study made in 2014 showed that evening primrose oil can alleviate conditions such as cheilitis, inflammation and lip pain, which often occur in acne patients being treated with oral isotretinoin. (Roaccutane). The experiment lasted 8 weeks, participants received 6 450 mg capsules 3 times per day.
Evening primrose oil for acne: Before and after
Hormonal acne, which most commonly appears in adult women ages 20 to 40, in case if the hormone balance is offset. Evening primrose oil is known for treating hormonal imbalance in the body because it is extremely rich in omega-6 fatty acids.
But is there real evidence that evening primrose oil helps with acne?
Reddit readers report major improvements in their fight against acne since they started to consume evening primrose oil topically and as a supplement. Here is some evidence:
" … My skin is so smooth and I have no facial eczema (a big problem in the past), and I have been acne free besides 1 small bump for the past week, which I have not been able to say since last summer…"
"…I've been using this as a supplement for years. Ain't no more hormonal acne for me! Make sure you never ever ever ever skip a day. Then you have to wait a month for it to work again…"
"…I have eczema and hormonal acne as well, and evening primrose oil has worked miracles for my skin…"
As for the photo evidence, check out these "before" and "after" pictures, obtained online from real users of EPO.
How to take the oil for a better-looking skin?
There two most common ways to take EPO for acne – either to apply it topically on your skin or to take it internally in the form of a supplement.
Topical application of evening primrose oil for acne
Apply 2-3 drops of the oil to your face every day just before going to bed. Rub a small amount of EPO after washing your face, do not avoid areas with pimples and breakouts, because it is safe to apply EPO on the breakouts.
Evening primrose oil is quite thick and has a strong smell, that is why applying it in the morning can lead to an unpleasant shiny appearance of the skin.
In general, long-time usage of evening primrose oil for skin shows better results, and if you won't get rid of acne completely, at least your pimples will start clearing up faster than usual.
Take EPO internally
Taking evening primrose oil in a form of supplements has a strong healing effect, as it helps to cure inflammation and hormonal disbalance problems internally.
The dosage of evening primrose oil for acne. Take one evening primrose oil capsule (500mg) twice a day, 1 in the morning and 1 at night, to supplement your body with the nutrients to clear up acne.
You can increase the dosage of evening primrose oil for acne treatment up to 1300 mg per day. In this case, you might want to buy more potent capsules and you would only need one capsule per day. In some cases, the dose could be increased up to 3 softgels of 1000 mg each per day (no more than 3000 mg in total).
Usually, it takes about four weeks of continuous use of EPO to see a noticeable improvement in acne spots. This time, however, varies depending on the severity of the breakout and it is also possible that you see positive results sooner than that.
Best primrose oil for acne
Pure Evening primrose oil, Maple Holistics, 2 oz.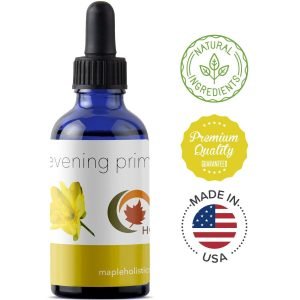 High in GLA gamma-linolenic acid – 10% of an essential fatty acid. A fast-absorbing non-greasy natural liquid oil that makes your skin feel wonderful and glowy again. Liquid evening primrose oil helps in adding moisture to the skin and promoting healthy maintenance of collagen for supple, soft skin.
QUALITY: Organic, 100% pure, cold-pressed evening primrose oil. Packaged in dark amber glass bottle for longevity.
CONSUMER REVIEWS: 1) Works as a great moisturizer for sensitive skin. 2) Helped in reducing hormonal acne. 3) Helped with hair loss due to hypothyroidism. 4) Wouldn't aggravate or clog pores.
Nature's Way Evening Primrose, Efa Gold Cold Pressed Oil 1300mg, 120 Softgels
Nature's Way EfaGold is the highest quality Evening Primrose Oil – guaranteed to contain 10% gamma-linolenic acid (GLA) from non-GMO seeds. This is one of the best evening primrose oil supplements in terms of GLA percentage.
QUALITY: Hexane-free, cold pressed, unrefined, and zero trans fat.
CONSUMER REVIEWS: 1) Helped with hormonal acne. 2) Stopped hot flashes/night sweats. 3) Reduction in PMS symptoms (breast tenderness, bloating, terrible cramps, moodiness). 4) Helped with dry skin.