Chia seeds is currently one of the most popular superfoods. Tiny chia seeds are rich in protein, fiber, calcium, antioxidants, and omega-3 fatty acids. However, to get the full benefits of chia, you need to know how to eat them properly.
One of the properties of chia seeds that made this superfood do popular among people seeking to lose weight is their ability to increase in volume several times. You will literally eat a spoonful of chia, and keep the feeling of fullness for a long time. But you need to be careful: to avoid problems with the stomach, you should not drink water right away, otherwise the chia seeds will swell before reaching the stomach.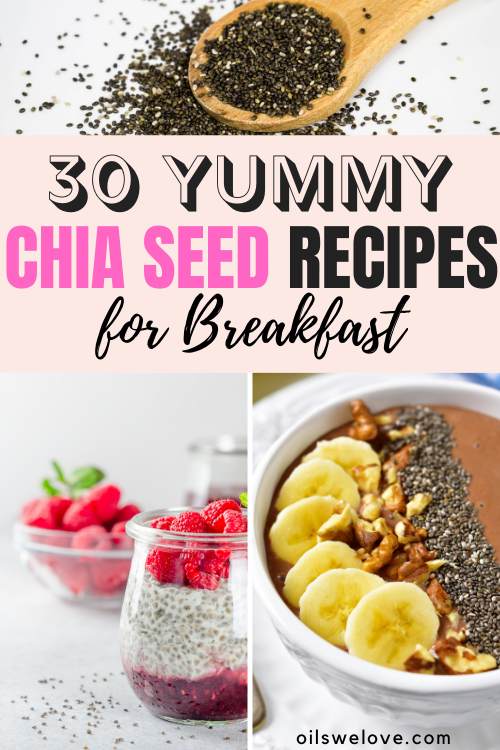 In fact, chia seeds are a great way to increase your fiber intake without having to consume lots of greens and vegetables.
The great thing about chia seeds that they can be an ingredient of many different recipes – smoothies, pudding, pancakes and more.The recipes with chia seeds are super flexible – you can add pretty much any flavor, fruit, etc. to it and it always turns out yummy!
Below I will share the most delicious chia seed recipes that are yummy and easy to make.
1-15. Chia Seed Pudding Recipes
Chia seed pudding is great for breakfast or as a snack, it is very simple to prepare, just pour liquid over the seeds and let it sit for some time (better – overnight).
The optimal proportion: 3 tablespoons (25 g) of seeds per glass of liquid (250 ml).
1. Coconut milk and chia seeds pudding
Time to prepare: 10 mins
Serves 2
Ingredients:
Chia seeds – 1/4 glass,
Coconut milk – 1 glass,
Raw honey – 1/2 tablespoon,
Mango – 1/4 of the whole fruit,
Almond nuts – 1 tablespoon
Instructions:
Combine chia seeds, coconut milk and honey in a small bowl and refrigerate overnight. Take the pudding out of the fridge, make sure it's frozen and the chia seeds are jelly-like. Cut the mango into cubes. Garnish the pudding with nuts and mango slices.
2-5. Four Easy Chia Pudding Recipes.Among them: Chocolate Almond, Strawberries 'n Cream, Matcha Chia Seed pudding
6. Peanut Butter Chocolate Chia Pudding
7. Blueberry Coconut Chia Seed Pudding
Cinnamon vanilla chia seed pudding benefits are numerous. It has a high fiber content, it's gluten-free and vegan, it's rich in omega 3 fatty acids, and it's low in sugar.
8. Cinnamon Vanilla Chia Seed Pudding
10. Blueberry Lemon Chia Seed Pudding
Fresh zest and juice of lemons combined with irresistable taste of blueberries. Yumm! And so easy to make.
Chia seeds are high in fat, protein, dietary fiber, and antioxidants. Chia is especially rich in Omega-3, as well as calcium: 100 grams of chia contains twice as much calcium as a glass of milk.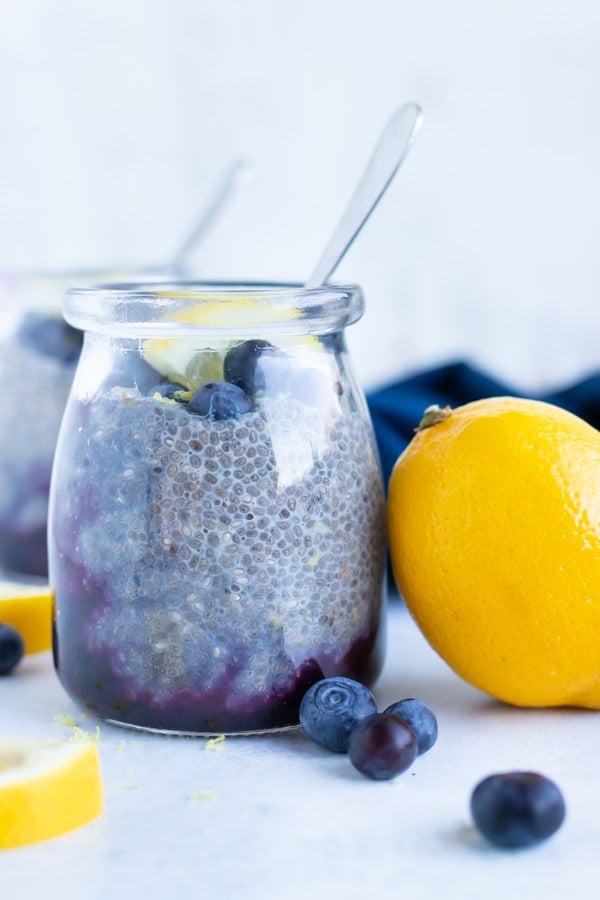 Image source and recipe: Evolving Table
Banana chia seed pudding recipe is very simple to make – all you need are a few ingredients and some time to let the mixture set in the fridge for at least an hour before serving so that it gets its jelly-like consistency.
12. Matcha Green Tea Chia Pudding
13. Cinnamon Apple Pie Chia Pudding
This apple flavoured chia pudding with drops of maple syrup and more apples is such an amazing food to welcome first autumn days.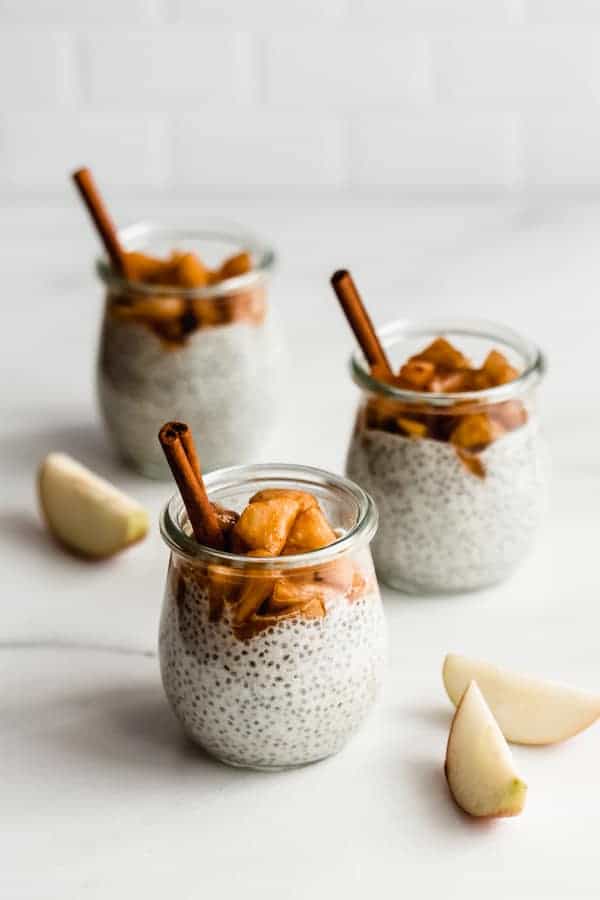 Image source and recipe: Choosing Chia
14. Strawberry-Banana-Beet Chia Seed Pudding
15. Carrot Cake Overnight Chia Seed Pudding
16-25. Chia Seed Smoothie Recipes
If you don't like the taste or texture of the seeds, add them to your smoothie. They will bring a high content of vitamin C and fiber, plus an excellent invigorating taste.
As a liquid part, you can use vegetable milk (almond, coconut, nut, soyetc). Juices, plain yogurt, water, and even non-acidic kefir are also great. There is a huge field for you to experiment and you could find a smoothie to your taste.
Chia seeds do not have a distinct flavor. Therefore, they are combined with almost any fruits or greens.
16. Creamy Strawberry Chia Seed Smoothie
17. Banana Smoothie with Peanut Butter, Chia Seeds and Cinnamon
18. Detox Green Smoothie with Chia Seeds
Ripe pineapple, chia seeds and spinach – all the best ingredients for yummy detox in one jar. This recipe is so simple yet so amazingly tasty!
Image source and recipe: Ally`s Cooking
19. Apple Cinnamon Smoothie (High Protein!)
20. Green Avocado Smoothie with Chia Seeds
21. Chocolate Peanut Butter Banana Smoothie with Chia Seeds
Mmm, tastes like milkshake but low on calories and sugar? Healthy but filling? Yes, this creamy Chocolate Smoothie with chia seeds has all the benefits of detox drink and is really delicious.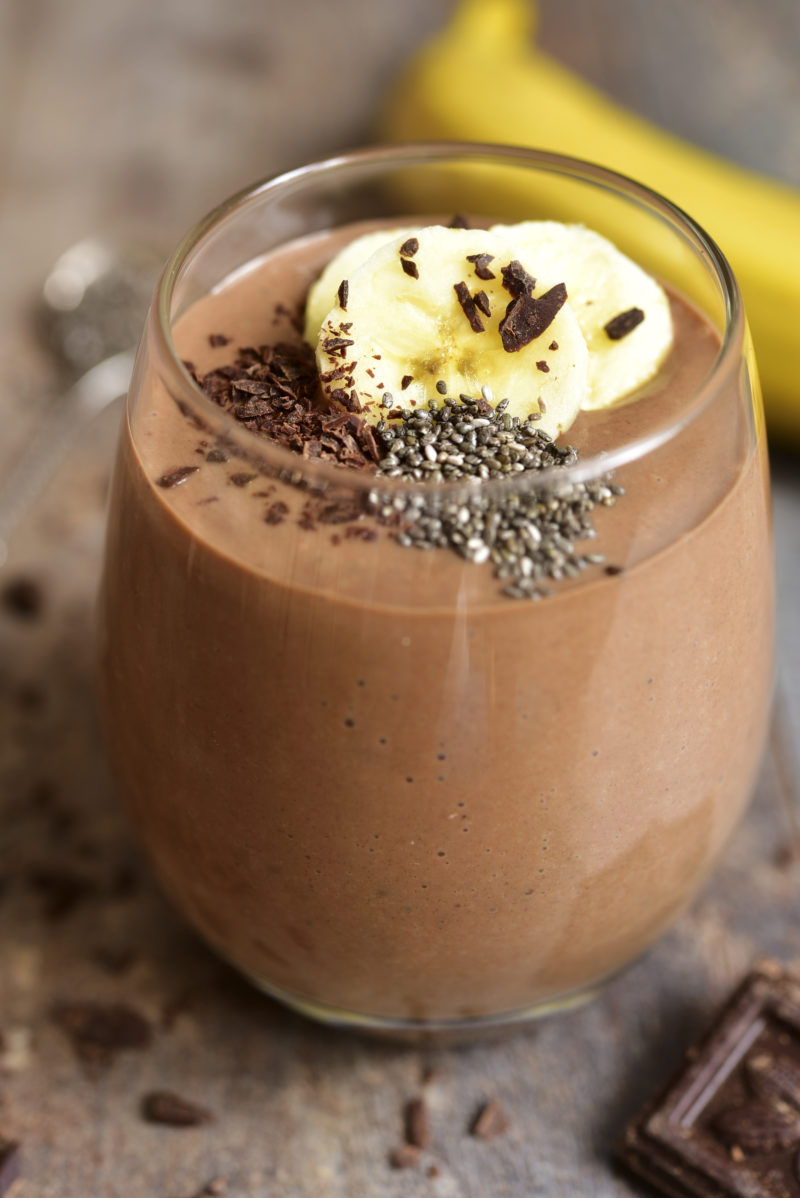 Image source and recipe: Salads for lunch
22. Spinach Pineapple Banana Smoothie with Chia Seeds
23. Chia Seed and Turmeric Smoothie
Turmeric is another great superfood, that makes a perfect pair to chia seeds when it we talk about weight loss. Multiple animal studies have indicated that turmeric may not only promote weight loss, but it may help to hinder regaining weight.
Turmeric is among our top-10 ingredients for weight loss drinks.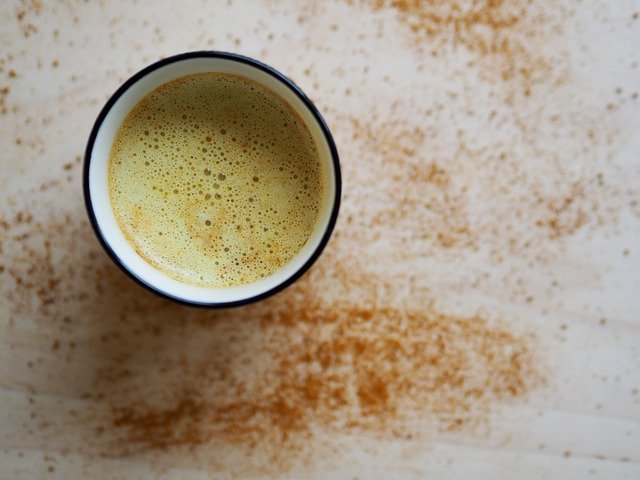 24. Lemon Turmeric Smoothie with Chia
25. Tropical Chia Kefir Smoothie
26-30. Muffins with Chia seeds
Chia seed muffins are a healthy and delicious breakfast option. Chia seed muffins have a lot of variations – they can be made with vanilla extract, chocolate chips, bananas or blueberries.
Chia seeds are nutritious and have many health benefits. They are rich in fiber, omega-3 fatty acids, protein, and antioxidants.
27. Banana Lemon Chia Seed Muffins
28. Vegan Turmeric Carrot Muffins with Chia and Coconut
Image source and recipe: Vegan Richa
29. (Paleo) Coconut Lemon Chia Seed Muffins
Image source and recipe: The Iron You
30. Orange Chia Seed Streusel Muffins
Many people prefer to eat shredded chia seeds rather than whole chia seeds, as supposedly this will allow more alpha-aminopropionic acid (a plant-based omega-3 fatty acid) to flow directly into the bloodstream. Well, this theory has not yet been scientifically proven. In any case, it is up to you how to consume chia seeds: whole, soaked in water, or crushed. They will definitely not become less useful.