You have probably heard many good things about turmeric. Indeed, it has been promoted as one of the most potent and efficient natural weight loss remedies. How exactly can this golden spice help you get rid of excessive fat and maintain your ideal body weight?
Turmeric for weight loss: Scientific Evidence
According to a 2015 scientific report [1], turmeric helps weight loss by stopping fat cells growing. Results of the study say the following: consumption of curcumin "increased weight loss from 1.88 to 4.91%, enhanced percentage reduction of body fat (from 0.70 to 8.43%), increased waistline reduction (from 2.36 to 4.14%)".
The reason turmeric may prompt weight loss is that it turns white fat into brown fat, which is burned by the body to release energy, not stored as fat.
Turmeric is also famous for its antiviral, antibacterial, antioxidant, anti-inflammatory, and antifungal properties. Owing to its endless list of uses and benefits, this herb has earned the title "Queen of Spices."
Regular consumption of turmeric will help you stay in shape. Below we will discuss turmeric benefits and best ways to safely use it for weight loss. But first, let's resolve possible name confusion.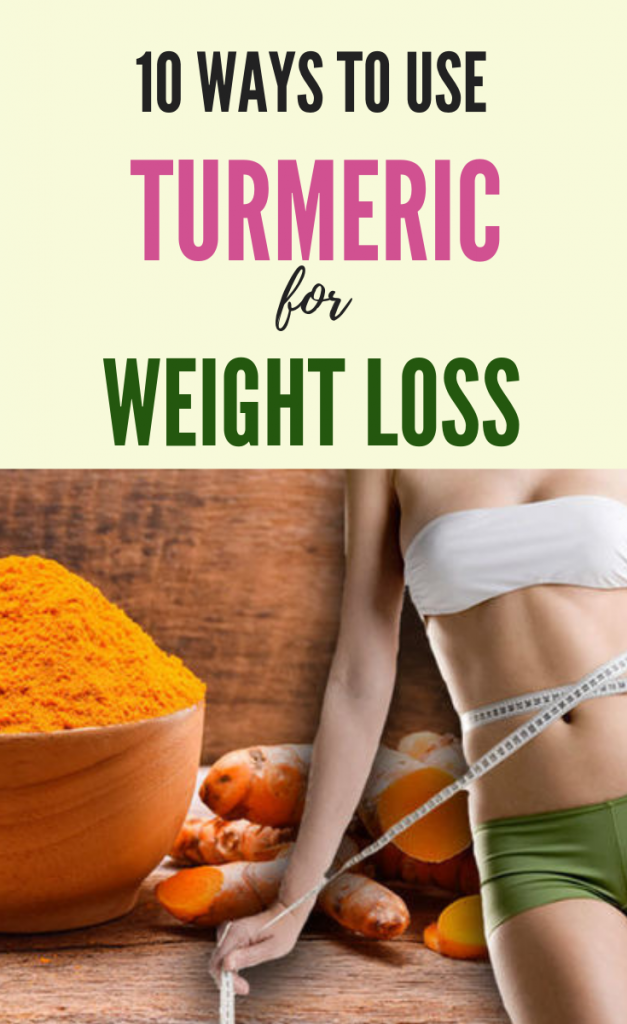 Turmeric vs Curcumin: are they the same?
The most active component of turmeric is curcumin, which gives the spice it's bright orange-yellow color. Actually, most of the anti-inflammatory, antioxidant, and other prominent power comes not from turmeric itself, but from its active ingredient, curcumin.
Curcumin is the chemical substance secreted from turmeric. Curcumin has anti-inflammatory, analgesic, antioxidant, antispasmodic, absorbable, bactericidal, choleretic properties.
What is the advised concentration of curcumin
In order to get a therapeutic effect (or, in other words, significant weight loss effect), you need to realize, that consuming turmeric as a spice is not enough. Keep in mind, that only about 3-6% of the weight of turmeric powder is curcumin and curcuminoid compounds that provide most of turmeric's effects.
In order to get enough curcuminoids, high concentrations of curcumin are required which can't be provided by the amount of turmeric one consumes on a daily basis.
How to Choose Turmeric Supplements
There are a number of factors one should look at carefully when choosing the best turmeric supplements:
1. Scientific fact: the human body absorbs no more than 10% of the total volume of the curcumin. But mother nature gave us another natural remedy that can deal with this problem.
Black pepper, which contains piperine, increase the bioavailability of curcumin and enhances its absorbtion. The piperine in pepper also has bactericidal properties, reduces appetite and improves mood. The best curcumin supplements contain piperine, which helps to increase their effectiveness a lot.
Are you tired looking for the best combination of curcumin and piperine for fast weight loss? Look for supplements that contain BioPerine. BioPerine is trademarked black pepper supplement that helps your body to absorb and make use of the maximum amount of curcumin and other key vitamins in fresh foods, herbs, and spices.
2. Some supplements use a blend of turmeric root powder and extract, typically standardized to contain a certain amount of curcumin or curcuminoids. The higher this percentage, the better. Turmeric supplements will not work (especially for weight loss), if the standardized percentage of Curcuminoids is less than 70%. To make sure you are consuming most powerful and efficient supplements, buy those that contain  95% of curcuminoids.
3. Another great addition to turmeric powder is ginger. Ginger increases the metabolic rate. helps control motion sickness, alleviates stomach discomfort, alleviates morning sickness, and boosts the immune system.
If you would like to shed kilos fast and indulge yourself with warm and spicy drink, here are some recipes of "turmeric milk" (also known as "golden milk").
Best Golden Milk Recipes for Weight Loss
As simple as it sounds, golden milk  is a mixture of warm milk and turmeric powder. Optionally you can add other ingredients – black pepper, ginger, honey, cloves. The list if spices is endless!
Why exactly this combination – turmeric and milk? The yellow spice is absorbed the best in a fatty environment. It is no coincidence that it is often added to fatty dishes. You can use any milk you prefer to prepare this magical drink. It is best to drink it warm. 
The benefits of golden milk (whether it be weight loss, detox or anti-inflammation remedy) depends on the ingredients. The basic recipe is the following [2]:
How to prepare the drink: mix all ingredients in a small saucepan, cook the mixture over medium heat with constant stirring for about 10 minutes. To make sure the mixture helps in reducing high cholesterol, substitute usual honey with manuka honey. 
Other great recipes of golden milk for weight loss:
4. Golden Milk with Ghee
Get calming and calorie-burning effects from this drink made with turmeric, black pepper and ghee. Ghee is an ancient product that is a type of refined butter. Ghee is an ideal substitute for butter, as it does not contain lactose. 
Ghee is quite close to butter in taste, but has a slight nutty aftertaste.

Recipe: Recipe World, Golden Milk with ghee
This blend of 6 superfoods includes organic turmeric root powder (with 95% curcuminoids), black pepper, ginger root powder, cardamom, and cinnamon bark. The spices' diuretic properties allow them to cleanse the body through urine and in this way to promote weight loss.
Ashwagandha and Reishi are the types of mushrooms that are well known in ayurvedic medicine. Reishi helps fight obesity and normalize blood sugar levels.
Both are well suited for adding to the weight loss drink, because they swell in the stomach, giving a feeling of fullness and prevent the absorption of fat. 
7. Vanilla Turmeric Golden Milk Latte
Try this creamy vanilla-scented while cozying up with a good book for the perfect weekend treat.
Recipe: Kitchen treaty, Vanilla turmeric golden milk latte
8. Turmeric Milk with Maple Syrup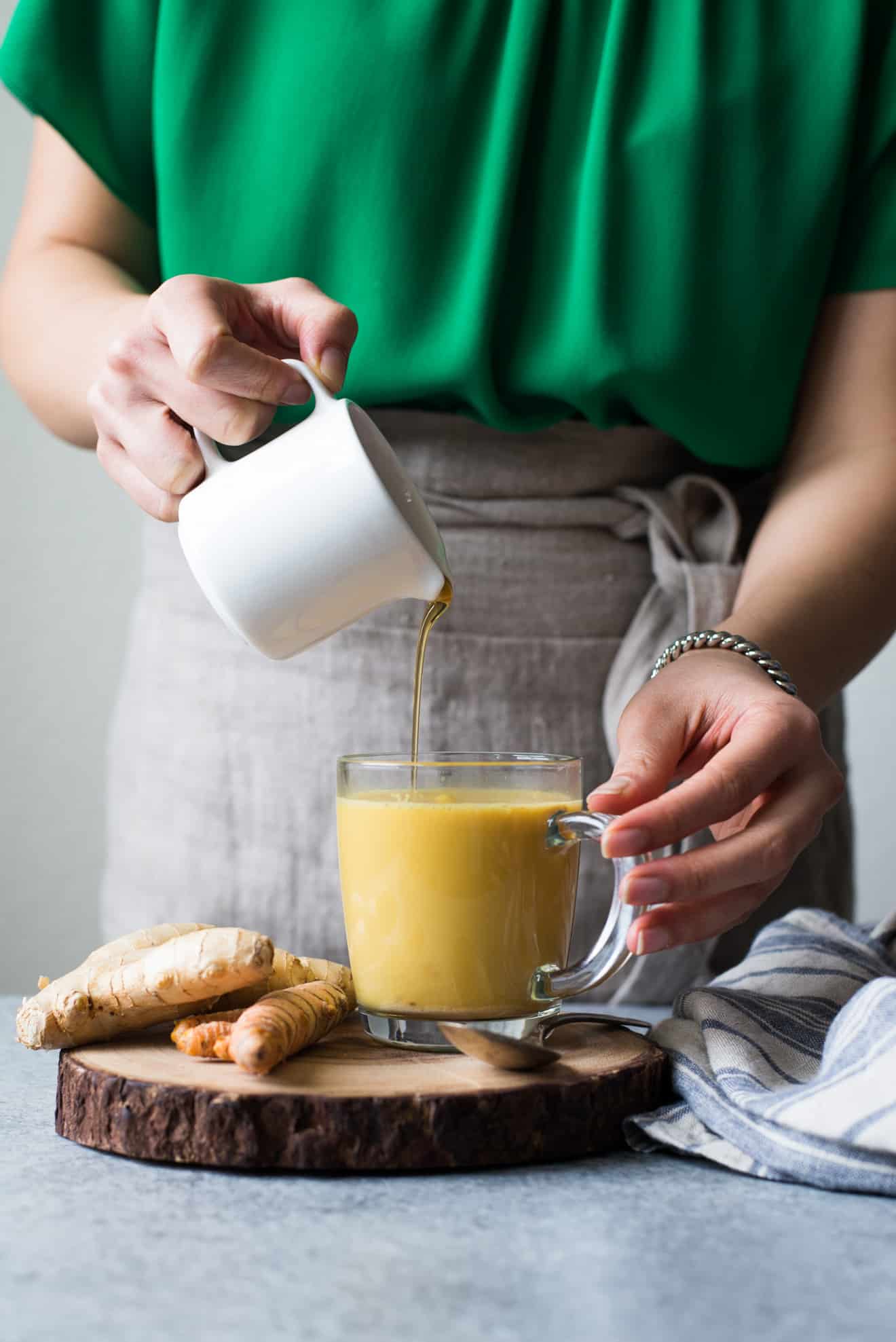 This super-lush turmeric milk blends turmeric and maple syrup with antioxidant-rich ginger. 
Recipe: Healthy nibbles, Golden milk with maple syrup
Matcha Tea Recipes for Weight Loss
Both matcha and turmeric have been consumed for hundreds of years and offer detoxifying properties, both perform very efficient in terms of antioxidants. Combine these two winning powders together, and you will get an extremely powerful cocktail for detoxifying your body and get rid of these sticky extra kilos.
9. Ginger Turmeric Matcha Latte
This turmeric matcha drink gives you a strong energy kick without a crash or late night insomnia. 
Recipe: Golden Holistic, Matcha Turmeric Latte
10. Turmeric Matcha Green Tea Powder
A delicate turmeric green tea flavor enhanced by ginger & cinnamon. Mix 1/2 a level teaspoon with hot water/milk or add to a smoothie.
Find a turmeric drink or supplement that works best for you. For different effects, you can alternate between adding black pepper, ginger, apple cider vinegar. As always, stay safe and consult with your healthcare professional in case of any concerns.
---
Disclaimer: The contents of this website are for informational purposes only and do not constitute medical advice; the content is not intended to be a substitute for professional medical advice, diagnosis, or treatment. Always seek the advice of a physician or other qualified health provider with any questions you may have regarding a medical condition. 
---
References:
Potential role of bioavailable curcumin in weight loss and omental adipose tissue decrease: preliminary data of a randomized, controlled trial in overweight people with metabolic syndrome. 
SEur Rev Med Pharmacol Sci. 2015 Nov;19(21):4195-202.
https://www.healthline.com/nutrition/golden-milk-turmeric#section11