This post may contain affiliate links: full affiliate disclosure.
Do you only use turmeric as a spice? You can also use it in your beauty routine. Turmeric is a real elixir of youth and beauty, and turmeric masks do wonders for our skin.
The fact that turmeric has a beneficial effect on the skin has been known since ancient times. In India, traditionally before the wedding, the bride was rubbed from head to toe with turmeric, thereby clearing her previous karma. But at the same time, turmeric paste actually perfectly cleansed the skin, improved its color. This effect of turmeric is due to its main ingredient – curcumin, a chemical compound with powerful antioxidant and anti-inflammatory properties.
DIY turmeric face masks are very easy to make. But keep in mind: turmeric can turn the skin yellowish. Therefore, keep masks on the skin for no more than 15 minutes and do them no more than 1-2 times a week (preferably before going to bed). And make sure you're not allergic to any of the ingredients.
Five easy DIY turmeric face mask recipes
1. For acne, pimples, redness of the skin, mix turmeric with warm milk and honey and apply on face.You will need 1/2 tablespoon of each ingredient.
2. For hyperpigmentation and wrinkles, pair turmeric with yogurt and/or lemon juice for extra nourishment and a brightening effect.
Here is a recipe to try:
mix equal proportions of turmeric powder and sour cream, 1 tablespoon each
apply to a washed face for about 20-25 minutes
rinse the mixture off the face with warm running water
for the effect to be seen, this mask should be applied to your face every other day for 2 weeks.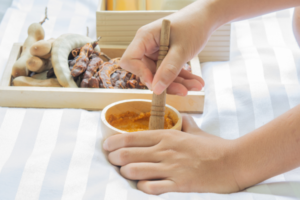 3. For irritation, mix turmeric extract with aloe vera gel for a natural soothing effect.
4. To get an antioxidant and detox effect, simply mix turmeric with water (you can add a small amount of almond or rice flour to make the mask thicker and easier to apply).
5. For cleansing and shrinking pores it is best to mix turmeric with caolin (clay) and some water. This one can be tricky cause it is not easy to get even textures when mixing turmeric with clay. Therefore you can, for example, check this ready-made turmeric-caolin mask: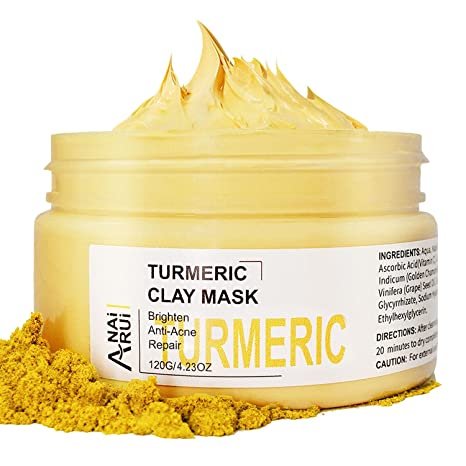 Turmeric has many benefits. It is a natural anti-inflammatory and antioxidant. It also helps to relieve pain, reduce wrinkles and scars, heal wounds, fight infections, regulate menstruation and balance hormones.
The turmeric face mask is a beauty treatment that uses the power of turmeric to help your skin glow from the inside out.