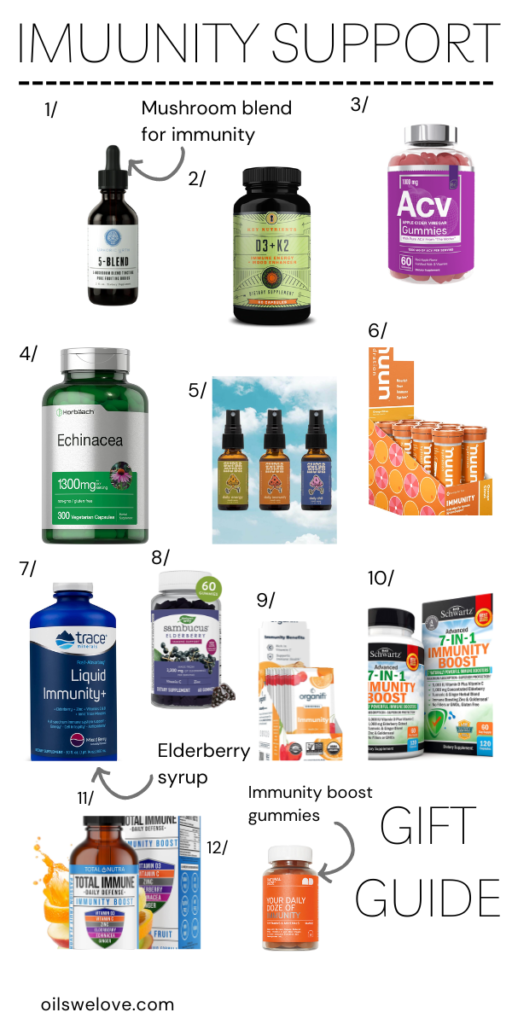 This post may contain affiliate links: full affiliate disclosure.
If you feel like supporting your immunity this winter is a good thing to invest in – here is the smart gift guide covering best supplements and vitamins to get you or your friends through the cold times.
01 | We will start with the BANG! 5 Mushroom blend tincture (contains Reishi, Chaga, Lion's Mane, Turkey Tail, and Cordyceps) brings best of the best (basically, the juice) of what mushrooms can give to your body and brain – boosted energy, increased cognitive function, increased resistance to viruses.
It is recommended to take a course of useful mushrooms in autumn and spring, when the human body is more susceptible to a decrease in the abilities of the immune system.
02 | Vitamin D3 + K2 – vitamin D 3 helps to maintain the defencive power of our body, reduce the risk of developing colds and viral infections .
Vitamins D3 and K2 contribute to the proper absorption of calcium6needed to maintain bone strength.6 Thanks to vitamin K2, the mineral is sent directly to the bone tissue, and is not deposited on the walls of blood vessels, in the joints and kidneys.
Taking this vitamin pack you will not only support your bone health and heart health, as Vitamin D3 + K2 may also help boost your mood, which is much needed during long gloomy winter months.
03 | Apple Cider Vinegar Gummies – contain proteins, enzymes, and beneficial bacteria. These gummies are also fortified with essential B vitamins, which can help improve energy levels, cognitive function, cardiovascular health, and more.
04 | Echinacea – sweet tasting gummies with ith Echinacea, Propolis & Vitamin C.
Echinacea contains the bioactive substance echinacein, which can help the body fight bacterial and viral infections. According to a study in pharmaceutical biology, Echinacea exhibits antimicrobial properties and is effective against 15 different pathogenic bacteria and two pathogenic fungi.
Echinacea is used to treat a variety of ailments, including colds, toothaches, sores, wounds and herpes.
05 | SuperMush –  sweet tasting mini-spray bottles of mushroom extracts. Convinient to take on the go. Include extracts from Reishi, Rhodiola, Orange Peel, Elderflower, Green,  Organic Bourbon Vanilla, Monkfruit. All the superheroes of immunity support in three little bottles.
06 | Nuun. Citrus Orange Immunity Box – Whether you're on-the-go, or stressing your body through high intensity workouts, Nuun Immunity's propriety mix of botanicals and electrolytes supports a healthy immune system. With a balance of anti-inflammatories (including Turmeric & Ginger), free-radical fighting antioxidants (such as Elderberry & Echinacea), and our hydration-optimized blendof electrolytes, Nuun Immunity packs a triple punch in supporting immune health.
07| Liquid Immunity Shot – Berry flavored drink for adults and kids. Just one capful or 2 tablespoons per day provides over 100% of the RDA of Vitamin C, Vitamin D3, and Zinc, along with immune boosting black sambucus elderberry, magnesium, and ionic trace minerals