Taking care of yourself is vital, but it can be hard to find the time and the motivation to do so with everything else you have going on in your life. Challenges are a great way to motivate yourself to achieve goals that benefit your well-being, whether it's more sleep or spending more time at the gym, and self-care challenges are particularly good because they focus on your own needs rather than someone else's! Here are 150 self-care ideas and challenges you can try today.
Healthy Happy Impactful offers a list of 50 self-care ideas that can help you to reboot. among them I found some non-trivial ones, such as: making a self-care kit (need to look what is this and what is inside), end your shower on cold, unfollow toxic people on social media.
You can also subscribe to a daily e-mail with a new self-care idea for the day. How cool is that!
You can get all 50 self-care ideas here:
Analyze your past experiences. Think back to activities that made you feel a little better. It could be breathing practices, exercising, sleeping, watching a favorite movie, talking with loved ones.If you need a little guidance, here is a great list of 31 Self-Care Ideas, and each of them can be turned into a 30-day challenge.
We often try to take away anxiety with not the healthiest activities, which in the long run do not bring relief, but only make us feel even worse. Some of us smoke or drink alcohol, and then wake up broken and with a headache. Someone gets stuck on the phone, endlessly scrolling through a social networking feed, and as a result, the stress is compounded by guilt for wasting time.
Write down all the destructive ways of coping with stress that you turn to, and think about how to replace them. For example, you can use one of the ideas from this list: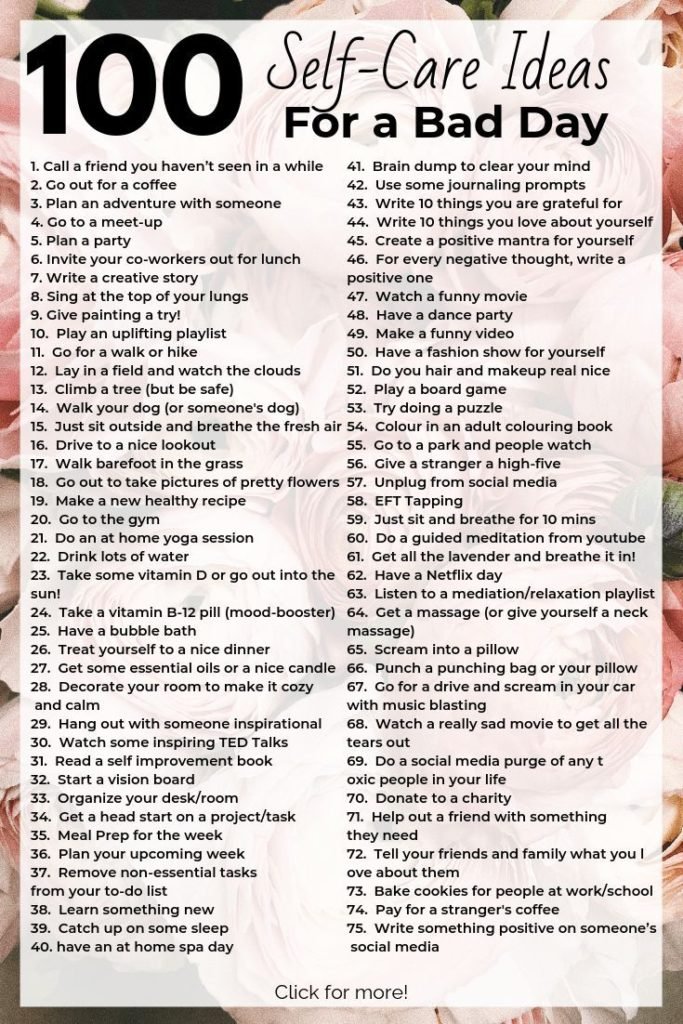 Now you have a big list of activities that will help you get yourself together, come to your senses, and restore your strength. It is divided into several categories, depending on your personal characteristics. You should print it out or save it electronically so you have it handy. If something unpleasant happens or you just feel tired, you can refer to your plan and quickly figure out what to do.