Drinking chia seed water to prevent constipation and help you poop – does this really work?
Chia seed water has quickly become a popular choice among those looking to lose weight, but there is another reason why chia seed water (or also known under the nick name "internal shower") is getting more and more popular in the universe of natural detox methods.
Chia seed water benefits go far beyond just weight loss; it is also a great source of fiber, omega-3 fatty acids, antioxidants, and minerals. That is why it is quite smart to start your day with chia seeds for breakfast. and if you are looking for breakfast ideas, here is the list of 45 yummy breakfasts with chia seeds.
Not only is it an excellent addition to any diet or exercise plan, but it can also help you to get rid of constipation issues.
In this article, we'll be exploring the many chia seed water benefits for constipation and how these little black seeds can help you poop better.
How Do Chia Seeds Help With Constipation?
Chia seeds are known for their high-nutrient content and their versatility as an ingredient, but they are also quickly gaining popularity as a constipation aid.

Chia seeds are high in fiber. Just one serving of chia provides your body with enough fiber for the whole day. This is also the reason why chia seeds are so good for the intestines, helping them empty regularly and ensuring healthy stools.
The high amount of fiber in chia seeds leads to a gel-like formation of insoluble fibers when they react with water. This facilitates the process of defecation, thereby preventing constipation.
Chia Seed Water for Constipation: The Recipe
The recipe of chia seed water for constipation is extremely easy.
You will need:
one tablespoon of chia seeds
one glass of water (an 8- or 10-ounce glass)
add lemon slices or a juice of lemon to improve the taste and get an extra kick of Vitamin C
alternatively, you can use a cucumber infused water (add 4 slices of cucumber to a glass of water and live it in the fridge overnight. In the morning use this water to soak chia seeds)
stir the mixture and let it sit for 15 min, allowing chia seeds to absorb water
Start with one glass of the mixture in the beginning of the day, and you can add one more glass later in the evening if there is not much movement going on in your stomach.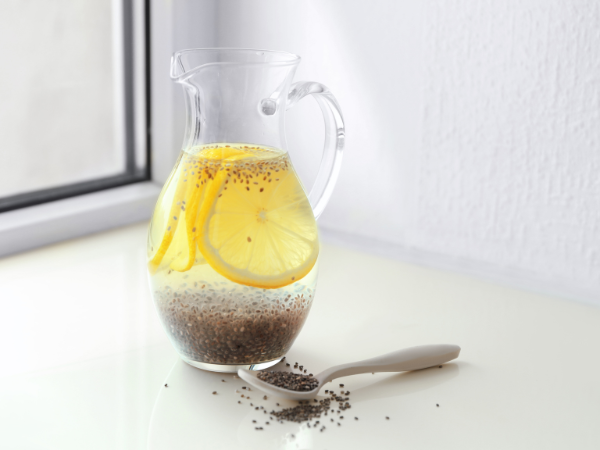 Do Chia Seeds Really Help to Poop? The Science
There has been a specific study about how chia seeds influence constipation. However, due to the proven fact that these seeds have a very high fiber composition, it is assumed that chia seeds do have a laxative effect. [1]
Who Should Avoid Using Chia Seed Water for Constipation?
You do not advised to take chia seed water, if you suffer from:
– if you have inflammatory bowel disease (including Crohn's or ulcerative colitis)
– if you are prescribed a low fiber diet
– irritable bowel syndrome (IBS) diverticulitis
Side Effects of Chia Seed Water for Constipation
Hoping to get rid of constipation but getting even more belly problems? Yes, this can happen if you consume too much chia seeds per day or drink to little water.
The thing is that while fiber is generaly helpful for the digestion and healthy stools, too much fiber intake can actually lead to these stomach problem:
– bloating;
– constipation;
– diarrhea;
– cramps.
Therefore, to be on a safe side, use this rule: drink one glass of chia seed water plus one glass of clear water.
Conclusion
The combination of the fiber, protein, and healthy fats in chia seeds makes them an ideal component in your weight loss diet. But also chia seeds may improve your digestion, including problems with constipation. But do not overdo it: one or two glasses of chia seed water plus same amount of clear water, should do the trick, and if not, consult your healthcare practicioner.
---
References:
Vuksan V, Jenkins AL, Dias AG, Lee AS, Jovanovski E, Rogovik AL, Hanna A (2010) Reduction in postprandial glucose excursion and prolongation of satiety: possible explanation of the long-term effects of whole grain Salba (Salvia Hispanica L.). Eur J Clin Nutr 64(4):436–438
---
Disclaimer: The contents of this website are for informational purposes only and do not constitute medical advice; the content is not intended to be a substitute for professional medical advice, diagnosis, or treatment. Always seek the advice of a physician or other qualified health provider with any questions you may have regarding a medical condition.