Evening primrose oil for eczema – does it help?
Evening primrose oil has many benefits for skin: it can be used to soothe skin inflammation, swelling, and bruises.
Evening primrose oil is used in the treatment of breast pain and menopausal symptoms. It is a proven treatment for acne and other skin disorders. Some researchers claim that evening primrose oil is also a great natural treatment for eczema.
Eczema triggers
Eczema is a non-contagious inflammatory disease of the skin, accompanied by itching, which affects up to 5-20% of the population at some point in their lives.
The causes of eczema may be related to the state of the body itself or to external influences:
Skin contact with different metals. It can be nickel (glasses, buckles, jewelry, keys, coins), chromium (lacquers, cement, painted fur, and leather), cobalt (plastic, jewelry, ceramics, paints, cement).
Contact with synthetic substances that are part of cosmetics, paints and varnishes, household chemicals.
Prolonged use of some drugs, such as plasters, antibiotics.
Contact with some plants: for example, tulips.
Contact with various bacteria and fungi.
Rubber, various adhesives, formaldehyde, oils, epoxy, and other resins, various petroleum products.
Frequent and severe nervous stresses. Often eczema occurs after another nervous shock.
How evening primrose oil can help against eczema? The United Kingdom once approved evening primrose oil for eczema treatment, but they revoked the license in 2002 due to insufficient evidence of its efficiency. Today, there's conflicting evidence that it is effective for treating eczema.
But what is known for sure, is that primrose oil improves inflammation and dryness of the skin [1].
How primrose oil can decrease symptoms of eczema
Studies show that people with eczema do not have the normal ability to process fatty acids. This leads to a deficiency of gamma-linolenic acid or GLA. All this causes local dryness and redness of the skin, which can be covered with blisters or cracks.
GLA is an omega-6 fatty acid that the body can convert into substances that reduce inflammation and cell growth. One of the most important ingredients in evening primrose oil is gamma-linolenic acid [2].
How to use evening primrose oil capsules to treat eczema
You can use evening primrose oil capsules orally. It may help correct an abnormality in essential fatty acids found in eczema.
Take no more than 6 capsules a day, at a dose of 500 milligrams per capsule. If you are not fond of swallowing so many capsules, choose primrose oil in a higher dosage. For example, with 1000mg you would have to take only 3 capsules of evening primrose oil per day. And the 1300mg content of GLA will cover your daily need with 2 capsules only.
Barlean's Organic Oils Organic Evening Primrose Oil, 1300mg, 120 Softgel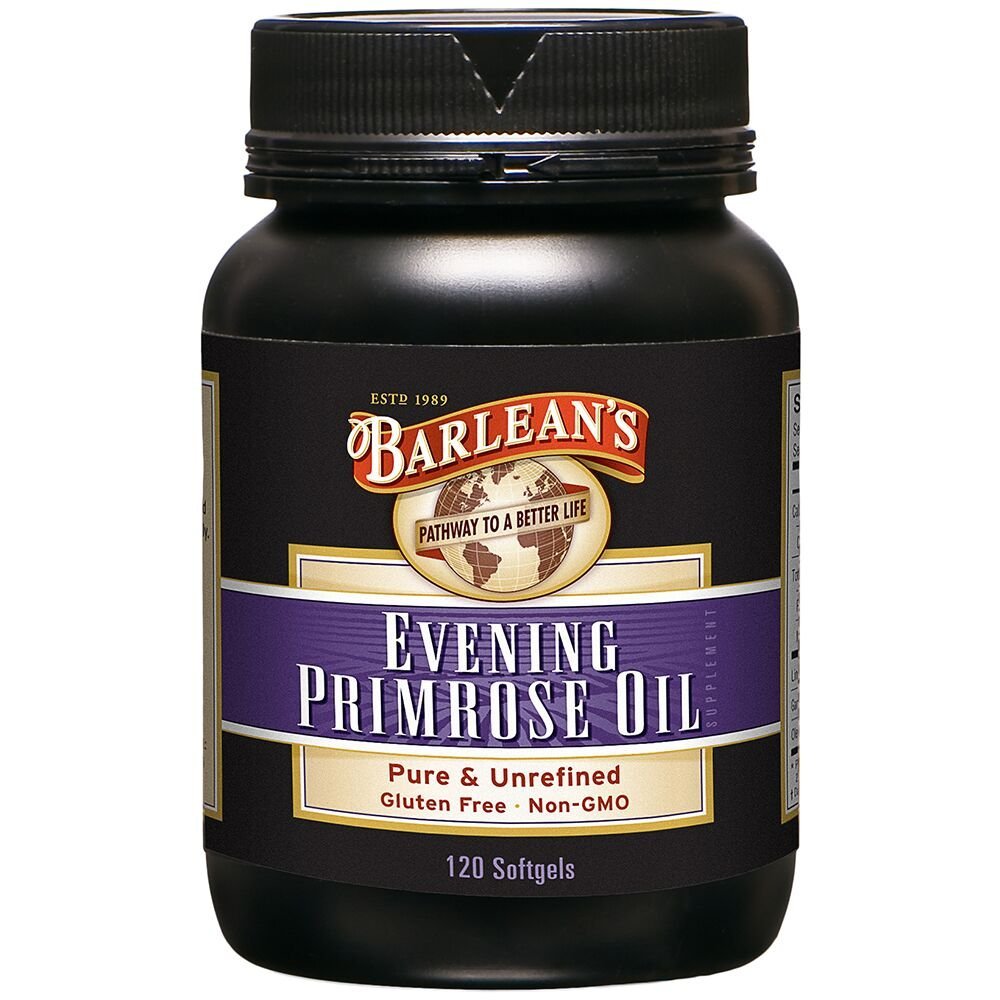 This evening primrose oil 1300mg dose provides a very high concentration of Omega 6. It contains a high dose of Gamma-Linolenic Acid (GLA), therefore it is a great support for healthy hair, scalp, and nails.  It has only 25 calories per serving and is free of gluten starch, wheat and sugar to fit your diet.
QUALITY: Non-GMO, Gluten-Free, cold-pressed, unrefined.
CONSUMER REVIEWS: 1) Helps with hormonal acne. 2) Skin looks healthier and plumper. 3) Reduction in breast pain and fibroids. 4) Reduction of women´s hair loss.
Primrose oil for scalp, face, and hands eczema
If you have eczema on the scalp, you can apply evening primrose oil directly to the scalp and hair. Leave it for 30 minutes as a thick moisturizing mask and then wash your hair as usual.
For treating atopic dermatitis (eczema) on face or hands, clean affected area and massage evening primrose oil till it is completely absorbed. Of course, for this purpose, it is best to take liquid primrose oil.
Pure Evening primrose oil, Maple Holistics, 2 oz.

High in GLA gamma-linolenic acid – 10% of an essential fatty acid. A fast-absorbing non-greasy natural liquid oil that makes your skin feel wonderful and glowy again. Liquid evening primrose oil helps in adding moisture to the skin and promoting healthy maintenance of collagen for supple, soft skin.
QUALITY: Organic, 100% pure, cold-pressed evening primrose oil. Packaged in dark amber glass bottle for longevity.
CONSUMER REVIEWS: 1) Works as a great moisturizer for sensitive skin. 2) Helped in reducing hormonal acne. 3) Helped with hair loss due to hypothyroidism. 4) Wouldn't aggravate or clog pores.
---
References
Joseph E. Pizzorno ND, … Herb Joiner-Bey ND, in

The Clinician's Handbook of Natural Medicine (Third Edition)

, 2016
Evening Primrose Oil, Herbs at a Glance, National Center for Complementary and Alternative Medicine, Accessed at http://nccam.nih.gov/health/eveningprimrose, November 7, 2013
---
Disclaimer: The contents of this website are for informational purposes only and do not constitute medical advice; the content is not intended to be a substitute for professional medical advice, diagnosis, or treatment. Always seek the advice of a physician or other qualified health provider with any questions you may have regarding a medical condition.