2. Chamomile tea. Since ancient times chamomile has been used to treat various diseases. Due to the unique chemical composition, chamomile tea provides:
• powerful antibacterial action, fighting the pathogenic environment, eliminating internal inflammation;
• antispasmodic properties, which explains its use during PMS, fever or cold;
• diuretic effect, eliminating edema;
• sedative effect, preventing feelings of anxiety.
In fact, a scientific study conducted in 2016 [1] concluded that long-term use of chamomile pharmaceutical grade extract significantly reduced the symptoms of generalized anxiety disorder (GAD). Of course, the doses of chamomile extract received by the study subjects were much higher than the ones you would get from the tea, nevertheless chamomile tea can be considered as an additional element in the winding off relaxation routine.
Chamomile tea is also among top rated supplements for anxiety and stress.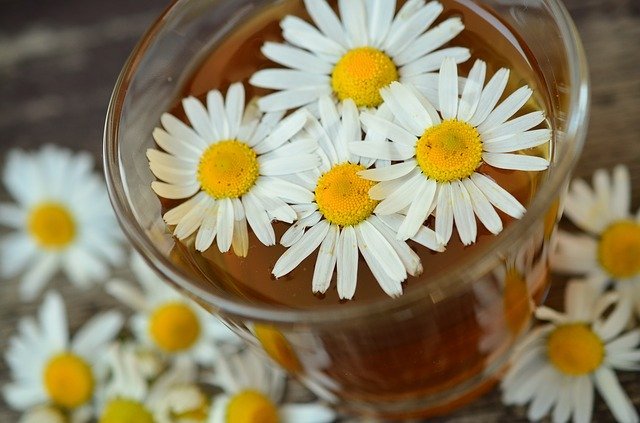 3. Apple cinnamon tea. Helps to get rid of chronic fatigue syndrome, sleep disturbances, tantrums and irritation, as well as headaches and apathy.
Tea with apples and cinnamon helps to improve the physical and mental state, relieve fatigue and restore strength after stress.