DIY Turmeric face wash is my new skincare obsession, as it helps me to brighten and heal my skin naturally. Turmeric has amazing healing properties, it revives your skin offering a natural glow, and treats acne. Turmeric features anti-inflammatory and antioxidants abilities.
We have prepared several recipes to make DIY turmeric face wash, which will help keeping your skin clean and glowing.
How To Make DIY Turmeric Face Wash
The turmeric face wash is perfect DIY recipe for deep cleansing leaving the skin glowing. It blends the perfect combination of natural ingredients.
Turmeric powder is the main ingredient in this face wash. Turmeric possesses remarkable healing and glowing skin abilities. Many DIY face masks and toners feature turmeric as an additive to enhance the skin's refreshing effects.
Turmeric contains curcumin, which has high anti-inflammatory qualities. Studies show that curcumin fights free radicals extremely effectively, as it launches a mechanism in the body to combat oxidative tissue damage. Scientists have noted significant improvements in moisture loss and wrinkle correction.
Research showed turmeric combined with other solvents like water could be a natural source of anti-acne-inducing bacteria.
Listed below are the ingredients you will need – although the main ingredient is turmeric – and directions on how to use them.
---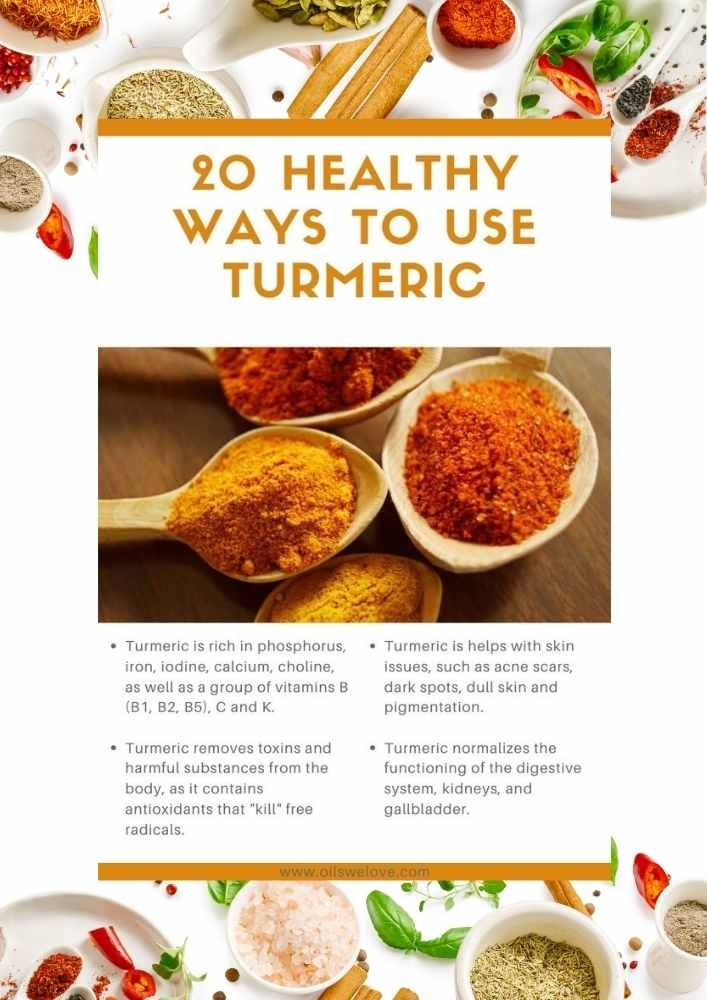 Pro Tip: get my collection of turmeric recipes for immunity, skin and detox. In the "20 Healthy Ways to Use Turmeric | Printable Recipe Collection" you will find: Detox turmeric shots (5 recipes), Amazing turmeric drinks (6 recipes), DIY face masks with turmeric (9 recipes). Get it here
---
Ingredients:
¼ cup liquid castile soap contributes significantly to removing grime, dirt, and makeup without removing the natural oils from your skin.
One teaspoon of turmeric powder – which has healing anti-inflammatory, brightening, anti-clogging and skin clearing properties.
One teaspoon of bentonite clay – it helps with additional absorbtion of grime from the clogged pores, helps with the skin detoxifiaction and provides a very light exfoliation. By the way, bentonite clay is a totally natural and clean ingredient, therefore you can also consume it internally in a form of detox drinks and smoothies.
½ cup aloe juice or pulp of 2 small aloe leaves – aloe vera is a great natural moisturizer, but also it helps to regulate skin oil production.
(Optional) 1 tablespoon of Jojoba oil plus 2-3 drops of your favourite essential oil. Jojoba oil is used as a carrier oil in this case, but also it has many amazing benefits for skin: among others, it has antifungal and antibacterial features. As for essential oils, I like to use one of these 10 best essential ols for oily skin (because my skin is oily). Recently I am in love with the cedarwood essential oil.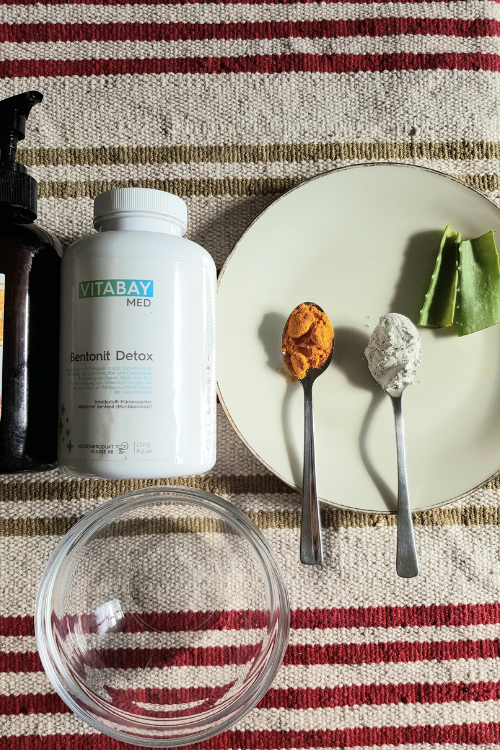 Directions:
Mix 1 teaspoon of turmeric and 1 teaspoon of bentonite clay in a bowl. Don't use cooking turmeric powder as it can leave stains on your skin and hair. Use wild turmeric as it is specifically used for skincare recipes.
At this stage add castile soap, jpjoba oil and essential oils, if you decided to add them. Scrape some aloe vera pulp and suize juice out of it, all it to the bowl as well.
Stir the ingredients well and pour them out in a pump bottle. The DIY turmeric face wash is ready!
Shake well before using it and do not be scared by the bright orange-green colour. Massage your skin for a few minutes, and then rinse the facewash off.
Use it as a regular facewash. However, if you face any irritation, then consult your dermatologist for proper dosage.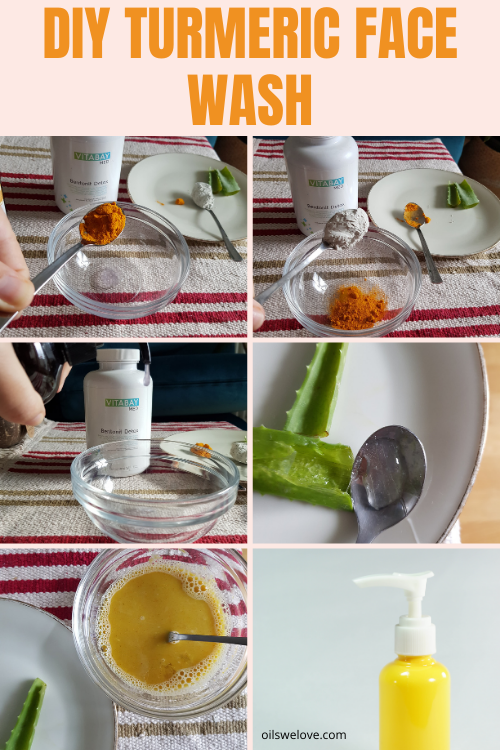 Alternative Recipes of DIY Turmeric Face Wash
Turmeric Essential Oil Face Wash
If you want to strengthen the baseline recipe with something even more powerful, go for this one: in addition to ground turmeric it includes several drops of turmeric essential oil. This oil posesses tremendous anti-bacterial properties and is actially an alternative to tea tree oil.
Turmeric essential oil is an amazing remedy for dry and cracked skin, blemishes, acne, marks and wrinkles.
Get the full recipe of Turmeric Essential Oil Face Wash at thenaturaldaily.com
Green Tea and Turmeric Face Wash
If you want to use more ingredients that you already have in your kitchen, you can modify the baseline recipe in the following way.
Replace half a cup of aloe juice with half a cup of green tea. The antioxidants in green tea are a powerful weapon against skin acne and blackheads.
¼ cup liquid castile soap
One tablespoon of Rosehip oil 
One teaspoon of turmeric powder 
2-3 drops of vitamin E oil – you can squize out one capsule of Vitamin E supplement
Precautions:
Make sure to patch test beforehand first to ensure your skin isn't allergic to any of the ingredients used in this facewash.
If you are worried about turmeric leaving stains on your skins, we recommend using non-edible wild turmeric. It is especially used for skincare purposes without leaving any stains and has amazing beauty benefits.