DIY Turmeric face wash is my new skincare obsession, as it helps me to brighten and heal my skin naturally. Turmeric proffers tremendous wound healing abilities, revives your skin to offer a natural glow, and treats acne. Turmeric features anti-inflammatory and antioxidants abilities.
If you want to keep your skin clear, clean, and glowing, below you will find several recipes how you could make DIY turmeric face wash.
How To Make DIY Turmeric Face Wash
If you want to deeply clean and clarify your skin while leaving it bright and glowing, the turmeric face wash is ideal for you. It blends the perfect combination of natural ingredients.
Listed below are the ingredients, although the main ingredient is turmeric, and directions on using them.
---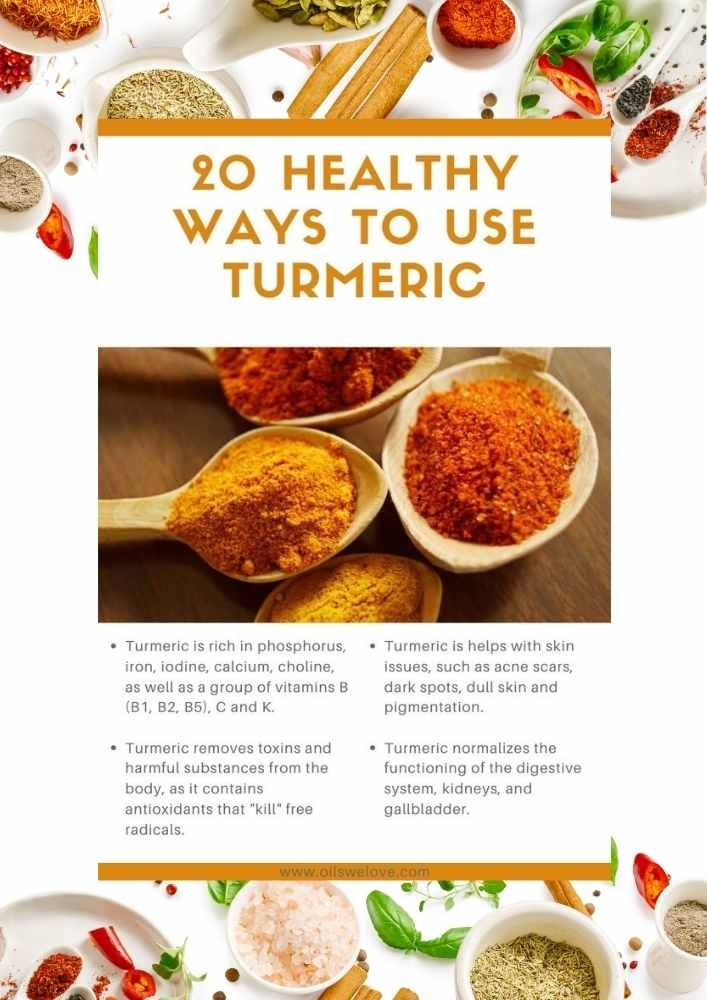 Pro tip: get my collection of turmeric recipes for skin, immunity and detox. In the "20 Healthy Ways to Use Turmeric | Printable Recipe Collection" you will find: Detox turmeric shots (5 recipes), Amazing turmeric drinks (6 recipes), DIY face masks with turmeric (9 recipes). Get it here
---
Ingredients:
Things you need for preparing this face wash
½ cup aloe juice – A perfect addition as it moisturizes and softens skin to provide clear, healthy skin (where to get it)
¼ cup liquid castile soap contributes significantly to removing grime, dirt, and makeup without removing the natural oils from your skin. (where to get it)
One tablespoon of Jojoba oil – Jojoba oil helps in treating psoriasis, acne, and eczema. Moreover, it has other skin benefits as well. (where to get it)
One teaspoon of turmeric powder – helps with skin brightening, anti-acne, anti-inflammatory properties, anti-clogging, and healing. (where to get it)
One tablespoon of raw honey – helps with balancing bacteria on the skin. Therefore, an ideal additive for treating acne. However, you can omit it if allergic to it.
Directions:
For preparing DIY turmeric face wash, add one tablespoon of raw honey and ½ cup of liquid castile soap in a jar.
Add one teaspoon of organic turmeric powder. Don't use cooking turmeric powder as it can leave a stain on your skin. Use wild turmeric as it is specially used for beauty purposes.
Then add a tablespoon of jojoba oil to it.
Stir the ingredients well and pour them out in a pump bottle. Your face wash is ready to use
Pour a small amount and use it as any other facewash.
Massage your skin for a few minutes, and then rinse the facewash off
Use it as a regular facewash. However, if you face any irritation, then consult your dermatologist for proper dosage.
Benefits Of Using These Ingredients In DIY Turmeric Face Wash
You are wondering why exactly these ingredients? DIY Turmeric face wash features all the natural ingredients to provide toxic free cleaning and nourish your skin. Following are some of the benefits of the use of each element in this facewash:
TURMERIC POWDER
Turmeric powder is the main ingredient in this face wash. Turmeric possesses remarkable healing and glowing skin abilities. Many DIY face masks and toners feature turmeric as an additive to enhance the skin's refreshing effects.
Turmeric contains curcumin, which helps heal wounds by decreasing oxidation and inflammation—moreover, its anti-inflammatory qualities aids in treating acne scars. Also, using turmeric can help in treating scabies and other dermatological conditions.
Some key benefits of turmeric include:
HELPS IN TREATING ACNE: Bacteria containing anti-inflammatory compounds aid efficiently in treating acne-prone skins. Research showed turmeric combined with other solvents like water could be a natural source of anti-acne-inducing bacteria.
HELPS IN TREATING APTOMIC DERMATITIS: Turmeric is an ideal natural remedy for adults facing atopic dermatitis around the eyes. People having eczema found turmeric extract helpful in reducing swelling, scaling, flushed skin, and itching.
REMOVES WRINKLES AND AGING: The curcumin present in the turmeric helps to eliminate wrinkles. A case study showed long-term use of turmeric could prevent skin from aging. Moreover, it proffers refreshing and glowing skin.
WOUND HEALING: We all know wound causes inflammation near the skin's affected area during the natural healing process. A combination of turmeric and other healing herbs helps promote the healing process even for people who have diabetes. Turmeric hastens the process of healing with lesser inflammation.
CAN BE BENEFITIAL IN TREATING PSORIASIS: Tired of having persistent, dry, or thick patches on your face? Cheer up turmeric helps in reducing the appearance of psoriasis and limits its propagation by suppressing Phk activity.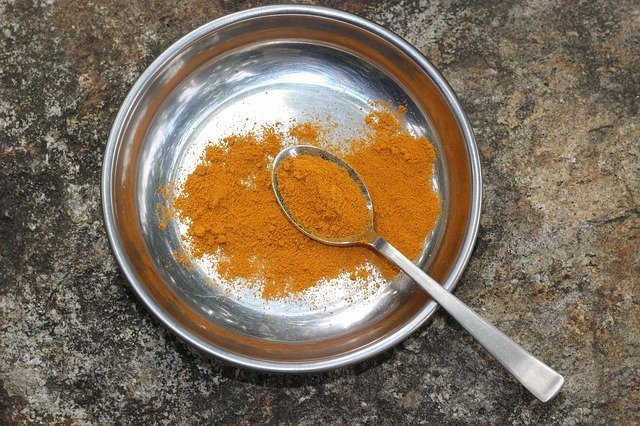 ALOE JUICE
Aloe vera is one of the widely used herbal remedies for treating skin conditions. The gel-like component of the plant is well known for treating minor skin ailments. Aloe vera is ideal for oily skins as it absorbs easily.
Aloe vera juice is a rich source of vitamins and antioxidants which help you in protecting your skin. Moreover, it reduces the appearance and frequency of acne, providing you clean spot free skin. However, the addition of aloe juice helps in neutralizing the effect of ultraviolet radiation. It also prevents skins from having fine lines and wrinkles.
CASTILE SOAP
Castile soap is biodegradable soap, non-toxic soap prepared from olive oil, avocado, or coconut oil. It washes and lathers normally like any ordinary soap but without any toxic chemical. Plant-based oil in castile soap is responsible for cleansing power. Some of the amazing benefits of castile soap are:
HELPS ACNE-PRONE SKIN: The oil in castile soap penetrates through skin pores to help clean your skin without drying. The alkaline nature of these soaps helps people maintaining their skin's pH level to reduce acne.
HYDRATES NATURALLY: The manufacturing of plant oil-based castile soap results in glycerin, a byproduct, which most of the normal synthetic soap filters out. Glycerin is well known for absorbing surrounding air, which aid in moisturizing skin naturally. This glycerin is present in castile soap.
SMOOTHES DRY SKIN: Castile soap featuring plant oils is a rich source of monounsaturated fatty acid. These fatty acids enhance the water level of your skin to keep it fresh and glowing. Moreover, it cleans skin without stripping off skin's natural oil.
GENTLE CLEANING WITHOUT TOXIC CHEMICALS: All synthetic soaps use toxic sulfates to generate lather. Castile soap forms lather naturally. Castile soap cleanses and protects skin efficiently.
EASE PSORIASIS AND ECZEMA: Castile soap helps in reducing inflammation as it features highly anti-inflammatory compounds.
NO CLOGGED PORES: The olive oil helps the skin breathe and enables the natural shedding of dead skin cells. It keeps them clean and irritation-free, unlike synthetic soaps.
JOJOBA OIL
Jojoba oil is a perfect addition as a cleansing, moisturizing, and spot treating agent. Jojoba oil has antifungal and antibacterial features. Jojoba oil is widely used in different face washes because it removes clogging from skin pores and refreshes old wrinkly skin.
Jojoba oil contains waxy material that soothes your skin. Furthermore, jojoba oil tends to increase the wound healing ability of this facewash. It encourages skin cells to bind together to proffer a clean and glowing look.
RAW HONEY
Raw honey helps maintain a balance of bacteria on human skin, making raw honey an ideal product for treating acne. Raw honey acts as a natural exfoliator, which means it takes off-dry, dull hor dead skin to unveil new skin underneath.
Alternative Recipes of DIY Turmeric Face Wash
Turmeric Essential Oil Face Wash
If you want strengthen the baseline recipe with something even more powerful, go for this one: in addition to ground turmeric it includes several drops of turmeric essential oil. This oil posesses tremendous anti-bacterial properties and is actially an alternative to tea tree oil.
Turmeric essential oil is an amazing remedy for dry and cracked skin, blemishes, acne, marks and wrinkles. Get it here
Full recipe of Turmeric Essential Oil Face Wash
Green Tea and Turmeric Face Wash
If you want to use more ingredients that you already have in your kitchen, you can modify the baseline recipe in the following way.
substitute ½ cup aloe juice with ½ cup brewed green tea. The antioxidants in green tea are a powerful weapon against skin acne and blackheads.
¼ cup liquid castile soap
One tablespoon of Rosehip oil 
One teaspoon of turmeric powder 
2-3 drops of vitamin E oil – you can squize out one capsule of Vitamin E supplement
Precautions:
Make sure to patch test beforehand first to ensure your skin isn't allergic to any of the ingredients used in this facewash.
If you are worried about turmeric leaving stains on your skins, we recommend using non-edible wild turmeric. It is especially used for skincare purposes without leaving any stains and adds amazing beauty benefits.