DIY sleep spray is great for those who are suffering from light forms of insomnia and who can not easily fall asleep. Essential oils have the soothing power which you can harness with these 13 DIY sleep pillow spray recipes.
After a hard and busy day, it can be difficult to fall asleep. About 40% of people around the world do not get enough sleep regularly, and this trend is gaining momentum. Simple relaxing procedures before bedtime, as well as a healthy lifestyle, can help you calmly sleep and wake up in the morning fresh and rested.
Good sleep helps to reduce the production of the stress hormone cortisol (which causes skin thinning) and increases the level of melatonin (which acts as an antioxidant and fights wrinkles and pigmentation). During sleep, the cells, responsible for the production of collagen, regenerate and this has a positive effect on the elasticity of our skin.
Sleep sprays should be sprayed on bed linen, pillows and above the bed, and not on the face. Then just inhale the scent and hold your breath for a few moments – in 10 minutes you will gently fall asleep.
A typical sleeping spray usually consists of water, herbs, and oils. They work on the principle of aromatherapy, and by their action can be divided into three categories.
Do sleep sprays really help to fall asleep?
A number of researches show that essential oils can help people with mild sleep disturbances [1]. In fact, aromatherapy can have an even stronger effect on sleep quality and overall quality of life in women than acupressure massage.
A 2017 study has discovered that a blend of sleep-promoting essential oils worked more effectively to improve both sleep quality and quality of life than acupressure [2]. The blended oil was also more effective at improving sleep than a single essential oil, lavender.
Types of sleep spray blends and which one is best for you
The first category is "mind-calming" sprays. The gold standard for such sprays is lavender essential oil. Vanilla and rose essential oils are also great for calming your mind.
The second category is "body-calming sprays". They are perfect for those who can not sleep because of aching legs or tired back. Normally this type of sprays should contain marjoram or sage essential oils.
Finally, the third category is "hormone normalizing" sprays. Here ylang-ylang and geranium oils work best when you need to cope with mood swings or PMS symptoms.
Certain essential oils fragrances can cause a specific reaction and even different emotions. Of course, we are all different, and essential oil will not have exactly the same effect on different persons. That is why you need to choose which fragrance is most suitable for you and gives you a feeling of calmness.
In order for a DIY sleep spray to have relaxing properties, it should contain 100% natural essential oils (for example, lavender oil, tea tree, geranium, vanilla, etc.) and, being applied on a pillow, allow us to relax and dive into sleep faster
You can, of course, buy sleeping sprays produced by large cosmetic companies. The only drawback is that they are quite expensive and, moreover, it is much more interesting to try to make the fragrance yourself! In addition, with DIY sleep sprays, you can be sure that you will get your unique fragrance combination, which will help to relieve stress.
How to make a pillow spray with essential oils
The most important thing is to find "your" fragrance that will give you a feeling of calm and serenity.
The base recipe is super simple. You will only need three ingredients: pure essential oil of your choice, a diluter liquid, and water.
You will need:
0.5 liters of distilled water
5-10 drops of essential oils
2 tablespoons of diluter liquid (you can use vodka or witch hazel)
Spray bottle
Small funnel
You can use any old spray bottle, as long as it's been cleaned properly. I like these amber glass spray bottles because the dark color helps keep UV rays from breaking down essential oils. Plus, they have funnels and label stickers included
Directions
Step 1. Combine the witch hazel or vodka in the jar and 5 to 10 drops of essential oil. Place the lid on tightly and shake well for 15-20 seconds to combine the two. The diluter liquid is needed to help the essential oil to penetrate into the water. Otherwise, the essential oil would just sit on top of the water and you will simply get a water spray.  
Step 2. Add water to the jar and keep shaking for another 15-20 seconds.
Step 3. Place the funnel in the opening of the spray bottle. Pour the mixture from the jar into the spray bottle.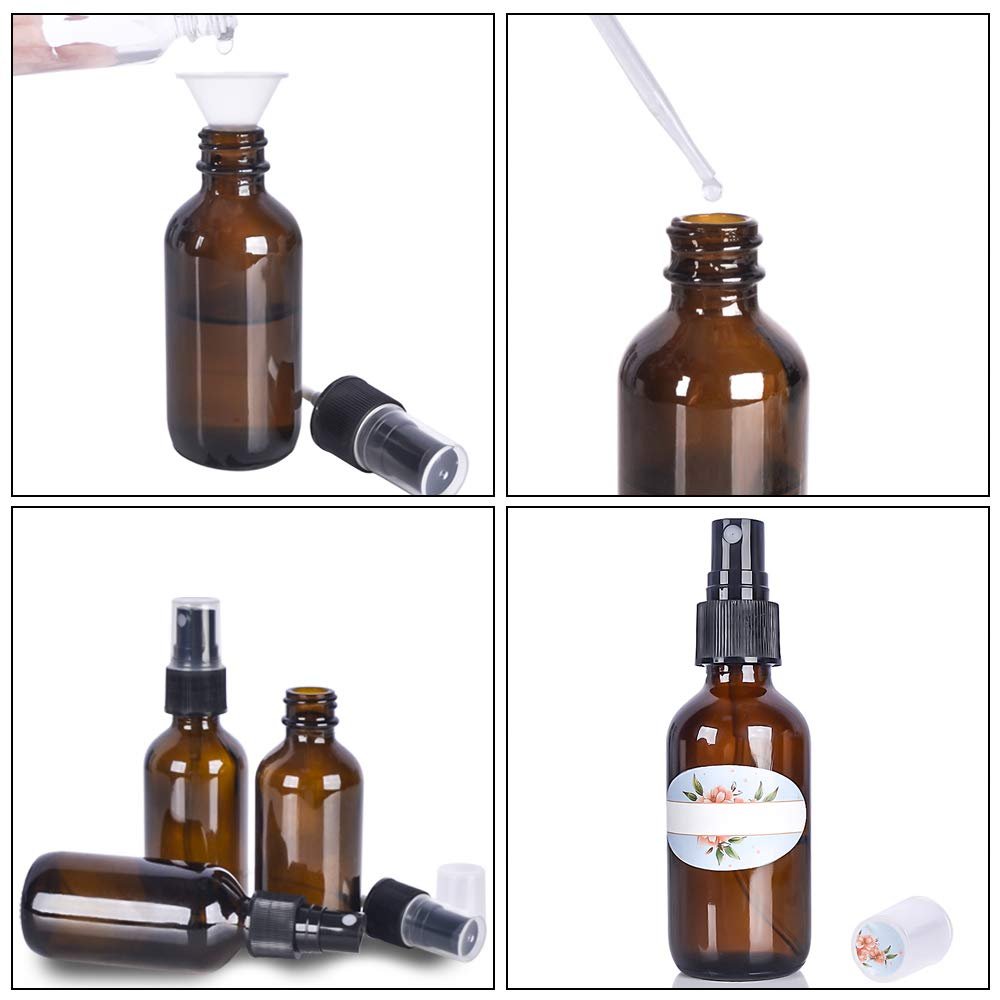 Step 4. Now, every night before you go to bed, put a fragrant spray on the pillow. It will bring a lot of pleasant sensations and will help you to fall asleep faster.
Below you will find our most loved DIY recipes for sleeping sprays
"Mind-Calming" DIY Sleep Sprays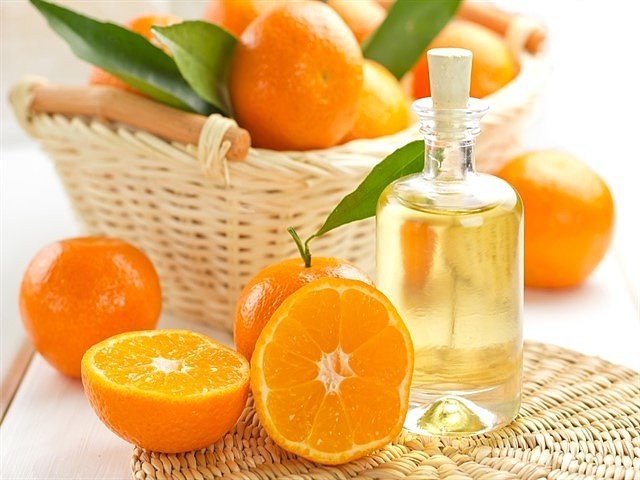 Vanilla and orange peel sleep spray
You will need:
2 sticks of vanilla
Peel of one orange
5 drops of Sweet Orange Essential Oil
0.5 liters of distilled water
2 tablespoons of diluter liquid
Boil half a liter of water, adding vanilla sticks and orange peel there. Wait until everything boils and then leave it simmering for another two minutes. Your task is to prepare an infusion that combines the aromas of these two natural ingredients.
Allow the infusion to cool, and then strain it, leaving only the liquid. Vanilla sticks and orange peel are no longer needed. Add 5 drops of sweet orange essential oil to the diluter liquid, mix everything thoroughly, add infusion liquid and pour into a pre-prepared bottle with a spray. Finally, everything is ready!
2. Lavender sleep spray
10 drops of Lavender Essential Oil
0.5 liters of distilled water
2 tablespoons of witch hazel
3. Melissa Calming Pillow Mist
Melissa and lemon myrtle essential oils (5 drops each)
0.5 liters of distilled water
2 tablespoons of witch hazel
This 100% natural mist will bring you a restful and relaxing night's sleep. Spray onto your pillow to create a peaceful atmosphere and help relaxation and well-being.
4. Midnight Owl vetiver sleep spray
4 drops vetiver
4 drops lavender
2 drop frankincense
2 drop cedarwood
0.5 liters of distilled water
2 tablespoons of vodka
5. Jasmine and Chamomile sleep spray
Organic Jasmine and Chamomile essential oils (5 drops each)
0.5 liters of distilled water
2 tablespoons of witch hazel
"Body Calming" DIY Sleep Sprays
6. Sweet Marjoram and Valerian Sleep spray
4 drops sweet marjoram essential oil
2 drops valerian essential oil
2 drops Roman chamomile
0.5 liters of distilled water
2 tablespoons of vodka
Roman chamomile is calming and is used to relieve muscle discomfort and aches.
7. Clary sage restless legs sleep spray
4 drops clary sage
2 drops ylang-ylang
2 drops vanilla
Clary sage is said to be useful for relaxing muscle spasms and pain. DIY sleep spray with this essential oil will especially help those suffering from back and neck pain.
8. Rosemary Calming Pillow spray
Cypress and Rosemary essential oils (5 drops each)
0.5 liters of distilled water
2 tablespoons of witch hazel
Rosemary is stimulating and is used for all muscular conditions, including sprains and sore muscles.
"Hormone normalizing" DIY Sleep Sprays
9. Geranium and Patchouli Sweet dreams spray
Geranium and Patchouli essential oils (5 drops each)
0.5 liters of distilled water
2 tablespoons of witch hazel
This tranquillity fragrance aims to relax the body and mind for the perfect night's sleep.
10. Sandalwood midnight mystery spray
4 drops sandalwood essential oil
2 drops valerian essential oil
2 drops Roman chamomile
0.5 liters of distilled water
2 tablespoons of vodka
Sandalwood oil is very effective at balancing testosterone levels in both men and women. It can be added to a homemade deodorant or a homemade lotion to help the body improve hormone levels. Sandalwood oil is also said to be a natural aphrodisiac that works to improve libido.
11. Fresh Manadarine and Thyme sleep spray
Organic Mandarine and Thyme Oil essential oils (5 drops each)
0.5 liters of distilled water
2 tablespoons of witch hazel
12. Mystic Neroli sleep spray
4 drops sandalwood essential oil
2 drops of frankincense oil
2 drops neroli oil
0.5 liters of distilled water
2 tablespoons of vodka
13. Lemongrass and ylang-ylang sleep spray
Ylang ylang and lemongrass essential oil (5 drops each)
0.5 liters of distilled water
2 tablespoons of diluting water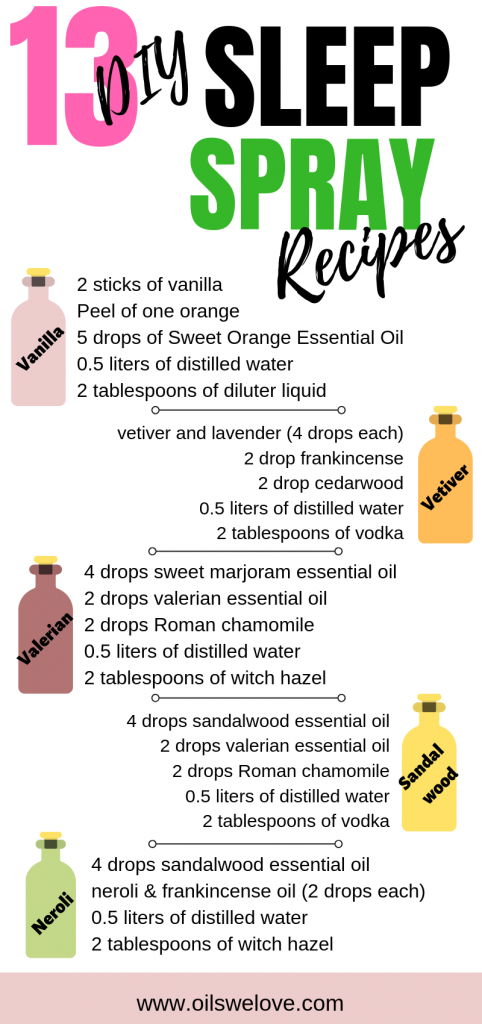 What you need to pay attention to when preparing DIY sleep spray
Though essential oils are all-natural, that doesn't mean they are safe to use without caution. Be careful when using essential oils while pregnant/nursing. Always consult your doctor before using any of the above oils if you are pregnant.
Do your research and patch test before using any essential oils. If the test shows no irritation, you can proceed with using oils for sleeping disorders treatment.
Make sure you use high-quality essential oils: 100% pure essential oils (and avoid anything that's labeled as a "fragrance" or "perfume" oil). If you are unsure about how to detect the safest essential oils, read my article about the best food-grade essential oils. If they are safe to ingest, they would be for sure safe to inhale as well.
As always be safe and check with your healthcare provider before starting to use any oils or home remedies.
---
Disclaimer: The contents of this website are for informational purposes only and do not constitute medical advice; the content is not intended to be a substitute for professional medical advice, diagnosis, or treatment. Always seek the advice of a physician or other qualified health provider with any questions you may have regarding a medical condition.
---
References
Lillehei AS, Halcon LL. A systematic review of the effect of inhaled essential oils on sleep. J Altern Complement Med. 2014 Jun;20(6):441-51. doi: 10.1089/acm.2013.0311. Epub 2014 Apr 10.
Kao YH, Huang YC, Chung UL,4, Hsu WN, Tang YT, Liao YH. Comparisons for Effectiveness of Aromatherapy and Acupressure Massage on Quality of Life in Career Women: A Randomized Controlled Trial. J Altern Complement Med. 2017 Jun;23(6):451-460. doi: 10.1089/acm.2016.0403. Epub 2017 May 15.