Looking for some easy turmeric tea recipes? I've got an awesome collection of easy turmeric tea recipes for an energizing healthy breakfast or as a perfect bedtime drink.
Turmeric is a natural source of vitality and energy, so it is often used as an ingredient of immune-boosting and weight-loss drinks.
I also have a collection of turmeric shot recipes to support the immube system.
You can prepare turmeric tea by brewing grated turmeric root or pure powder. Turmeric tea is considered one of the most effective and tasty ways to consume this healthy spice.
Why drinking turmeric tea for your immunity ?
Turmeric has anti-inflammatory and anti-mutagenic properties, is rich in antioxidants, and is a good antibiotic and pain reliever. Due to these properties turmeric has been used to treat various inflammations, arthritis, pain, fatigue, rheumatism and other diseases.
Turmeric contains:
Vitamin A, B2, C, E, K;
Pyridoxine (Vitamin B6) is crucial for poper development of the brain, and functioning of nerves;
Iron potassium, and zinc.
Turmeric tea has the following positive benefits for our bodies:
After regular tea intake many people notice that acne gets less severe. The components of turmeric fight skin pathogens and remove them from the body;
Treating emotional distress and depression. During a difficult life period, turmeric gives your body energy it needs and helps to overcome a depressive state;
Strengthen your immune system.
Turmeric is rich in zinc and calcium, which strengthen and whiten teeth. The first results will be visible in a month.
What is the basic turmeric tea recipe?
This tea has invigorating properties; you can drink it instead of coffee. During a cold or flu, it will be indispensable.
The easiest turmeric tea recipe:
Glass of water
2 tablespoons of turmeric powder
Boil some water and let it cool to 80°C (176°F). add turmeric powder and let it sit for a couple of minutes. Do not add turmeric to a boiling water, as this may reduce health boosting benefits of turmeric.
Optionally you can add a teabag of black or green tea to the kettle and let it sit for 2-3 minutes before adding turmeric.
Here are 5 more turmeric tea recipes that are a great natural support for your immune system:
5. Fat Blocking Turmeric Tea
This easy tea recipe is packed with flavor and has an energizing, refreshing taste!
But more to it – the combination of ingredients is supporting your body in loosing the stubborn weight. this is due to the fact that ginger and turmeric are natural appetite suppressants and metabolism booster.
Get the full recipe here
4. Antioxidant Cinnamon Turmeric Tea
This easy to make turmeric tea is rich in antioxidants. It is perfect to boost the immune system due to the fact that turmeric is paired with cinnamon – another natural antioxidant and anti-inflammatory remedy.
Get the recipe here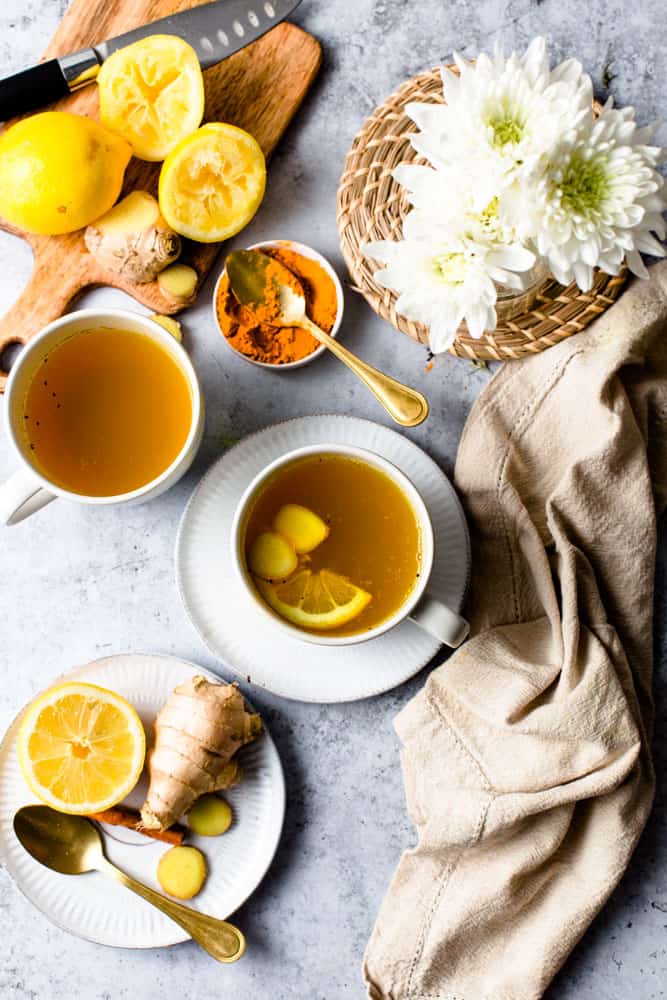 3. Turmeric Matcha Green Tea for Weight Loss
This is one of our favorite turmeric drinks for weight loss. The delicate turmeric green tea flavor is enhanced by ginger & cinnamon.
Get the recipe here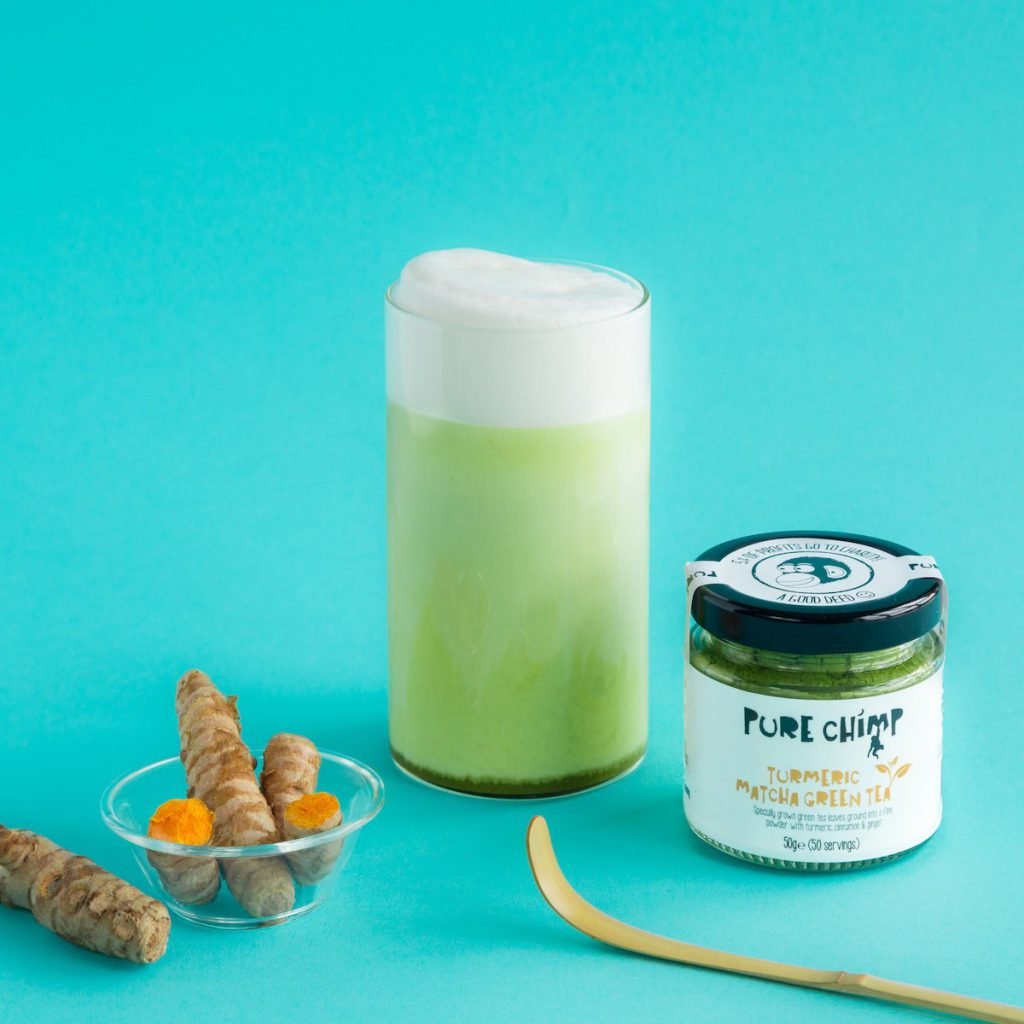 2. Calming Chamomile Lemon Turmeric Tea
Chamomile, turmeric and lemon – the most powerful combination of ingredients to give your tired body and mind the soothing effect they need!
Chamomile tea is great for insomnia, anxiety and stress. Turmeric is famous for its antiviral, antioxidant, and antifungal properties.
Here is how to prepare the calming tea.
Step 1. Boil 1 cup of water and pour it over 1 teaspoon of dried chamomile flowers. (Alternatively, you can use 1 teabag of chamomile tea). Let it sit for 3-4 minutes.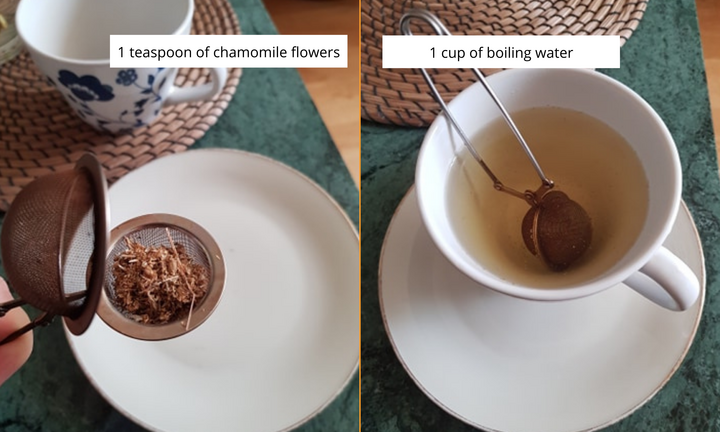 Step 2. Add 1/2 teaspoon of turmeric powder and stir well. Squize 1-2 slices of lemon directly into the cup. If too sour, add a tiny portion of raw honey or maple syrup.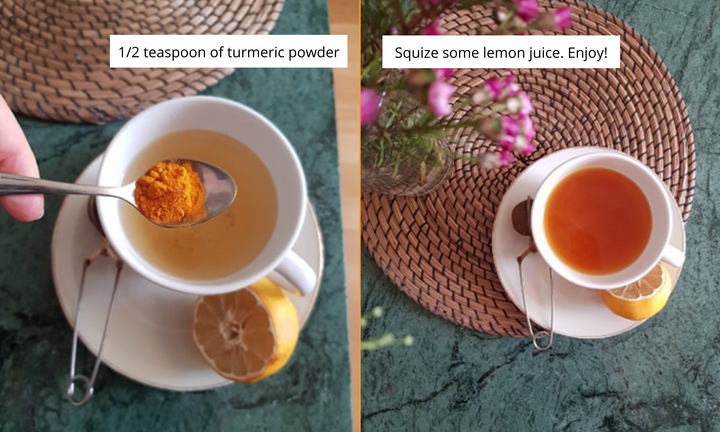 1. Turmeric Tea to fight Chronic Bronchitis
Tasty anti-inflammation turmeric tea is super easy to make and the ingredients are very healthy. It helps to boost immunity and fight chronic lung deseases, such as bronchitis.
In fact, curcumin – the main active ingredient of turmeric – is so strong, it can fight lung fibsosis, allergic asthma [1] and can inhibit lung cancer development [2].
You will need:
1 teabag of black tea
1 tsp cinnamon
a pinch of cloves
a pinch of nutmeg
several slices of ginger root (optional)
a pinch of freshly ground black pepper
turmeric (start with a teaspoon)
1-2 glasses of water
honey or sugar to taste, 1 tsp.
plant based milk (Icoconut or almond)
How to prepare the tea:
Boil water in a saucepan, put a teabag and leave for 2-3 min. Then pour your black tea into a blender, add spices and mix until smooth (increase the speed gradually), filter and add honey and milk.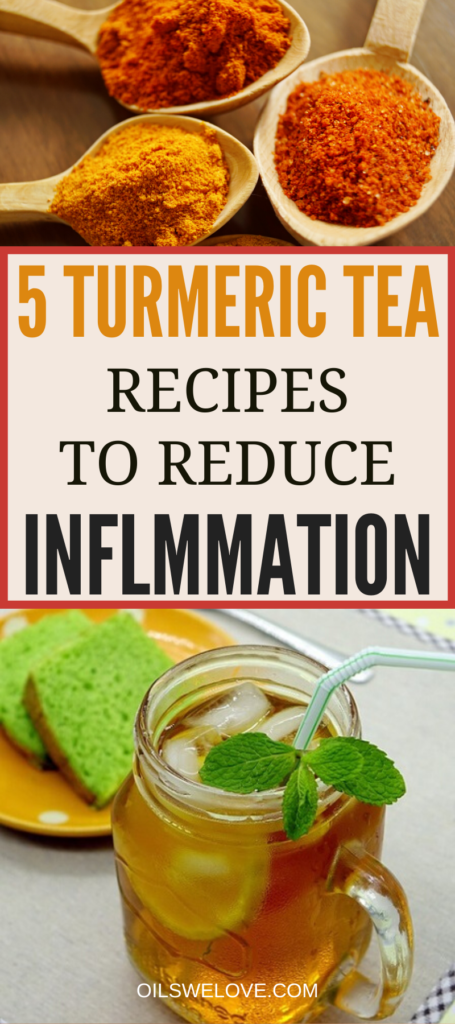 ---
Disclaimer: The contents of this website are for informational purposes only and do not constitute medical advice; the content is not intended to be a substitute for professional medical advice, diagnosis, or treatment. Always seek the advice of a physician or other qualified health provider with any questions you may have regarding a medical condition. 
---
References
Venkatesan N, Punithavathi D, Babu M. Protection from acute and chronic lung diseases by curcumin. Adv Exp Med Biol. 2007;595:379-405. doi: 10.1007/978-0-387-46401-5_17. PMID: 17569221.

Curcumin inhibits COPD-like airway inflammation and lung cancer progression in mice S.J. Moghaddam, P. Barta, […], and Burton F. Dickey Carcinogenesis. 2009 Nov; 30(11): 1949–1956.