Summer is a time for enjoying the outdoors, soaking up the sun, and indulging in all the delicious seasonal produce. It's also the perfect time to experiment with vegetarian recipes that are healthy, filling, and, above all, tasty! Whether you're a seasoned vegetarian or simply looking to incorporate more plant-based meals into your diet, these delicious and fresh summer recipes are sure to please. From main courses to snacks, we've got you covered!
Savory Summer Salads to Keep You Cool
Crunchy, refreshing salads are a staple of summer cuisine. They're light, quick to make, and packed full of essential nutrients. To keep things interesting, try mixing up your salads with a variety of ingredients. Add some sliced berries and nuts to your spinach salad, or toss in some sliced avocado and cherry tomatoes with your arugula.
Another great way to add some variety to your summer salads is to experiment with different dressings. A honey mustard dressing can add a touch of sweetness to your greens, while a balsamic vinaigrette can provide a tangy kick. And don't forget about the avocado-tahini dressing, which pairs perfectly with romaine lettuce.
Here are some great recipes of easy and yummy dressings:
If you're looking for a heartier salad option, try adding some roasted chickpeas or tofu to your greens. Not only will it add some protein to your meal, but it will also give your salad a delicious smoky flavor.
My go-to variants are these protein-packed vegan summer salads:
But salads don't always have to be cold and raw. For a warm and satisfying meal, try making a grilled vegetable salad. Simply toss some zucchini, eggplant, and bell peppers on the grill and serve them over a bed of mixed greens. Top it off with a drizzle of olive oil and some crumbled goat cheese for a delicious and filling dish.
Here are some yumm-approved grilled summer salads:
One of our favorite summer salad recipes is a Greek-inspired dish that combines chopped cucumbers, red onions, tomatoes, and Kalamata olives with a tangy lemon and feta cheese dressing. It's the perfect lunch or side dish! And if you're feeling adventurous, try adding some grilled pita bread to the mix for a little extra crunch.
So whether you're looking for a light and refreshing meal or a hearty and satisfying dish, summer salads are the way to go. With so many different ingredients and dressings to choose from, the possibilities are endless.
A Whole New Way to Enjoy Seasonal Produce
Summer is a season of abundance when it comes to fresh produce. The warm weather and longer days allow fruits and vegetables to ripen to perfection, resulting in a bounty of delicious options to choose from. From juicy watermelons and peaches to sweet corn and zucchini, the possibilities are endless.
But why settle for the same old recipes when you can try something new and exciting? One way to elevate your seasonal produce is by roasting them with some herbs and spices. Roasting brings out the natural sweetness of vegetables and adds a depth of flavor that is hard to resist. Try tossing some cherry tomatoes with olive oil, garlic, and thyme before roasting them in the oven. The result is a burst of juicy, flavorful tomatoes that are perfect for topping off a salad or pasta dish.
Roasted tomatoes make the difference:
If you're looking for a unique way to enjoy your veggies, consider making vegetable noodles out of zucchini or sweet potatoes. Using a spiralizer or julienne peeler, you can create long, thin strips of vegetables that can be sautéed with garlic and olive oil. The result is a healthy and tasty alternative to traditional pasta dishes. Top it off with your favorite sauce or some freshly grated Parmesan cheese for a satisfying meal.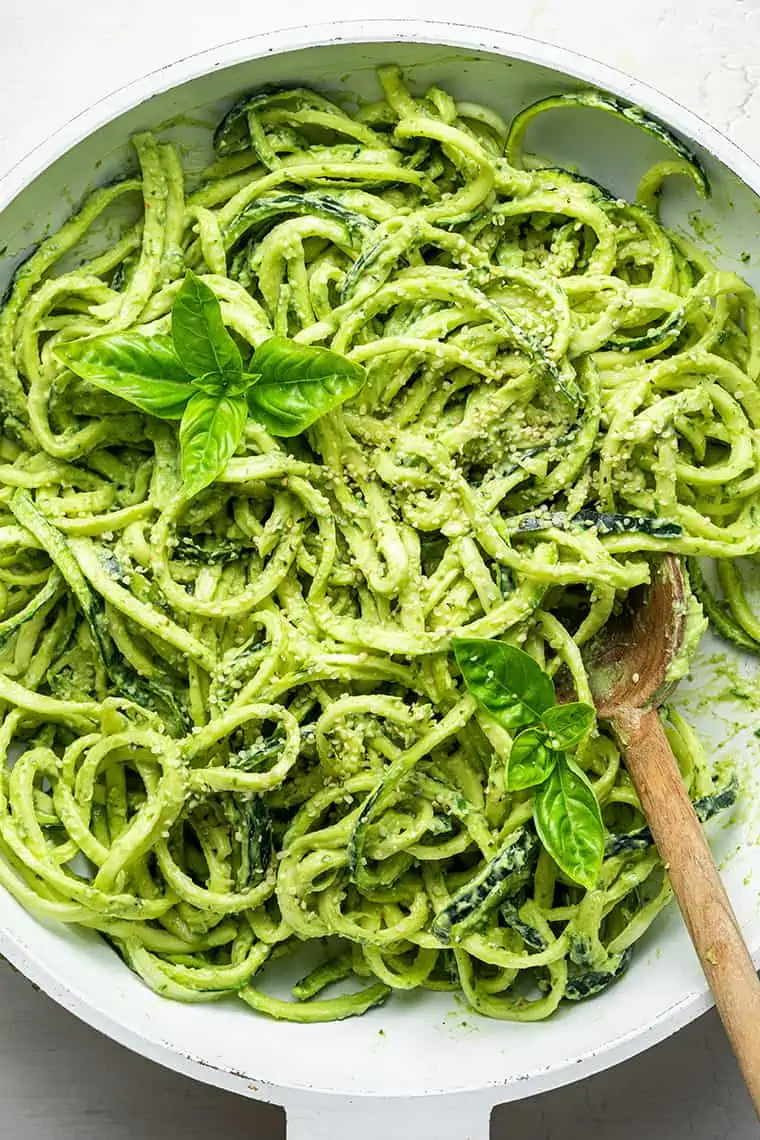 Another way to enjoy seasonal produce is by incorporating them into your breakfast routine. Try adding some fresh berries to your morning smoothie or oatmeal for a burst of flavor and nutrition. Or whip up a batch of zucchini muffins for a healthy and delicious on-the-go breakfast option.
Don't forget about the herbs! Fresh herbs are abundant during the summer months and can add a pop of flavor to any dish. Try making a homemade pesto with fresh basil and pine nuts, or sprinkle some chopped cilantro on top of your favorite tacos.
As you can see, there are many ways to enjoy seasonal produce beyond the traditional methods of steaming or grilling. Get creative in the kitchen and experiment with new flavors and techniques. Your taste buds will thank you!
Savor the Season: Summer Vegetarian Main Courses
Main dishes are the centerpiece of any meal, and summer is no exception. Grilled portobello mushrooms with balsamic glaze are a simple and satisfying option, while vegetable kebabs make for a fun and colorful entrée. For a more filling dish, try making a quinoa and black bean salad topped with avocado and salsa. It's a protein-packed meal that will keep you full and satisfied.
If you're looking for something more indulgent, try making a vegetarian lasagna with layers of roasted vegetables and ricotta cheese. It's a comforting and flavorful dish that's perfect for a family dinner or potluck gathering.
Fuel Your Summer: Protein-Packed Vegetarian Recipes for High Energy
Summer is a time for outdoor activities, and that means you need energy to keep you going. Luckily, vegetarian meals can be just as filling and energizing as meat-based dishes. For a quick and easy breakfast, try making a smoothie bowl with Greek yogurt, fruit, and granola. It's a healthy and delicious way to start your day.
Get more smoothie bowl recipes with chia seeds which act as the protein source in my blog post "30 Chia Seed Recipes – Puddings, Smoothies and more".
For lunch or dinner, try making a chickpea and vegetable stir-fry. Chickpeas are an excellent source of plant-based protein and fiber, and they pair perfectly with fresh veggies like peppers, carrots, and broccoli. Finish it off with a sprinkle of sesame seeds for extra crunch.
Cold Vegetarian Dishes for Summer Bliss
When the temperature rises, sometimes all you want is a cold and refreshing meal. Gazpacho is a classic Spanish dish that's perfect for hot summer days. It's a chilled soup made with fresh tomatoes, cucumbers, bell peppers, and onions, blended together with a little bit of olive oil and vinegar. It's light, healthy, and bursting with flavor.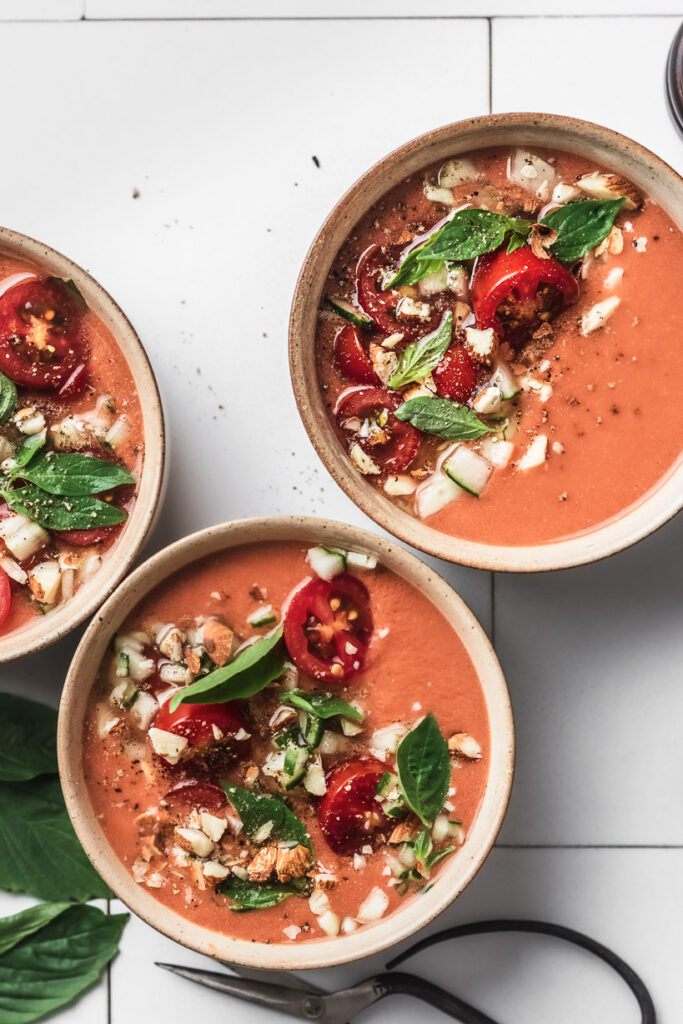 Another refreshing option is a watermelon and feta salad with mint. Simply combine diced watermelon with crumbled feta cheese and chopped mint, and you've got a sweet and savory salad that's perfect for picnics or BBQs.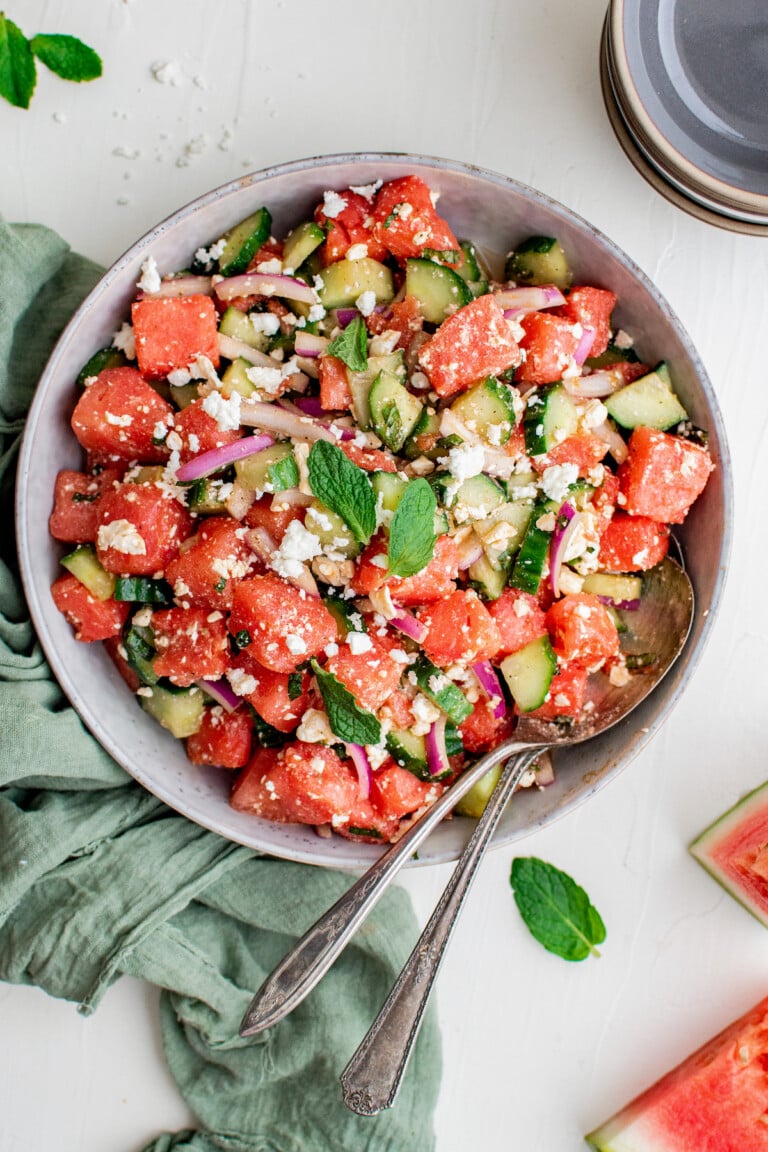 Eating Healthy Without Breaking the Bank
Eating a vegetarian diet can be affordable, especially in the summer when produce is abundant and prices are low. Look for sales at your local farmer's market or grocery store, and don't be afraid to buy in bulk and freeze any extra veggies for later use. Additionally, buying dried beans in bulk and soaking them overnight can be a cheaper and healthier alternative to canned beans.
Try making a big batch of vegetable soup or chili with ingredients like carrots, onions, and beans. These dishes are cheap to make, filling, and can be frozen for later use.
Simple and Easy Summer Vegetarian Snacks
Snacking is an important part of any diet, and summer offers a variety of fresh options to choose from. For a quick and easy snack, try slicing up some cucumbers and dipping them in hummus or tzatziki sauce. Or make a fruit salad with your favorite summer fruits like peaches, berries, and melons.
If you're looking for something a little more indulgent, try making homemade sweet potato fries. Simply slice up a sweet potato, toss with olive oil and sea salt, and bake in the oven until crispy. They're a healthy and delicious alternative to traditional french fries.
In Conclusion
Summer is the perfect time to experiment with vegetarian recipes that are both delicious and fresh. With an abundance of seasonal produce and healthy plant-based options, it's easy to incorporate more meatless meals into your diet. From savory salads to protein-packed entrées, these summer recipes are sure to please even the most devout meat eaters.