Eczema, also known as atopic dermatitis is a condition that makes your skin red and itchy, covered with scaly, crusty rashes. The healing properties of Manuka Honey for eczema are simply awesome!
Eczema is a persistent inflammation of the skin's outer layer. It usually appears during childhood and can be a lifelong problem. Recently more and more people turn to natural remedies for eczema, and manuka honey is one of them.
Manuka honey is produced by bees that gather pollen off the Manuka bush which is native to New Zealand.
Manuka honey is really great for skin treatment, helping to cure acne and even feet fungus. Manuka honey is listed among our best 40 natural remedies for eczema.
Research has shown Manuka honey has a 'broad spectrum of antimicrobial activity' and that it is able to act upon more than 80 species of a pathogen (a pathogen is a bacterium, virus or other micro-organisms which can cause disease).
But how effective is honey to cure eczema?
As it often happens with natural remedies, due to the lack of scientific studies, results can be quite controversial. For example, one of the researches [1] has shown, that honey "is potentially effective in the treatment of eczema (atopic dermatitis), but more study needs to be done to prove it.
Another study [2] was explicit in figuring out, that honey "appears useful in the management of dermatitis (eczema) and psoriasis".
Special power of Manuka Honey in treating eczema
But why are we talking specifically about Manuka honey for eczema? Manuka honey has antibacterial and cell-killing properties. These properties are so strong, that it can inhibit pathogens normally capable of causing wound infection, including strains that are resistant to conventional antibiotics.
In order to choose the proper Manuka honey, that will give the best result, you need to look at the Unique Manuka Factor (UMF). 
UMF stands for Unique Manuka Factor and is managed by the UMF Honey Association of New Zealand. The UMF rating can only be used by licensed users who meet strict set criteria which includes the monitoring and auditing of honey quality.
How to choose the best manuka honey for eczema
Manuka honey has different antibacterial strengths, starting from UMF 5 and ending with UMF 15+.
Everything, that is below 5, does not have therapeutic strength.
Manuka with UMF below 10 can be compared to regular honey, and therefore does not help with curing eczema.
UMF 10-15 is useful; however, if you want to treat eczema, a UMF of 16-20+ is of superior quality and much more effective. Generally, it is quite expensive, but it is worth the price.
How to apply manuka honey for eczema
You can apply raw manuka honey to the affected area. Of course, be prepared that it is sticky and not really possible to leave it overnight, for example.
Aim to keep the honey in place for at least 20 minutes before rinsing off with warm water and patting dry.
Here are some of the best Manuka honey remedies for eczema:
Kiva's raw manuka honey is one of the highest-rated manuka honey around. Harvested from the remote and pristine hills, forest, and coastal areas of New Zealand, this manuka honey har UMF rating of 20+, which is equivalent to methylglyoxal (MGO) 825+. 
Whether or not honey is raw is one of the most important things to consider when buying honey (including manuka honey). Raw honey has higher levels of beneficial antioxidants and enzymes and has a number of health benefits associated with it. Kiva's UMF 20+ is raw honey has great healing properties, that can help to cure eczema.
CONSUMER REVIEWS: 1) Cleared out a sinus infection due to Streptococcus. 2) Great as post-surgery suture healing and scar treatment. 3) Cleared psoriasis on elbows and knees. 4) Helped with skin rash, and eczema itching.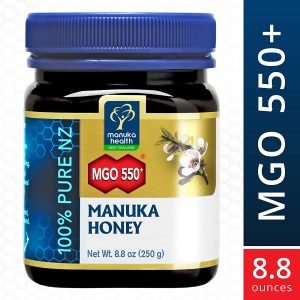 It is common to judge Manuka honey based on the quantity of methylglyoxal, the 'magic Manuka ingredient', for a precise measurement of potency and quality. This honey from Manuka Health has a methylglyoxal ratio (MGO) of 550+. MGO rating of 550+ equals to a minimum UMF rating of 15.6+.
This Manuka honey works as a natural boost, a winter wellbeing remedy or as a natural wholefood alternative to refined sugar.
CONSUMER REVIEWS: 1) Helps to heal slowly healing wounds. 2) Does miracles to stomach ulcers. 3) Helped to get rid of dry blisters is on the scalp. 4) Using as a poultice in combination with activated charcoal helped against cellulitis.
If you just can't get used to the stickiness, here is one of the best eczema creams which include Manuka honey.
GMO-free natural eczema cream that is rich in soothing agents. Contains Certified Organic – New Zealand Manuka Honey (UMF 16+).
Has creamy balm formulation, it is thick and moisturizing, easy to apply, but not overly greasy like typical oil-based balms and is the best eczema cream to apply to severely dry, irritated skin and will not burn or sting even the most painful blemishes or open wounds.
CONSUMER REVIEWS: 1) Cleared mild to severe eczema on hands. 2) Cleared eczema on the face of a 1yr old child. 3) A dramatic difference with only one application on itchy skin.
As always be safe and check with your healthcare provider before starting to take any herbs or supplements.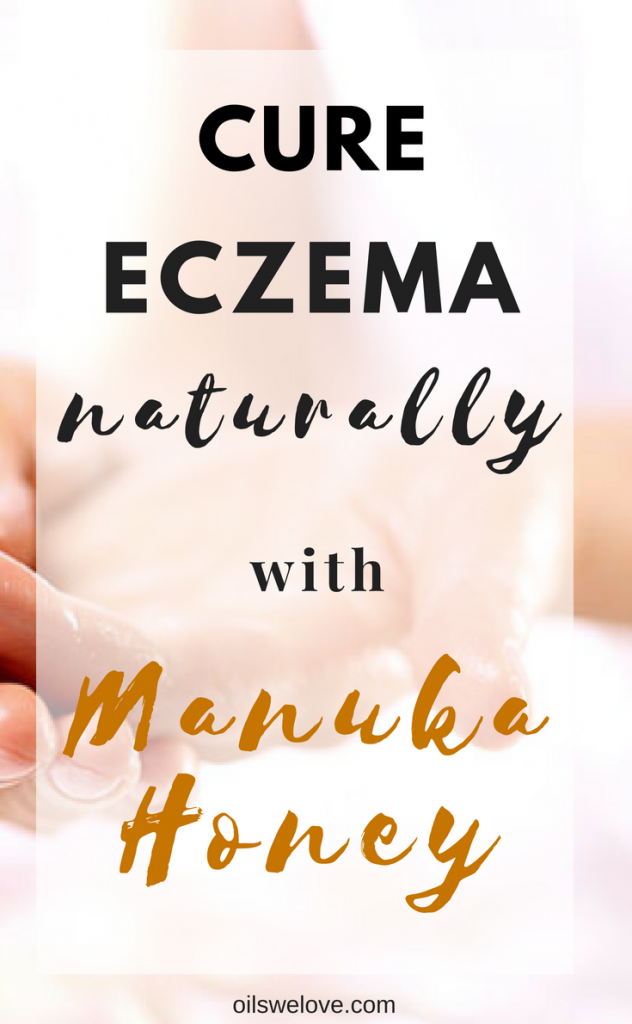 ---
References
Alangari, Abdullah A. et al. "Honey Is Potentially Effective in the Treatment of Atopic Dermatitis: Clinical and Mechanistic Studies." Immunity, Inflammation and Disease (2017): 190–199. PMC. Web. 31 July 2018.
Noori S.Al-Waili "Topical application of natural honey, beeswax and olive oil mixture for atopic dermatitis or psoriasis: partially controlled, single-blinded study." Complementary Therapies in Medicine Volume 11, Issue 4, December 2003, Pages 226-234
---
Disclaimer: The contents of this website are for informational purposes only and do not constitute medical advice; the content is not intended to be a substitute for professional medical advice, diagnosis, or treatment. Always seek the advice of a physician or other qualified health provider with any questions you may have regarding a medical condition.