Since recently everyone and their mother have heard about rosehip oil and its anti-age effects on the skin. Rosehip flowers and fruits have been widely used in medicine for the treatment of various diseases and healing wounds and scars. And its seeds' oil is also considered as one of the best natural skin rejuvenating and moisturizing substances.
We decided to research what the market has to offer and distill the crème de la crème for you. But first, let's look at rosehip seed oil benefits and why you should consider including it in your skincare regimen.
Sun damage and hyperpigmentation correction
Rosehip seed oil is rich in Vitamin C in an active form. [1] This famous antioxidant plays a crucial role in the synthesis of collagen and photoprotection. If used consistently over several months, photoprotection allows the skin to restore and correct the sun damage, reducing the wrinkles and hyperpigmentation. [2]
Scars treatment with Rosehip oil
Rosehip seed oil is proven to cosmetically improve skin scarring, including post-surgical scars and post-pregnancy stretch marks. Recent research showed that after 6 to 12 weeks of treatments twice a day, there was a significant improvement in reducing erythema, discoloration, and scarring. [3]
Hydration and skin elasticity
Clinical studies [4] showed that even a single application of rosehip seed oil significantly increases skin hydration and elasticity. While the long-term use has a lasting positive effect, reaching the maximum hydration level after 2-3 months.
Anti-wrinkle effects of Rosehip oil
The same research, involving volunteers, proved that rosehip seed oil prolonged use can diminish the appearance of wrinkles by 7%. [4] This is also thanks to the fact that rosehip seed oil contains an all-trans retinoic acid (or tretinoin) which has the same positive impact as the synthetic tretinoin but without some of the side effects. [5]
ROSEHIP OIL PRODUCTS
Pure Rosehip Oils
Radha Beauty Rosehip Oil 4 oz – 100% Pure Cold Pressed Certified Organic
Radha Beauty Rosehip Oil has been an all-time bestseller and is 100% natural and certified organic. It is especially effective in the treatment of post-acne scars and dark spots, dehydrated skin, adult dry acne, facial wrinkles and fine lines (the infamous "crow feet"!). Its non-greasy formula allows applying it both at night and morning and you just need a few drops to cover all face and neck. The rosy, youthful skin tone is a bonus you get on top of all the hard-core anti-aging effects. Buy on Amazon.
---
Teddie Organics Rosehip Seed Essential Oil, 4 fl. oz
This oil comes in a sleek dark brown glass bottle with an easy to use pipette.
On top of the undoubtful long-term effects that rosehip seed oil is proven to deliver, Teddie Organics oil has shown instant relief for rosacea, eczema and dry skin. Buy on Amazon.
---
Rosehip Oil for Face, Nails, Hair and Skin From Majestic Pure – 100% Pure, Organic Cold Pressed Premium Rose Hip Seed Oil, 4 oz
This rosehip seed oil is a pure bargain since you get 4 oz of organic oil for a reasonable price. Thanks to the big size of this product, you can use it in preparing your own luxurious hand cream as rosehip seed oil is also known for its benefits for nails and cuticles. Buy here.
---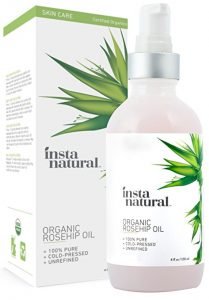 InstaNatural Organic Rosehip Seed Oil – 100% Pure & Unrefined Virgin Oil – Natural Moisturizer for Face, Skin, Hair, Stretch Marks, Scars, Wrinkles & Fine Lines – Omega 6, Vitamin A & C – 4 Oz
Great for skin and hair, this oil comes in a minimalistic matte glass bottle with a pump dispenser instead of a dropper. Fitting well with the make-up, it keeps the skin hydrated all day long. It has been also reported to have pregnancy stretch marks prevention effects. Again, a huge bottle (4 oz) with a great quality product for a reasonable price. Buy here
---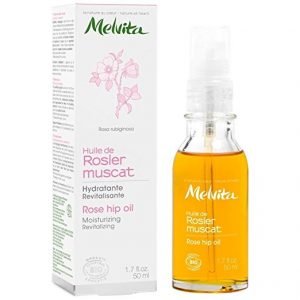 Melvita Rosehip Revitalising Oil 50ml 
As French pharmacy fans, we couldn't help mentioning this amazing brand's rosehip seed oil. Chic and handy classic Melvita bottle delivers the light brown, fast-absorbing oil that is great to massage in before your night cream, as an anti-aging boost. Buy here
---

The Ordinary 100% Organic Cold-Pressed Rose Hip Seed Oil 30ml
Of course, you've heard of The Ordinary – a disruptive brand that shook the beauty world last year with its low prices and simple but effective skincare formulae. This light, non-comedogenic oil can be applied on the skin directly or blended with your favorite moisturizer. Just a few drops do wonders for the dehydrated, acne-prone skin, reducing wrinkles and fine lines. Buy here
---
Rosehip Oil Based Creams
Daily Face Moisturizer with Rosehip Oil

Full of precious natural ingredients, this organic moisturizer is great for making your skin plump, diminishing the appearance of fine lines and reducing dark spots. A little goes a long way thanks to its rich formula, so you only need a small amount to moisturize the entire face and neck.
---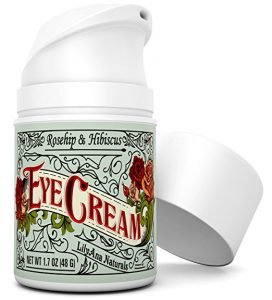 Eye Cream Moisturizer (1.3 oz) 94% Natural Anti Aging Skin Care
This product, full of vitamins and rosehip seed oil as a primary ingredient, is purely all-purpose eye cream! Great for reducing wrinkles, puffiness and sagging, it comes in an unusually big jar (for an eye cream) of 1.3 oz. Moreover, it can be used on your face and neck – luckily the affordable price allows.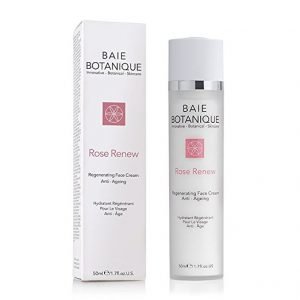 Natural Anti Aging Face Cream – Rosewater, Rose Absolute, Rosehip Seed Oil, Glycolic Acid, Vitamin C, MSM, Green Tea, Peptides – Our Anti Wrinkle Moisturiser boosts Collagen 98% Natural 70% Organic
Baie Botanique anti-aging cream is packed with amazing ingredients like glycolic acid, Vitamin C, peptides and of course our favorite – rosehip seed oil. It comes in a luxurious high-quality bottle with a pump, for more hygienic use. Its nourishing formula gives the skin a nice glow, and 2 pumps are enough for the face and neck. Buy here
---
References

[1] Svobodová A, Psotová J, Walterová D. Natural phenolics in the prevention of UV- induced skin damage. Biomed Papers 2003;147:137-45
[2] Dayan N. Skin aging handbook: An Integrated Approach to Biochemistry and Product Development. New York: William Andrew Inc.; 2008
[3] Valerón-Almazán, P. , Gómez-Duaso, A. , Santana-Molina, N. , García-Bello, M. and Carretero, G. (2015) Evolution of Post-Surgical Scars Treated with Pure Rosehip Seed Oil. Journal of Cosmetics, Dermatological Sciences and Applications, 5, 161-167. doi: 10.4236/jcdsa.2015.52019.
[4] Van der Walt A. C., Transdermal diffusion stability and clinical efficacy of cosmetic formulations containing Rosa rubiginosa rosehip seed oil. Master Dissertation at Potchefstroom Campus of the North-West University, October 2016. http://repository.nwu.ac.za/bitstream/handle/10394/21251/Van_der_Walt_AC_2016.pdf?sequence=1&isAllowed=y
[5] Concha, J., Soto, C., Chamy, R. et al. J Amer Oil Chem Soc (2006) 83: 771. doi:10.1007/s11746-006-5013-2.