Turmeric is a flavorsome spice, with a beautiful bright yellow color and unique aroma and flavor. Other than being a spice, you can use it for your skin and beauty. You can use it whole, as powder, or supplement form.
The active ingredient responsible for turmeric's health benefits is known as curcumin. Curcumin is an antioxidant and is also a natural anti-inflammatory remedy. It is so strong, that can be used as a weight-loss agent, and immune-boosting supplement. And you can also use turmeric topically on your skin – the antioxidants in this spice protect the skin cells from damage by the free radicals, they cure inflammation, rash, remove dark spots and more.
What makes turmeric good for the glowing skin?
Turmeric is great for all skin types, you can use turmeric on the face to get that glowing skin. It doesn't matter whether or not you have any skin problems. It is an all-around additive for glowing, healthy skin. Regular use can help restore your natural glow and treat uneven skin tone.
This golden spice is very effective against acne, dark spots, uneven skin tone, cracked feet, hair fall, and dandruff. When faced with all these conditions, they can cost you a lot in terms of treatment, not forgetting the adverse effects on your self-esteem.
The good news is that turmeric can help restore your beauty. It can help bring back your lost confidence! And you know what? You do not have to spend much!
Benefits of using turmeric on the face for glowing skin
Great for dry, dull skin. Returns that natural glow on your skin
Turmeric is rich in anti-Inflammatory and healing agents. This speeds up recovery from acne scarring, sun damage and stretch marks
Helps in redusing visible signs of psoriasis and eczema
---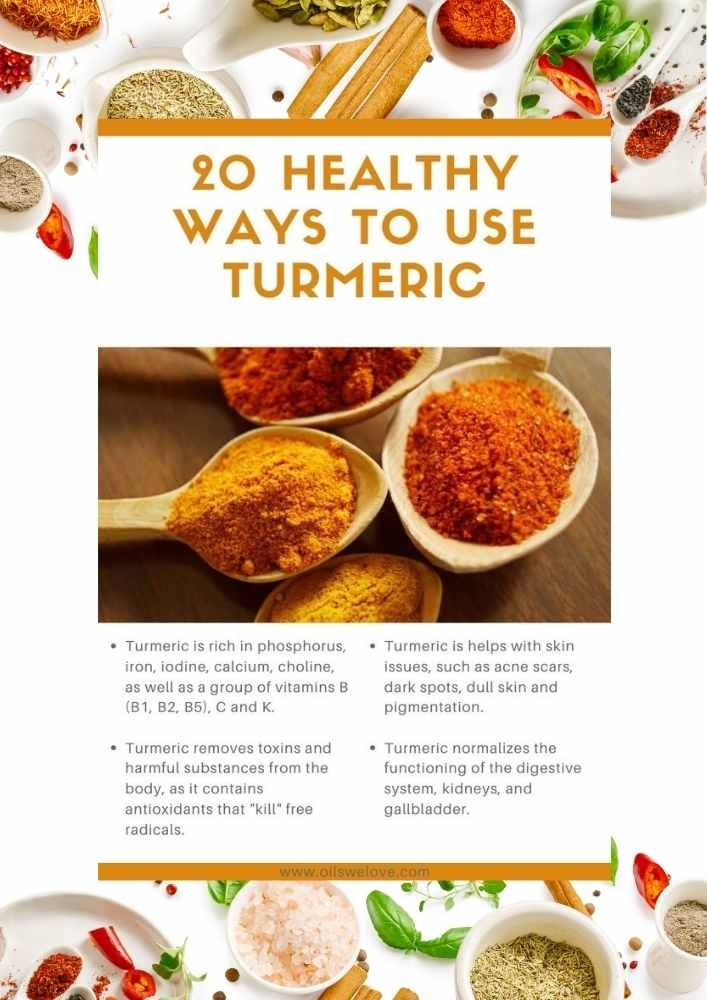 Pro tip: get my collection of turmeric recipes for skin, immunity and detox. In the "20 Healthy Ways to Use Turmeric | Printable Recipe Collection" you will find: Detox turmeric shots (5 recipes), Amazing turmeric drinks (6 recipes), DIY face masks with turmeric (9 recipes). Get it here
---
How to use Turmeric in Skincare
Turmeric for Acne
If acne appears in visible places like on the face, neck, and chest, you can try to reduce its visibility with the help of the turmeric face mask. The antibacterial properties of turmeric destroy the acne-causing bacteria, as well as to remove excess oil from the skin.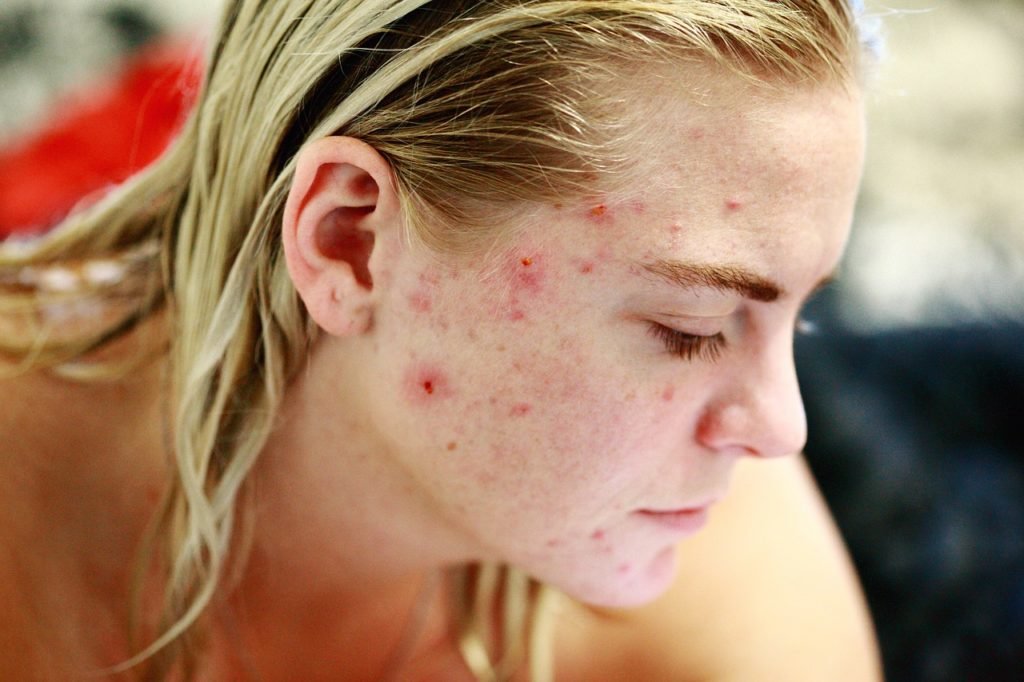 DIY Turmeric Face Mask 
You can quickly whip up a skin-perfecting face mask.  Add turmeric to your favorite face mask recipe. It will help clear and smooth your skin, making it appear fuller and plumper.
A DIY turmeric face mask is suitable for acne, pimples, even skin tone, exfoliation.
You will need:
One teaspoon of turmeric powder. You can buy it here
Two spoons of milk or plain Greek yogurt
One teaspoon of raw honey
Procedure:
Heat the raw honey for 10 to 15 seconds in a microwave.
Add the honey, turmeric and a teaspoon of milk or Greek yogurt. Mix to combine.
Put on gloves. Apply the mask to your clean face using your fingers or a spoon. The gloves will protect your fingers from stain.
Stay relaxed. Leave the mask to dry and harden for 20 minutes.
Wash off the mask using warm water.
To get the advantage of turmeric's exfoliating ability, move your fingers in tiny circles. In case of any stain on your face, use a facial toner to wipe it off.
For best results, repeat twice or three times a week.
Turmeric for skin lightening
You can use turmeric as a lightening agent. If you have sun spots, scars, or uneven skin tone, it helps to lighten or even out your skin color. Turmeric helps restore your skin's natural glow. It also helps hydrate and soothes dry skin.  Turmeric, mixed with the lime juice, which has natural bleaching power, makes an effective whitener.
Sandalwood powder and lemon juice are great ingredients that you should consider adding into your DIY turmeric face mask recipes.
You can make this simple DIY paste for a lighter skin tone.
You will need:
One teaspoon turmeric powder. You can buy it here
Half teaspoon Sandalwood powder. You can buy it here
Three tablespoon lime juice
Procedure:
Mix turmeric powder, sandalwood powder with lime juice in a dish to form a thick paste.
Apply evenly to the desired area. Leave the paste to dry for 15 minutes
Rinse with water.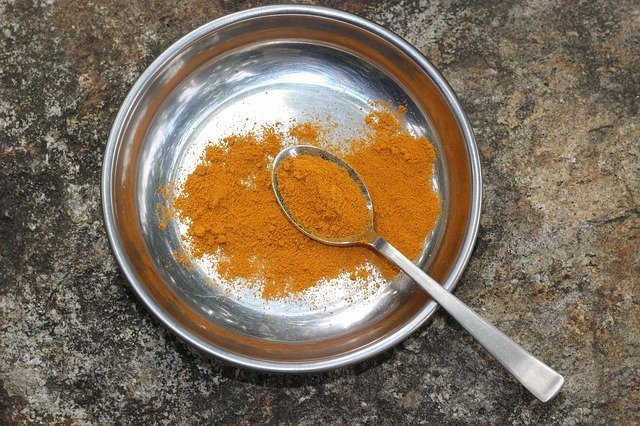 Turmeric for a glowing skin
Why not drink your way to achieving a glowing complexion! Try out the holistic skincare from-the-inside-out approach. Make this turmeric drink and take it hot or cold. You may or may not add a sweetener.
Bring two cups of water to boil.
Get some half teaspoon ground turmeric and stir it in the boiling water.
Cover and let it simmer for 10 minutes.
Filter through a tea strainer.
Enjoy your drink.
4. Use turmeric soap
Finally, if you have limited time, or do not want to create a bathroom mess with DIY recipes, you can add turmeric soap in your daily skincare. Turmeric soap has skin lightening properties, and help to eliminate age spots, acne scars, freckles, and any discoloration.
For example, the Koji White soap uses a combination of papaya enzymes and kojic acid that is very powerful and effective so you can naturally and safely lighten your skin tone. The papaya enzyme will gently remove your dead skin cells, which improves the texture of the skin. 

How to apply and remove turmeric facials
Take a warm bath. It will help open your pores. Cleanse your face and body using a gentle soap. Rinse yourself with clean, warm water. Gently dry your skin with a soft, clean towel.
Get relaxed –For you to have effective turmeric facial, you need not be in a hurry. Do the facial when you have all the time. You have to relax and enjoy the whole process.
Gently apply the turmeric paste of your choice.
Sit back comfortably and wait for 20 or more minutes till the paste dries up for relaxation, place slices of cucumber on your eyes.
Turmeric facial pastes can stain your fabrics. Use towels to keep your clothes from the pastes, which may stain fabrics.
Wash off the paste -When the paste has completely dried on your skin, it is easy to remove. Use a clean cloth and warm water. Gently wipe, dab, and rub away the paste. You can use moist cotton balls to remove the dried paste from creases or crevices on your skin.
Once you have completely removed all the paste, use warm water first to rinse your face. Next, splash some cold water before patting it dry with a clean towel.
Watch for turmeric staining. If turmeric facial does cause yellowing of your skin, it should only be temporary and should wear or wash away easily.
The pastes can, however, cause stubborn stains on your clothing or furniture fabrics. You, therefore, need to be careful during mixing, applying and removing turmeric facial.
Important points to note before using turmeric in skincare
You have to be careful when using a turmeric face mask. Some skin may experience redness. Leaving the mask on for more than 20 minutes may not go well with most people.
Use turmeric moderately to avoid skin burns.
Wash off the paste properly using plenty of water and a cleanser lotion or toner.
If you have dry and dehydrated skin, rinse with milk rather than water for softer looking skin.
Turmeric pack is a good face wash and cleanser. Its antibacterial properties are worth more than your regular face wash and soap.
---
Disclaimer: The contents of this website are for informational purposes only and do not constitute medical advice; the content is not intended to be a substitute for professional medical advice, diagnosis, or treatment. Always seek the advice of a physician or other qualified health provider with any questions you may have regarding a medical condition.