Among the different colors of cosmetic clay, blue clay has a very rich mineral composition. They call the blue clay differently: soapstone, Cambrian clay, kil. Very often blue clay is used in the composition of cosmetic and medical masks. It is particularly useful for curing acne. If you need to eliminate small pimples as soon as possible, stop the spread of acne on the face, reduce oily shine or treat eczema and dermatitis – you can safely turn to DIY blue clay masks for help: they will not fail you.
Today we have prepared 10 DIY blue clay masks recipes, which are included in our ultimate list of 80 DIY clay masks with 8 clay types. Check out the main article to find out about other types of clay and masks with them.
There are many options to buy blue clay online. We suggest to try this Russian Cambrian Blue Clay, coming from Western Siberia: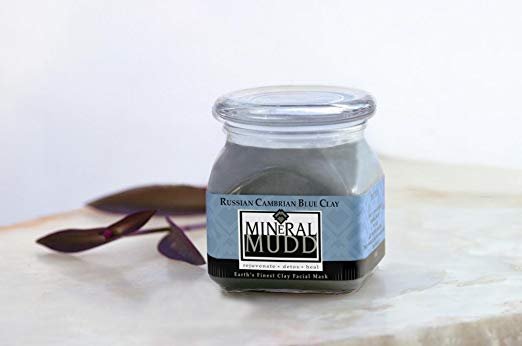 SHOP NOW >>
The effect of blue clay on the skin
The enriched mineral composition of blue clay makes it a very valuable way to care for problem skin. It is one of the most ancient substances, and during its existence, it managed to form its most diverse composition. Another distinctive feature of blue clay: the particles of this substance are very porous and small, which is convenient for making masks at home because mixes turn out soft and pleasant. Millions of years of formation left their imprint on the soapstone: a large number of the most useful microelements is ready to have a therapeutic and cosmetic effect on the skin. Each substance in the composition of blue clay has remarkable properties:
Silicon is one of the important parts of connective tissue in the human body. So, being a kind of building material for the skin, it has a rejuvenating effect, makes the skin supple and elastic;
Manganese is known for its disinfecting properties, so the soapstone is actively used as a natural antiseptic, has a soothing effect on irritated skin, eliminates acne, providing a therapeutic effect on eczema and dermatitis;
Calcium refines the skin texture, smoothing out all the bumps and wrinkles, making it even and silky;
Magnesium is involved in the normalization of subcutaneous blood circulation, therefore having a positive effect on the healthy, natural color of the skin. It controls the amount of collagen produced by cells, which provides the skin with youth and elasticity;
Iron works with magnesium in tandem to ensure that the subcutaneous blood circulation is not disturbed and to deliver to the cells the oxygen and nutrients necessary for them;
Potassium, getting into the cells, always monitors the level of hydration and the water balance of the skin that is one of the most vulnerable spots which the condition of any skin type depends on;
Sodium supports potassium, helping it to monitor the production of sebum by the sebaceous glands, thereby improving the condition of oily skin. Sodium also perfectly cleanses the pores from various impurities and greasy plugs;
Phosphorus – is responsible for the increased elasticity of the skin as a result of facial masks with cosmetic blue clay;
Titanium is able to create a shielding effect that provides skin protection from harmful external influences.
DIY Blue Clay Masks Recipes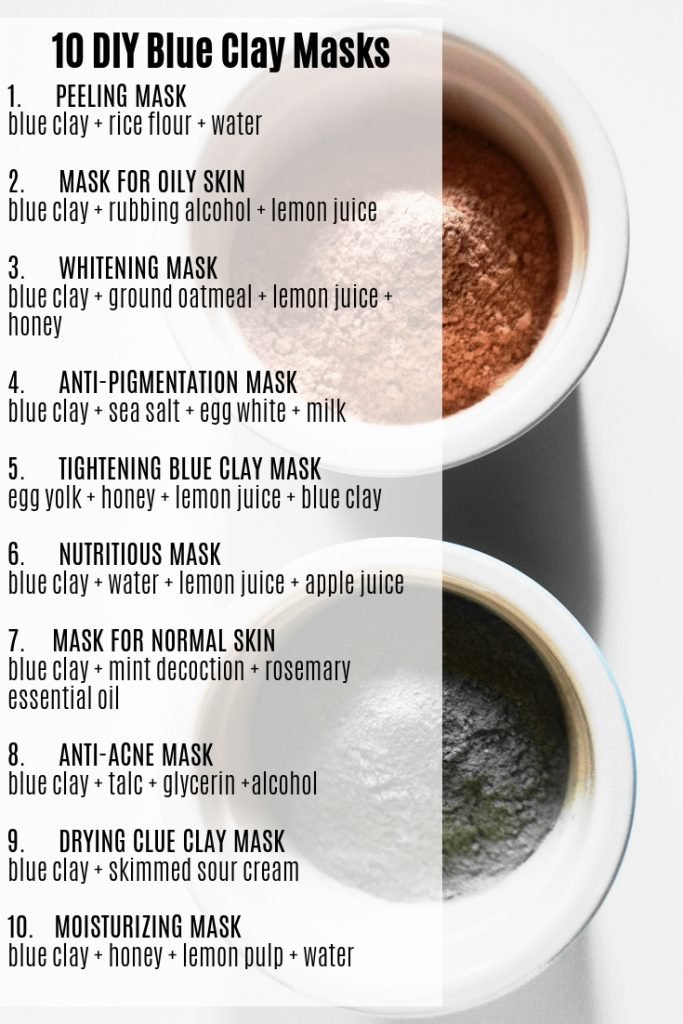 1. Blue clay peeling mask
Blue clay powder (50 g) mixed in equal proportions with rice flour, diluted with warm water to the desired consistency. Apply the mask to the entire face, avoiding the area around the eyes for 10-15 minutes. In order to avoid drying the mask out, spray some floral of thermal water over the face. Wash off the mask with lukewarm water and apply your favorite cream after 20 minutes.
2. Blue clay mask for oily skin
This mask is a little controversial as it contains alcohol which may over-dry the skin, but if you need to reduce the oily shine, you can apply it for just a short amount of time. Dissolve blue clay powder (50 g) with rubbing alcohol (25 ml), mix thoroughly, add lemon juice (no more than 1 teaspoon). Dilute to the desired consistency with warm water.
3. Blue clay whitening mask
Blue clay powder (50 g) mixed with the oatmeal ground to the state of flour (the same amount), mixed with honey and lemon juice (10 ml each).
4. Anti-pigmentation blue clay mask
Mix 50g of blue clay powder with sea salt (10 g), add egg white, dilute with warm milk to the desired consistency.
5. Tightening blue clay mask
Egg yolk, olive oil (10 ml), honey (1 tsp), lemon juice (1 tsp) and blue clay (50 g) mixed together. This mask nourishes, cleanses, whitens and tightens the skin.
6. Blue clay nutritious mask
Blue clay powder (50 g) diluted with water (20 ml), apple juice (20 ml) and lemon juice (10 ml).
7. Blue clay mask for normal skin
Normal skin periodically requires deep cleansing, as well as oily. Take 3 tbsp. of blue clay and 2 tbsp. of decoction of mint. Stir, add 3-4 drops of rosemary essential oil. Apply to the skin with massage movements and leave the mask for 5 minutes. Wash it off with plenty of lukewarm water.
8. Blue clay mask against acne
Blue clay powder (50 g) is mixed with talc, glycerin, alcohol (5 g each). Dilute to the desired consistency.
9. Drying mask with blue clay
Powder of blue clay (50 g) is mixed with skimmed sour cream.
10. Moisturizing blue clay mask
Blue clay powder (50 g) mixed with honey, the lemon pulp (10 g each) and diluted with warm water.
---
Disclaimer: The contents of this website are for informational purposes only and do not constitute medical advice; the content is not intended to be a substitute for professional medical advice, diagnosis, or treatment. Always seek the advice of a physician or other qualified health provider with any questions you may have regarding a medical condition.