Today we have prepared 10 DIY white clay masks recipes which are included in our ultimate list of 80 DIY clay masks with 8 clay types. Check out the main article to find out about other types of clay and masks with them.
White clay is unique and at the same time a traditional raw material for the manufacture of a variety of cosmetic products. Its natural purity, whiteness, the absence of abrasive particles in the composition make kaolin a valuable component in cosmetology. No wonder it is so actively used to treat skin diseases in the form of ointments, powders, pastes.
Make white clay an essential component in your homemade masks: for treating acne, reducing oily shine, for antiseptic and regenerating effects, for nourishing the skin with minerals, absorbing toxins and easing cells regeneration.
These advantages and also its affordable price, make white clay an indispensable component in DIY face masks.
There are many options online to buy white kaolin clay powder for DIY face masks – check out this one, for example, VEDA Kaolin White Clay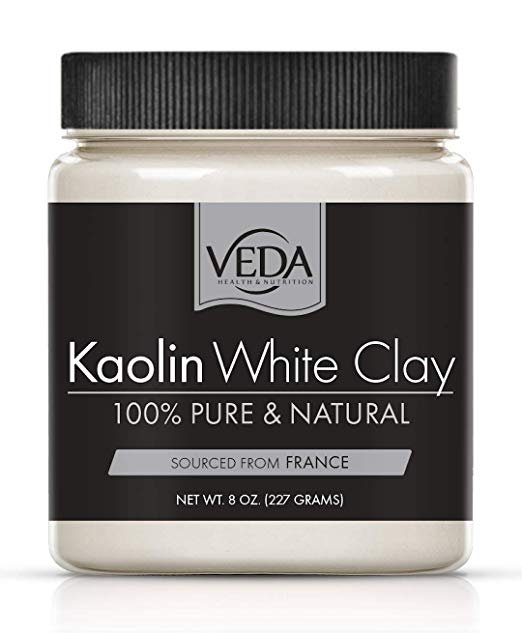 SHOP NOW >>
DIY White Clay Masks Recipes
In order to make a white clay (or kaolin) cosmetic mask at home, you do not need to reinvent the wheel and to experiment. There is a mass of ready-to-use recipes, in which other components are matched to kaolin, harmoniously combined with it within the framework of cosmetic effects on the skin. They contain the recommended dosages and proportions. With these recipes at hand, it is quite easy to prepare exactly the mask that will have the desired effect on your skin and will not disappoint with the results.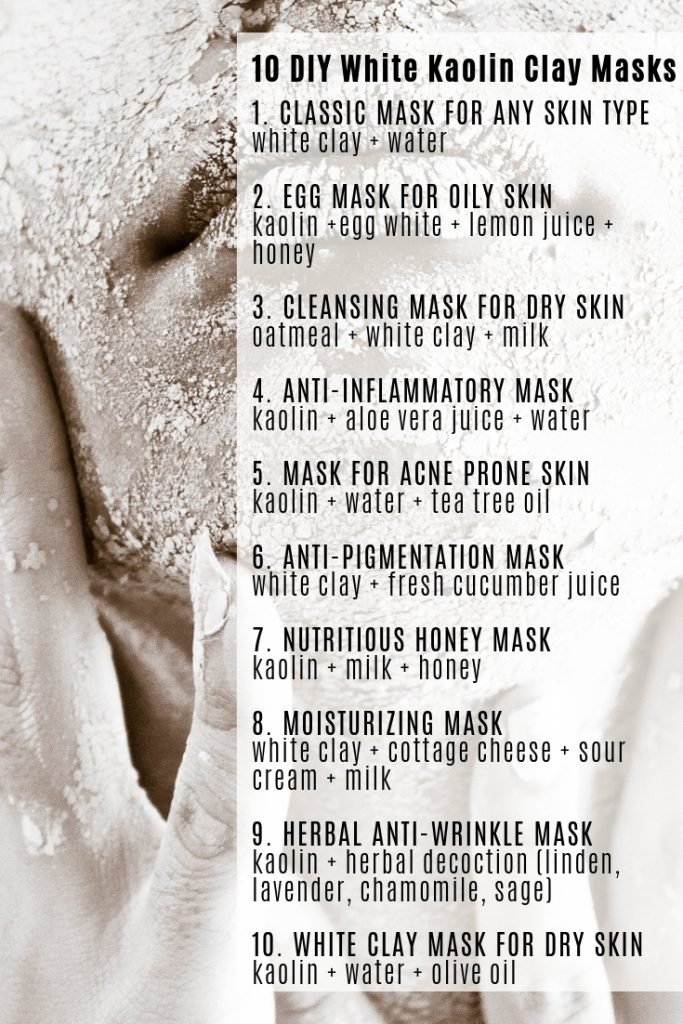 1. Classic mask for any skin type
Dilute white clay with warm water (herbal decoction or milk) to the desired consistency. Clay powder is usually diluted with a liquid in a ratio of 1 to 2. Stir the mass so that there are no lumps. The resulting creamy mixture is applied on the face with a thick layer. Try not to affect the area around the eyes. If the mask dries out fast use a floral or thermal water spray as the clay layer should be slightly wet all the time. After about 15 minutes wash off the mask with lukewarm water. After the clay mask, it is necessary to apply a nourishing cream.
2. Egg mask for oily skin
Mix 2 table. spoons of white clay powder with boiled cold water until sour cream consistency. Add the one egg white to the clay, a few drops of lemon juice and 1 teaspoon of honey. Apply the mixture on your face for 15 minutes, wash it with lukewarm water. Cleansing mask for dry skin
3. Cleansing mask for dry skin
Prepare a couple of tablespoons of porridge (oatmeal with milk), cool it down to room temperature, add 1 tbsp. of white clay powder, previously diluted with 3-4 tbsp. of milk. Evenly distribute the mix on the face and hold for 15 minutes, then wash with lukewarm water while gently massaging the skin. The procedure makes the epidermis smoother, removes impurities and eliminates peeling.
4. Anti-inflammatory mask with aloe vera
Dilute kaolin (2 tablespoons) with aloe vera juice, previously kept in the refrigerator for 3 to 14 days (1 tablespoon), and mineral non-carbonated water (1 teaspoon).
5. White clay mask with tea tree oil for acne-prone skin
Tea tree oil is famous for its powerful antibacterial, antifungal, antiseptic and anti-inflammatory properties.
1 tbsp. of kaolin to be diluted with water and 3 drops of tea tree oil are to be added to the resulting paste. The mask is applied to the entire face and kept for up to 20 minutes.
You can add more tea tree oil, 7-10 drops, and then apply the composition in a patchy way, only on the pimples themselves.
6. Cucumber mask against pigmentation
Dilute white clay powder (2 tablespoons) with fresh cucumber juice (1 tablespoon). Apply a thick layer on the face, wait for 10-15 minutes and wash off with lukewarm water. Spray on some thermal or floral water and apply a nourishing or moisturizing cream after 20 minutes.
7. Nutritious honey mask
Dilute 1 tablespoon of white clay with 2 tablespoons of warm milk of average fat content, add 1 teaspoon of pre-warmed honey.
8. Moisturizing white clay mask
Mix kaolin with cottage cheese and thick sour cream (1 tablespoon each), dilute with warm milk until desired consistency.
9. Herbal anti-wrinkles mask
Make a composition of dried herbs: linden, lavender, chamomile, sage. Chop them in order to get 1 teaspoon of dry powder for each of these herbs. Stir them, pour a glass of boiling water, keep it covered for half an hour, then strain. Dilute white clay with this herbal elixir to the desired consistency.
10. White clay mask for dry skin
Dilute white clay (2 tablespoons) with warm water until the desired consistency is achieved. After mixing, immediately before applying to the face add 1 tablespoon of unrefined olive oil.
---
Disclaimer: The contents of this website are for informational purposes only and do not constitute medical advice; the content is not intended to be a substitute for professional medical advice, diagnosis, or treatment. Always seek the advice of a physician or other qualified health provider with any questions you may have regarding a medical condition.