Today we will talk about my secret obsession – French pharmacy body oils. Ever since Lisa Eldridge posted a YouTube video about her favorite French pharmacy products, a Parisian drug store on Rue du Four has become a holy grail for skincare maniacs from all over the world.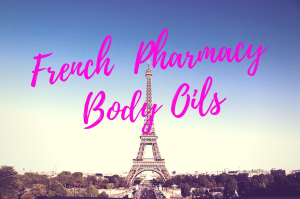 Every time I pack my suitcase to Paris, which is a "Yay!" in itself, I am firstly making room for the new finds and the usuals. And secondly, I search for the most recent "ultimate lists of French pharmacy products" online.
I already know the best sellers, some of them I like, others not so much, but I always hope to discover something new, which has become sort of a treasure hunt for me. Since I find most of these lists quite repetitive, I decided to create my own one entirely dedicated to French pharmacy body oils and where to buy them online.
Of course, nothing will beat going to the Parisian pharmacy in person, strolling in the endless rows with all those amazing skin and hair care products, and leaving with a full bag of new finds and the usual stock-ups, risking a luggage overweight fine. But let's face it, we don't get to travel to Paris as often as we feel the urge to try something new that French pharmacy has to offer, do we?
Throughout the nearly 5 years since I fell in love with French pharmacy, I have tried countless hair products, numerous creams and lotions, and a handful of oils. Today we will touch upon the French pharmacy body oils, meant for toning, skin smoothing or fighting cellulite.
Some of the products I included in the list below have been best sellers for years, so probably known to you. However, I also tried to find the less famous, but definitely not less effective, organic oils. As I said, I love discovering new products that often turn out to become "hidden jams" of French pharmacy shelves.
Indulgence French pharmacy body oils
Of course, we will start with the staple of all "French pharmacy must have lists" – Nuxe Huile Prodigieuse. It has already become a legend and symbol of the French lifestyle and skincare.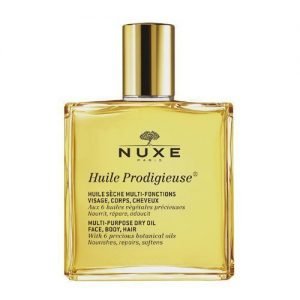 This dry oil nourishes and repairs skin and hair. It is anti-oxidant and has a "shield" effect which protects the skin from pollution. It is also efficient in the reduction of the appearance of stretch marks.
The main assets of Nuxe Huile Prodigieuse are 7 precious plant oils: highly nourishing and anti-aging Tsubaki oil, softening sweet Almond oil, moisturizing Camellia oil, anti-wrinkle Borage oil, soothing Macadamia oil, and restorative Argan oil.
And of course, its signature mythical fragrance with notes of Orange Blossom, Magnolia, and Vanilla, brings the mood of Parisian spring.
This dry revitalizing oil hydrates the skin and is perfect for the morning spray-on ritual. It is light to the touch and provides +41% hydration after 2 hours and +31% of hydration after 24 hours, according to the tests.
For a wake-up toning experience, spray the oil on the whole body and lightly massage. On the face, spray a few drops of oil into the palm of the hand and apply by light touches on the skin. On hair, apply a small amount of oil into the palm of the hand, then spread gently on the tips of the hair to nourish and perfume.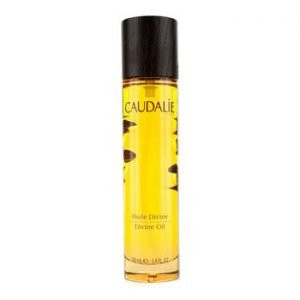 My first encounter with the Caudalie brand happened when I bought a gift box at the airport duty-free and this oil was there. I remember a quite intense fragrance with floral and woody notes.
The blend of oils (grape, hibiscus, sesame, and argan) combined with Caudalie's patented anti-oxidant Polyphenols, moisturize and nourish the skin, without leaving a greasy film. Needless to say, I was charmed by the luxurious feeling this oil provides.
Universal French pharmacy body oils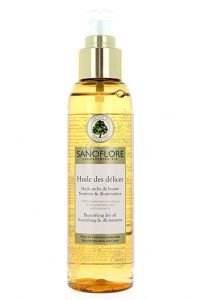 Sanoflore is one of my favorite French pharmacy brands for its natural components and the feeling of freshness it provides. The name of this oil – Huile des Delices, or Oil of Delight, speaks for itself.
It is much more than beautifying oil, it is moisturizing, nutritious and illuminating. This dry oil accomplishes provides a silky-soft feeling thanks to a technology of splitting of herbal oils. Its fragrance offers a reminiscence of skin in the summer – orange blossom, ylang-ylang, neroli, vanilla, and tonka bean. You can also use this oil on the ends of your hair, to give it suppleness and shine
Melvita Golden Dry Oil is 100% natural, with 42% organic ingredients. It is suitable for face, body, and hair. It leaves the skin perfectly moisturized, protected and enhanced; and the hair soft and shiny.
This product is enriched with 5 oils, rare and precious, specially selected for their benefits to skin and hair:
argan oil helps to repair, nourish and protect the skin
the oil of kendi is known for its anti-oxidant and nourishing properties
the oil of buriti brings flexibility and elasticity to the skin
the sacha inchi oil helps to soften, nourish and repair the skin
the oil of pracaxi brings shine and strength to hair
Thanks to its unique formula, Melvita oil brings all the benefits of omega 3, 6 and 9 to skin and hair, contributing to their nutrition and protection. It leaves a satin veil and a fresh scent on the skin.
Avène has been one of my favorite brands for its simplicity, efficacy and minimalist design. Of course, the latter is not the most important feature in skincare, but is it really not? In the end, seeing beautiful bottles in your bathroom cabinet creates a certain mood, perhaps a Parisian mood. And the right mood just makes your life better overall, you know.
So, back to Avène Body Oil. Its formula contains avocado and calendula oils, rich in vitamins A and E, which hydrate and soften the skin. It rapidly absorbs and leaves a non-greasy thin film, protecting the skin throughout the whole day. As all of the Avène products, the oil is enriched with Avène thermal water which is famous for its soothing and anti-irritating properties.
This oil is particularly suitable for sensitive dry and very dry skin.
Speaking about the design, among all French pharmacy body oils, Darphin brings you to a more luxurious level. If you want to feel "chic" and "je ne sais quoi", you need this opaque glass bottle with divine yellow oil on your vanity table.
This revitalizing oil is a harmonious combination of refined essential and base oils, suitable to use on your body, face, and hair. It instantly nourishes the skin, leaving it radiant and smooth. Its subtle fragrance awakens your sense to regain a feeling of absolute well-being.
Heat the oil in your hands, take a deep breath to inhale its wonderful aroma, and apply as often as desired.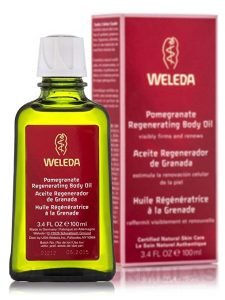 When it comes to natural but affordable oils, I always reach out to Weleda. Though not a French, it is one of the few foreign brands that can be found in French pharmacies. In fact, I have a friend from France who is sure Weleda is French, so popular it is!
Apart from various skincare lines, Weleda specializes in face and body oils. They range from specific oils meant to fight back and muscle pain (with arnica) or pregnancy stretch marks to also moisturizing ones created simply for indulging. I picked two of my favorite, one of which is an unbeatable bestseller sworn by many, Cellulite Birch Oil, I will talk about in the end.
And Weleda Pomegranate Oil is one of my recent buys, which I purchased following a recommendation of a friend. This oil, meant for tired skin, is rich in anti-oxidants which activate cell renewal and delay skin aging. The fragrance is pleasant but rather strong and stays on the skin for quite some time. I personally prefer the birch oil smell, but I normally use it for the thighs. While the pomegranate one – for the rest of the body when my skins feels dehydrated.
It absorbs almost immediately, leaving the skin moisturized and nurtured. As well as the Weleda birch oil,
pomegranate oil is contained in the thick dark green glass bottle, which makes the shelf life longer and looks minimalistic and charming.
Laino has become one of my recent discoveries. Once I have been strolling the rows of the pharmacy in St Germain de Près, trying to find the hidden gems unknown to the blogger community. And I was successful! Most of Laino products are 100% natural and have very affordable prices. Actually, the brand specializes in various "herbal waters", but also has a range of oils.
This sweet almond oil has nourishing and protective properties; it's hypoallergenic, rich in vitamins and omegas 6 and 9. You can use it as a nourishing or massage oil for sensitive skin.
Anti-cellulite French pharmacy body oils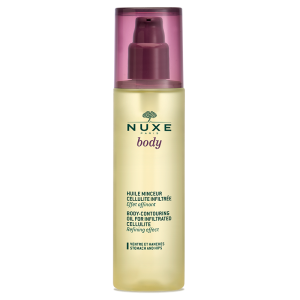 This anti-cellulite oil will be forever associated with my vacations on the French island of Martinique. Before our flight from Paris, I dropped by the local French pharmacy which appeared to have many good deals. And one of them was the double package of this oil.
It is enriched with natural vegetable oils sesame, walnut and macadamia, and 10 essential oils. As a result, the smell is amazing – natural, herbal, uplifting, with distinct notes of grapefruit and cedar. And I have noticed significant improvements in my hips skin elasticity and firmness after already several applications.
Finally, the last on our list is another bestseller – Weleda Birch Cellulite Oil. It's a rich massage oil of yellow-green color and an amazing herbal smell. To be honest, I don't really know how the pure birch oil smells, but I can feel the citrus and rosemary notes. This oil claims to reduce cellulite, refine the silhouette and tone the skin. It does not leave a greasy film and the skin feels bouncy.
It has thousands positive reviews online and based on my personal experience, I can tell that it's one of the best body oils I have ever tried. Effective, non-greasy, smells amazing, minimalist design, affordable – what else to wish for? 🙂
I hope this review was useful and you discovered some new French pharmacy body oils. Let me know in the comments below which ones you have already tried and share some other oils that you like. Stay tuned for Part II where I will look into the face oils.
Disclaimer: The contents of this website are for informational purposes only and do not constitute medical advice; the content is not intended to be a substitute for professional medical advice, diagnosis, or treatment. Always seek the advice of a physician or other qualified health provider with any questions you may have regarding a medical condition.