In our recent articles we have explored the benefits of evening primrose oil, its most effective dosage recommendations, compared the best supplements brands the market has to offer and had looked into the specific topic of evening primrose oil as a remedy for cyclic breast pain. The latter is one of the common premenstrual syndrome (PMS) symptoms that many women are suffering from. And since I am no exception, I decided to go deeper and test myself whether evening primrose oil for PMS is truth or myth. I have been taking it for the recommended 6 weeks now – the time by which you can make conclusions on its effectiveness.
How evening primrose oil can help with PMS
So let's dive into what PMS is all about and how evening primrose oil can remedy its vile effects on our mood and physical condition. PMS is caused by the fluctuations of the hormones in the female body due to the menstrual cycles. Somewhere around 1-2 weeks before the expected period women may experience mood swings and apathy, breast swelling and pain, stomach and lower back cramps. It might be mild, it might be severe – it varies from woman to woman, but almost all of us are familiar with some sort of premenstrual syndrome symptoms.
As for me, it seems that with time the PMS effects are only getting worse from period to period! And the most bothering one is the mood swings. Or rather to say, the constant swing towards pessimism, irritability, anxiety, and apathy. It really takes a lot of willpower in those moments to convince me that this is just hormones and it will be alright in a few days.
Since I got interested in natural cosmetics and oils (hence, this blog!), I decided to try evening primrose oil for PMS myself and ordered the supplements at the beginning of November. Of course, I have read the reviews online, as well as some scientific articles. In fact, I found it interesting that there is not enough scientific research and evidence yet, to prove that evening primrose oil is working.
Perhaps, it's also due to the difficulty of recording the mood changes and its exact causes, but a couple of studies with  12 [1] and 38 [2] women showed improvement in PMS symptoms but no significant difference between the target and placebo groups. And another two articles, [3] and [4], showed a lack
of consistent data from scientific studies and the impossibility to perform the rigorous analysis.
Nevertheless, having read many enthusiastic reviews, I was quite optimistic when my evening primrose oil capsules arrived. But never have I thought that I would notice the positive effect only a week after I started taking them. And that's exactly what happened! A little sneak-pick to the results – I am now scared to stop taking evening primrose oil because I am dreading that half-a-month low mood times when I am just trying to get through.  I am almost out of the capsules by now and about to order another box.
So, my observations so far:
I have ordered the evening primrose oil capsules with 500mg dosage, which means that I have to take 6 capsules per day in order to reach the recommended 3000mg. This might not be very convenient for a couple of times I was forgetting about it in the afternoon or evening. The next box I order will be 1300mg.
This oil does not have any particular smell or taste (yes, I chewed one capsule to try) and is burpless, which is just great.
It's easy to swallow. I know it can be a problem for some people.
I almost don't have a breast pain that I used to have, only a little swelling. By the way, check out our other article dedicated to evening primrose oil for breast pain.
And most importantly, I haven't had that horrible mood that PMS brings along in my last 2 periods! Since the anxiety and irritability were my company a week before each period in the last couple of years, I am definitely noticing a difference now. I intend to add evening primrose oil into my daily vitamins and supplements intake routine.
For more information, check our review of 6 Best Evening Primrose Oil Supplements.
Compare evening primrose oil for PMS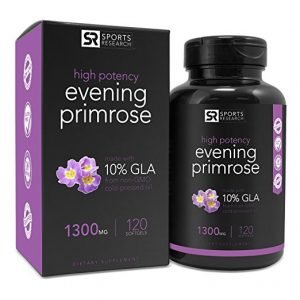 Evening primrose oil content: 1300 mg
Capsules per bottle: 120
Daily dosage for PMS: 2 capsules
6 month supply: 3 packages
Price: $, check on Amazon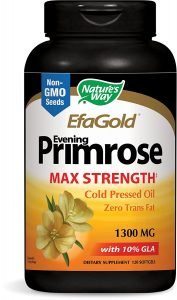 Evening primrose oil content: 1300 mg
Capsules per bottle: 120
Daily dosage for PMS: 2 capsules
6 month supply: 3 packages
Price: $$, check on Amazon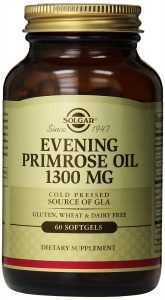 Evening primrose oil content: 1300 mg
Capsules per bottle: 60
Daily dosage for PMS: 2 capsules
6 month supply: 6 packages
Price: $$$, check on Amazon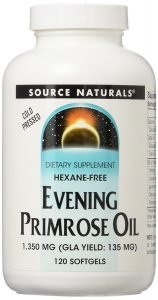 Evening primrose oil content: 1350 mg
Capsules per bottle: 120
Daily dosage for PMS: 2 capsules
6 month supply: 3 packages
Price: $, check on Amazon
---
Disclaimer: The contents of this website are for informational purposes only and do not constitute medical advice; the content is not intended to be a substitute for professional medical advice, diagnosis, or treatment. Always seek the advice of a physician or other qualified health provider with any questions you may have regarding a medical condition. 
---
Callender K., McGregor M., Kirk P. and Thomas C. S. A double-blind trial of evening primrose oil in the premenstrual syndrome: Nervous symptom subgroup. Hum. Psychopharmacol. Clin. 1988 Exp., 3: 57–61. doi:10.1002/hup.470030110.
Khoo SK., Munro C., Battistutta D. Evening primrose oil and treatment of premenstrual syndrome. Med J Aust., 1990 Aug;153(4) 189-192. PMID: 2201888.
Bendich A. The Potential for Dietary Supplements to Reduce Premenstrual Syndrome (PMS) Symptoms. Journal of the American College of Nutrition, 2000 Vol. 19 , Iss. 1.
Dudeiri D., Li Wan Po A., Dornan J.C. Is evening primrose oil of value in the treatment of premenstrual syndrome? Controlled Clinical Trials. 1996 Feb: Vol. 17, Issue 1, 60-68.