Pumpkin seed oil capsules are more and more popular these days. Some consider this natural remedy as being in the same league with coconut oil and olive oil.
Beauty experts all over the world are going gaga over pumpkin seed oil and it's not hard to imagine why. This orange-reddish oil has garnered an eager following over the last few years owing to its nutrient-packed qualities.  As it turns out, Pumpkin seed oil promotes urinary tract and prostate health. It strengthens hair growth and replenishes skin cells. What's even better is that you can consume it in liquid or capsule form.
Pumpkin seed oil – also known as pepita oil – is extracted from pumpkin seeds. Loaded with vitamin A and E, Omega 3 and 6 essential fatty acids, zinc, and antioxidants, Pumpkin seed oil or capsule supplements pack a powerful punch to your health problems.
Pumpkin Seed Oil Capsules – What Are They Good for?
Pumpkin seed oil can be taken in liquid form or as a capsule. You can either purchase it from a brick and mortar health store or shop for it online. Most people consume pumpkin seed oil in the form of a pill. It's more convenient, time-effective, and easier to swallow.
A 1,000-milligram Pumpkin seed oil capsule includes phytosterols such as beta-sitosterol, sitostanol, and avenasterol for a healthy and well-functioning prostate. These capsules may alleviate mild symptoms of benign prostatic hyperplasia (BPH), male patterned baldness, and digestive discomfort. Pumpkin seed oil fights off parasites and worms in the colon, and the supplements show an anti-inflammatory effect on the lining of the gastrointestinal tract.
In most stores, 1,000-milligram capsules of pumpkin seed oil are available, but you may find them in different dosages, too. These capsules come in soft-gel form for maximum absorption of linoleic and oleic acid to promote cellular activity for healthy skin and hair.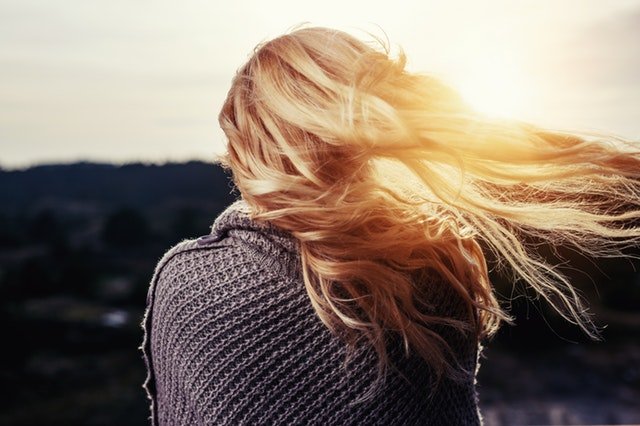 The Health Benefits of Pumpkin Seed Oil Capsules
While pumpkin may serve as a festive fall decoration and a delicious pie ingredient, there's more to our favorite fruit than Christmassy sentiment and dessert items.
Here are a few important benefits of pumpkin seed oil capsules everyone must know of!
1.     Boosts Mental Health
Pumpkin seeds or pumpkin oil help relieve you of depression and release feel-good hormones in your body. According to research, giving pumpkin seeds to children suffering from depression yielded positive results.
2.     Promotes Hair and Skin Health
For a long time, pumpkin seed oil has been known to fight male patterned baldness; one of the most common hair problems plaguing the male population. According to a study performed in 2014 [1], men who took 400mg of pumpkin seed oil daily for 24 weeks had 40% more hair growth than men who didn't. Pumpkin seed oil is also known to make your skin smooth and give it a shiny and healthy glow.
3.     Improves Heart Health
Pumpkin seed oil is loaded with unsaturated "good" fats. According to an animal study, consumption of pumpkin seeds, oil, or supplements helps lower cholesterol and exhibits anti-inflammatory effects on the body. The oil also lowered blood pressure in mice to promote hearth health.
4.     Prevents Benign Prostate Hyperplasia (BPH)
Pumpkin seed oil, mixed with palmetto oil, may prove to be an effective therapy for benign prostate hyperplasia – an increasingly common condition in men as they age.  BPH is a condition where the prostate grows in size and makes the flow of urine extremely painful.
A study performed on Korean men [2] found that pumpkin seed oil improved the symptoms of BPH and made the flow of urine better and less painful.
5.     Relieves Menopausal Symptoms
Menopause brings with it a host of painful symptoms like headaches, joint pain, and hot flashes. Pumpkin seed oil is known to increase the body's HDL "good cholesterol" level and improve menopausal symptoms.
Top Three Picks for Pumpkin Seed Oil Supplements
Pumpkin seed oil is a superfood treasured highly for its taste and medicinal value. We have picked the top 3 pumpkin seed oil capsules for you!
1.     Best Naturals Pumpkin Seed Oil Capsules
A nutritional blend of Omega-3 and Omega-6 fatty acids, Best Naturals Pumpkin Seed Oil Capsules improve prostate and heart health. Known for its high phytosterol content, this Best Naturals product is unrefined, cold-pressed, undiluted, and derived from the best quality pumpkin seeds.
Quality:
Contains no artificial color or flavor.
Supplements are free from preservatives, sugar, and starch.
Lactose-free and Gluten-free.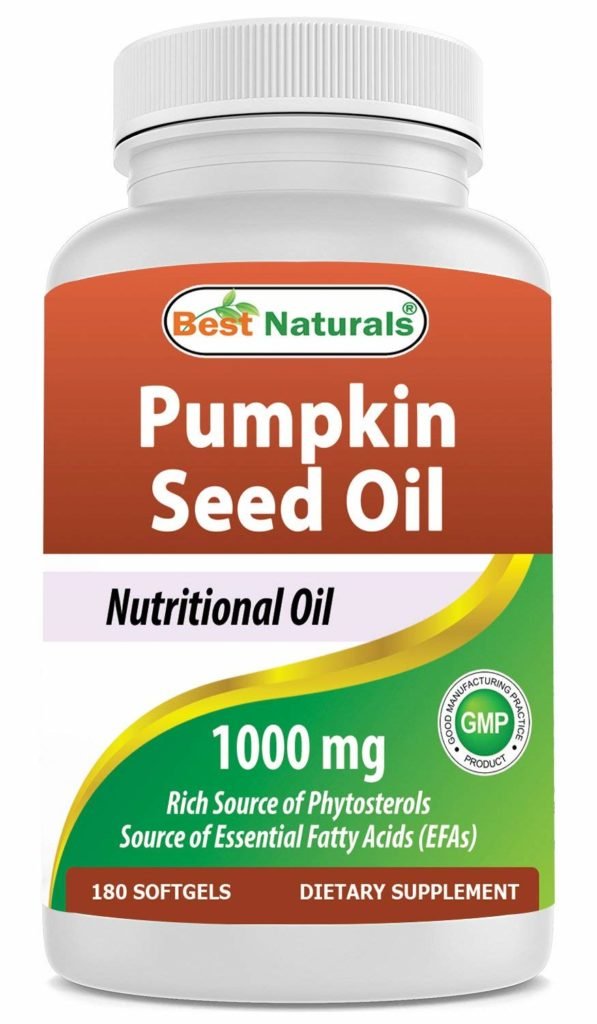 CONSUMER REVIEWS: 1) Big relieve with a prostate problem. 2) Helps with overactive bladder. 3) It helps those, who have anxiety due to a nutrition deficiency.
2.     NutriONN Pumpkin Seed Oil Capsules
These capsules are a rich source of zinc, magnesium, phytosterol. It may strengthen your immunity system, boost cell formation, and reduce inflammation from joints. NutriONN Pumpkin Seed Oil Capsules encourage regular bowel movements and support prostate health.
Quality:
Cold-pressed nutritional oil, free of all preservatives.
FDA inspected and manufactured in a GMP compliant facility.
Made from the highest quality pumpkin seeds.
No artificial flavors.
CONSUMER REVIEWS: 1) Noticeable lessening of arthritic pain in the legs and shoulders. 2) Cleared adult acne. 3) It helps with the urgency of heading to the bathroom.
3.     NOW Foods Pumpkin Seed Oil Soft-Gel Capsules
Derived from the best quality expeller-pressed pumpkin seeds, these soft-gel capsules are packed with nutritive benefits for your prostate, heart, and joints. These capsules support urinary tract health and improve urinary control. These oil supplements have also proven to be very effective for hair growth and relief from joint pain.
Quality:
Not manufactured using what, yeast, soy, milk, egg, or fish ingredients.
Soft-gel capsules made from gelatin, water, and glycerin.
Gluten-free supplements with no added preservatives.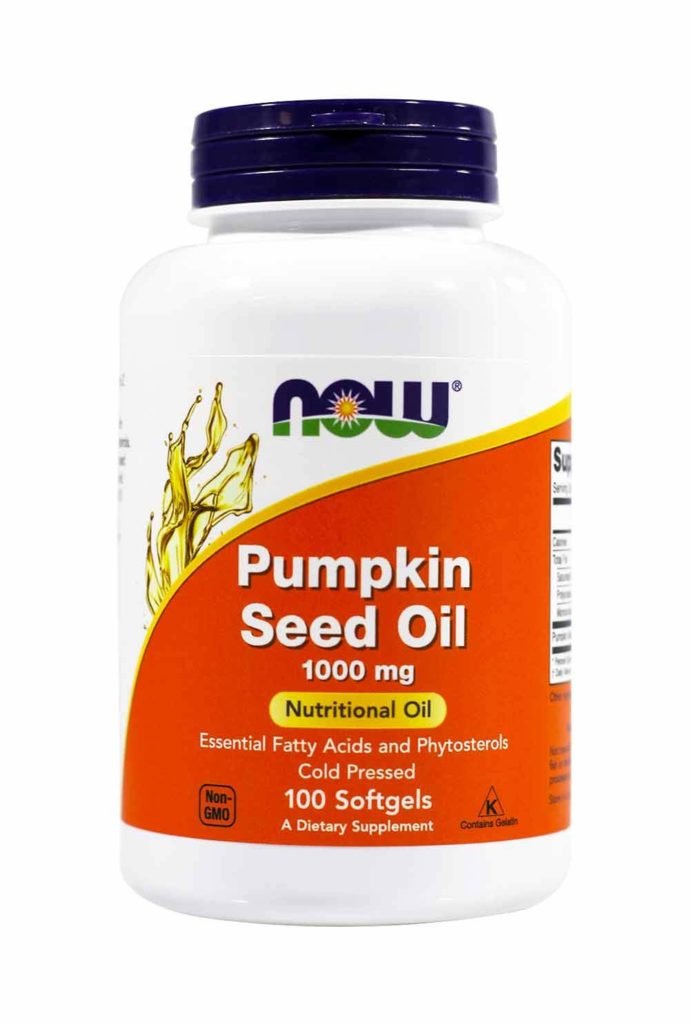 CONSUMER REVIEWS: 1) Pumpkin seed oil capsules helped to regrow hair. 2) Helped with bladder problems. 3) It helps with alopecia when applied directly on the scalp.
How to Recognize the Best Quality Pumpkin Seed Oil Capsules?
Nothing good ever comes cheap. When shopping for essential oils and essential oil supplements; that should be your mantra. On the other hand, make sure you get what you pay for. The best pumpkin seed oil capsules are a little more expensive than olive oil and have a bit of an extra flavor and texture to it.
Make sure to check the dosage on the supplement bottle when purchasing it. Your best pick would be 1000 milligram capsules or less than that.
What are the Side Effects of Pumpkin Seed Oil?
Pumpkin seed oils are rich in all sorts of nutrition and packed with healthy fats and minerals to support hair growth, skin, prostate, and heart health. But in rare cases, there may be a few side effects to pumpkin seed oil capsules.
Backache
High Blood Pressure
Adverse bladder control – the inability to empty the bladder completely.
Painful Urination
Diarrhea or constipation
Headache or bouts of nausea
Stomach Cramps
Altered libido
In case you experience any side effects of Pumpkin seed oil capsules, schedule an appointment and visit your doctor for urgent care.
---
Disclaimer: The contents of this website are for informational purposes only and do not constitute medical advice; the content is not intended to be a substitute for professional medical advice, diagnosis, or treatment. Always seek the advice of a physician or other qualified health provider with any questions you may have regarding a medical condition. 
---
References
[1] Young Hye Cho, Sang Yeoup Lee. Effect of Pumpkin Seed Oil on Hair Growth in Men with Androgenetic Alopecia: A Randomized, Double-Blind, Placebo-Controlled Trial. Evid Based Complement Alternat Med. 2014; 2014: 549721.
[2] Gerber GS, Zagaja GP. Effects of pumpkin seed oil and saw palmetto oil in Korean men with symptomatic benign prostatic hyperplasia (2009)