If you are prone to toenail infections you might have already heard that certain foot soak recipes can help you to get rid of this disease.
Onychomycosis is another word for toenail fungus. You can accidentally get dermatophytes (pathogens) in the most unexpected place, for example, in a pool or a beauty salon. Treatment of onychomycosis on toenails is long and painstaking.
As it usually takes some time to get rid of toenail fungus, you can face certain difficulties in your life, such as: you might be not able to wear your favorite shoes, work out, or even go barefoot around your house. Clearing it up quickly is key, and the best foot soaks for toenail fungus actually make the process enjoyable.
To relieve symptoms and speed up the healing of the affected areas, it is recommended to use foot baths (foot soaks) with soda and other components. The composition is selected individually, taking into account the condition of the tissues and possible allergic reactions.
But before spending money on the foot soak that smells the best, it's vital to check the ingredients label. Bath soak only work if it includes ingredients that are naturally antifungal and antibacterial. A good option is a traditional tea tree soak, which is known for eliminating all kinds of bacteria and odors. Other excellent natural remedies are peppermint, eucalyptus, and lavender essential oils. Read more about using essential oils for toenail fungus.
You can also use certain ingredients that you already have in your kitchen and create a homemade foot soak recipe to combat toenail fungus.
How to use foot soak properly to cure toenail fungus?
Nail fungus treatment is a long process that requires self-discipline and constant monitoring. Podiatrists – doctors who specialize in nail plates – prescribe antifungal agents in the form of ointments, application fluids, etc. Traditional medicine will help speed up the healing process, and foot soaks can be seen as a helping remedy against fungus. They do not replace the main treatment; they are aimed at destroying the fungus and quickly recovering nails.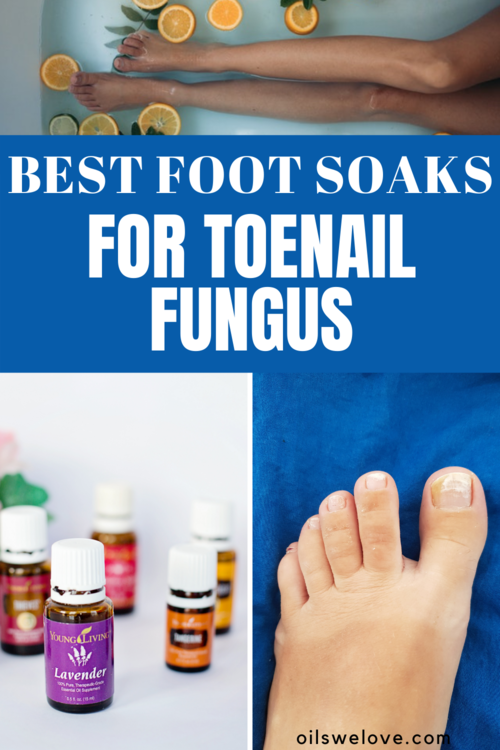 Foot soaks should be used every day. It is best to carry out procedures before bedtime.
Use boiled water which is not too hot, but it shouldn't be too cold. The water temperature should be comfortable, approximately 40C-45C.
The duration of the foot bath should be at least 15 minutes. Before carrying out medical procedures, you must thoroughly wash your feet.
If you have toenail fungus, first cut off the free edge of the nail, remove the top layer from its surface with a file and remove the white plaque under the nail as much as possible. After this procedure, the nail scissors and nail file you used should be disinfected.
Top 5 foot soak recipes for nail fungus
Made with Epsom salt, Dead Sea salt, Tea Tree Oil and 6 Additional Essential Oils this foot soak is perfect for people with severe cases of toenail fungus. The package also includes nail blend which can be used to treat not only the affected nails, but also all the skin around nails.
Nail blend contains a natural essential oil solution of tea tree oil, oregano oil, eucalyptus oil, rosemary oil, cajuput oil, camphor oil & jojoba oil.
CONSUMER REVIEWS:
1) Helped to avoid expensive laser treatment at the podiatrist.
2) Soaking of feet, filing affected nails and then applying the nail blend helped to remove an old nail fungus that was persistent for decades. "Chunks of the dead nail are falling off".
3) Cleared psoriasis on elbows and knees.
4) Improved appearance of nails that were already black because of toenail fungus.
2. Tea Tree Oil Foot Soak with Mint – Truremedy
This foot soak helps to relieve stubborn skin issues, foot odor, toenail odor, cracked heels, athletes foot & soften hard calluses.
It has no synthetic fragrances, artificial colors and dyes that can otherwise irritate your skin. Working ingredients include: Epsom salt, Dead Sea salt, Msm, Tea Tree Oil, Pepperming essential oil, Eucaliptus essential oil.
CONSUMER REVIEWS:
1) Helped to make toe nails are whiter and get rid of the foot odor after approx 2 weeks of usage.
2) It is a relaxing and soothing procedure which softens tired feet at the end of the day.
3) After using it feet feel softer, less sore, less tired, smoother.
4) "Within 15 min dead skin started coming off"
3. Foot soak with baking soda
Soda foot bath is among the most popular DIY methods of treating toenail fungus. It gives good results, but only if applied systematically over a long period of time. Soda baths can be used to treat foot and nail fungus.
Preparing a soda bath for feet against fungus is simple. To do this, pour warm water into a basin and stir in it baking soda at the rate of 1 tbsp. per liter of water. It is necessary to soar your feet in such a solution for 20 minutes. After the procedure, you should wipe your feet well and lubricate them with an antifungal medication.
4. Foot soak with apple cider vinegar
Vinegar is also effective in fighting fungal infections. Thanks to it, an acidic environment forms on the skin and on the surface of the nails, in which pathogenic microorganisms immediately begin to die.
A foot bath with vinegar is easy to prepare. To do this, pour 2 liters of water into the basin and add a glass of 9% vinegar to it. If there is only 70% vinegar at home, then it should be added in the amount of 1 tablespoon, not more. Otherwise, there is a risk of burns. You can also use apple cider vinegar instead of regular table vinegar.
At the end of the procedure, you need to wipe your feet well, and put on socks dipped in pure vinegar over them. Leave the socks on throughout the night.
5. Tea Tree Epsom Salt by Earthborn Elements
This foot soak is made from a blend of potent tea tree oil and epsom salt, which is highly effective at eliminating odors, banishing fungus, and softening your skin. Tea tree oil helps to combat nail fungus quickly.
CONSUMER REVIEWS:
1) Helped with toenail fungus and with skin irritation
2) It made bruises on the legs to dissapear in only two days.
3) Helped to remove athlete's foot.
4) " Dissolves quickly, leaves muscles feeling relaxed, skin soft and smells great"
---
Disclaimer: The contents of this website are for informational purposes only and do not constitute medical advice; the content is not intended to be a substitute for professional medical advice, diagnosis, or treatment. Always seek the advice of a physician or other qualified health provider with any questions you may have regarding a medical condition.
---
This post may contain affiliate links and we will earn a small commision if you make a purchase through these links.