It is not that easy to find really tasty moringa drinks for detox that are also easy to make. But don´t worry, I have got you covered. In this post, I'm sharing my top 5 favourite detox drink recipes with moringa.
Moringa is a natural antidepressant and detoxifying herb. The high protein and high iron content of Moringa leaf powder is absolutely ideal for vegans and vegetarians who often find it difficult to keep level of these vitamins and nutrients at a high level.
But first of all, moringa is great for detox. It eliminates harmful toxins, debloats and shrinks your waistline, and rejuvenates your skin from within.
1 gram of moringa powder contains:
• 25 times more iron than spinach
• 15 times more potassium than bananas
• 4 times more protein than eggs
•  moringa leaves are a great source of vitamin A
• 17 times more calcium than milk
In addition, moringa contains:
• 92 nutrients
• 46 antioxidants
• 36 anti-inflammatory substances
• 18 amino acids, 9 significant amino acids
Moringa powder or Moringa Capsules: what is best to consume?
Essentially there are two forms in which you can consume moringa: moringa powder or moringa capsules. It is not hard to imagine, that powder is packed into capsules (by the was, watch out of animal gelatine capsules if you are vegan) and that is how moringa supplements in capsules is obtained.
So, theoretically there is no difference in what to consume – capsules or powder. However, the dosage of powder in capsules is rather small, so you would to have to eat lots of capsules at once in order to get the same benefits and vitamins as you would get from the powder form.
Therefore I would suggest buying pure moringa powder and adding it to your smoothies, cold teas and other detoxifying drinks.
Below I list the 5 best moringa drinks for detox
5. Moringa & Cacao Smoothie Recipe
Image credit and recipe from The Seasonal Diet
This moringa smoothie bursts with tree tastes – sweet, savory and bitter. Kale leaves responsible for a green savory note, cacao powder bringing in alittle bitter aftertaste. and some coconut water to add an extra sweetness.
Why combining moringa with kale? Kale leaves contain more calcium than milk, and the same amount of magnesium (47 mg). Vitamin C in kale is twice as much as in an orange.
In addition, kale is a great addition to almost any smoothie, as it has practically no smell, except that it remotely resembles ordinary white cabbage.
4. Moringa & Banana Smoothie Recipe
Probably, the easiest moringa drink for detox. Just add 1 tablespoon of moringa powder to 1 cup of water of kefir, add 1 banana and blend it all up. Ready!
Actually you can add moringa powder to any juices and smoothies, as well as cereals, and salads. It has slightly vegetable, so probably it is not worth adding it to orange or other citrus juices.
3. Aloe Moringa Superpower Drink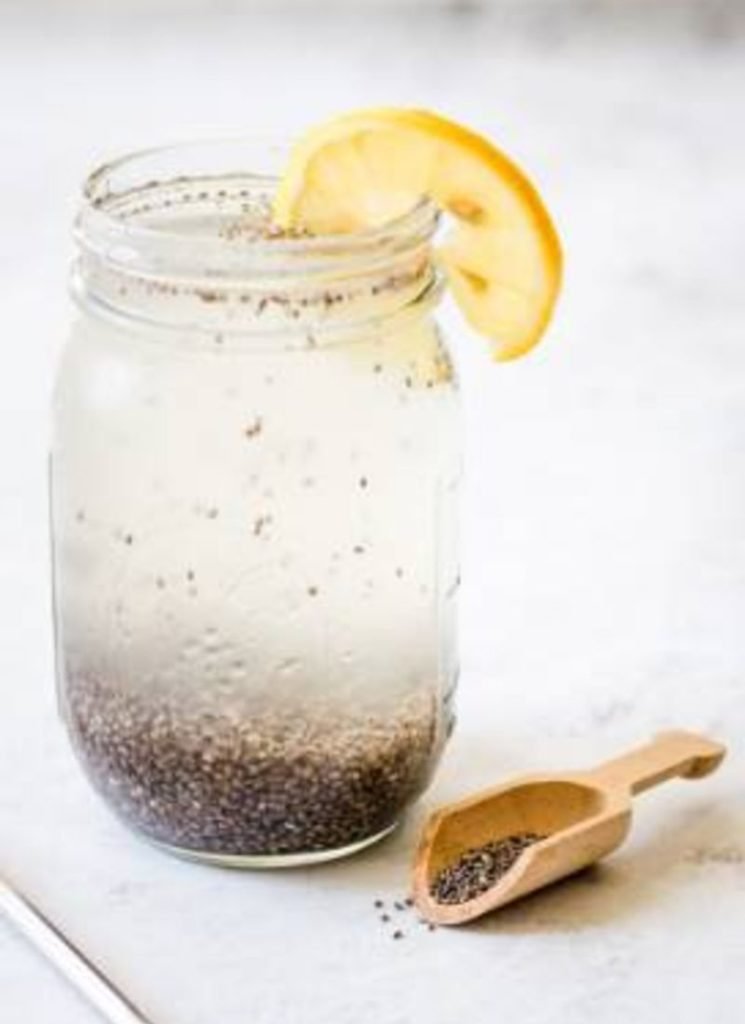 For this moringa drink for detox you will need:
1 cup of aloe vera juice (get it here)
1-2 oz of Black Cherry Juice Concentrate (get it here)
1 tablespoon of moringa leaf powder (get it here)
1 tbsp of chia seeds
Add ingredients to blender, blend for 5 seconds. You can add 1 banana or an apple if you want to make this drink more filling.
Aloe Vera juice contains 19 out of 20 amino acids necessary for our bodies and seven out of eight irreplaceable amino acids that are simply not produced in the body.
Black cherry concentrate helps support iron level, it is rich in antioxidants and therefore supports our immune system.
2. Matcha Moringa Hot Cocoa
Probably, the most powerful combination of green suprefood powders: matcha and moringa.
Matcha powder contains concentrated levels of antioxidants. Matcha neutralizes the effects of carcinogens, helps slow down the aging process and rejuvenates cells. Matcha powder boosts metabolism and kicks off fat burning by acting as a detox agent.
For this recipe you will need:
1 tablespoon of moringa leaf powder
Organic vanilla extract
Cocoa powder
Get the full recipe and ingredients list at All the nourishing things
Recipe from All the nourithing things
1. Moringa & Turmeric Detox Shot
You will need:
1 tablespoon of moringa leaf powder (get it here)
1 tbsp of turmeric powder
8 oz. or more of water,or orange juice
Pinch of black pepper
½ teaspoon manuka honey
Add ingredients to blender and blend for 5 seconds or simply mix and stir them in a glass. You can also taste other turmeric shots recipes and upgrade them by adding moringa powder.
Turmeric powder may prompt weight loss is that it turns white fat into brown fat, which is burned by the body to release energy, not stored as fat.
Due to its antibacterial properties, moringa helps suppress the growth of pathogenic microorganisms, and its high content of B vitamins promotes better digestion.
---
Disclaimer: The contents of this website are for informational purposes only and do not constitute medical advice; the content is not intended to be a substitute for professional medical advice, diagnosis, or treatment. Always seek the advice of a physician or other qualified health provider with any questions you may have regarding a medical condition.  This post may contain affiliate links.